Photos of Wigan
Photos of Wigan
Photo-a-Day Archive
Photo-a-Day Archive
Photo-a-Day (Sunday, 14th June, 2009)
Penningtons - Millgate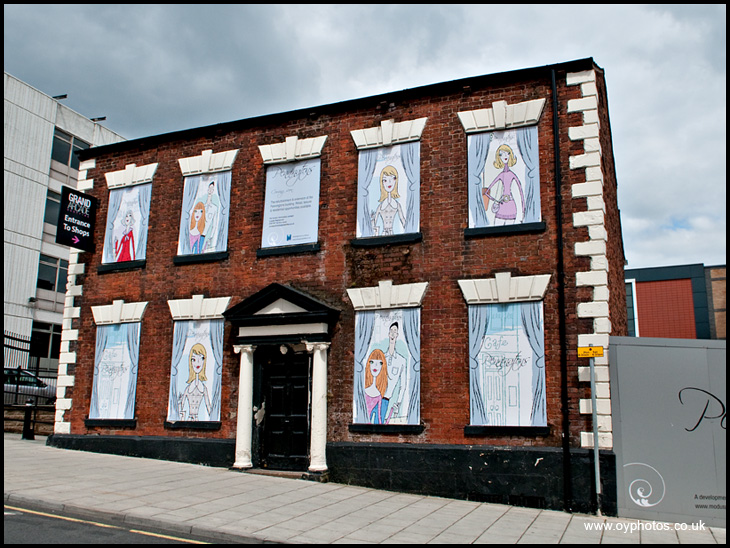 Coming soon it said - about 18 months ago.

Photo: Dave (Nikon D300 - Nikon 17-55mm AF-S F2.8)
Views: 4,671
Comment by:
janet
on 14th June 2009 at 13:58
Missed seeing this on my recent visit to Wigan.. Hope is almost lost for my home town..So sad!
Comment by:
Fred
on 15th June 2009 at 13:47
What is it'; Looks like a dolls house
Comment by:
colin butcher
on 15th June 2009 at 15:30
Would i be right in saying that this building is a listed building..?...if it is why should it be allowed to be defaced by ugly so called art...or whatever you call it....whoever suggested it (wigan councilers no doubt ) should be blooming SACKED...!!!!!!!!.
Comment by:
David
on 15th June 2009 at 16:51
It is listed Grade II this link describes it in detail.

http://www.imagesofengland.org.uk/details/default.aspx?id=484933
Comment by:
Dave
on 15th June 2009 at 22:25
Wigan Borough only has one Grade I listed building. St Wilfrid's Church Standish.
Comment by:
BREN
on 16th June 2009 at 06:39
TOTALLY RIDICULOUS TO DEFACE A BEAUTIFUL BUILDING. IT LOOKS STUPID.
Comment by:
Phil S
on 16th June 2009 at 13:55
Colin you are so right,
Makes the town look soft, makes Wigan a laughing stock, Must have been allowed by idiotic councillors, Its about time they started earning their money, They are as bad as councillors before them who ruined the town, They just have not got a clue,
Comment by:
wilfb
on 20th June 2009 at 10:45
look alright in amsterdam
Comment by:
tricia
on 29th June 2009 at 19:32
Looks like it belongs on a dockside somewhere. Please tell me it is not being built in my home town.....

As I said in another post on here, the town planners, whoever they are, (not Wiganers I dare say) should move on now whilst we still have something left.
I am on a visit to Wigan and as we walked around the Market the other day I remarked to my husband that if you were dropped, blindfolded, and put down in Wigan, you could be in any number of faceless towns...
Comment by:
Tricia
on 29th June 2009 at 20:05
oops! I was referring to yesterday's
picture
Comment by:
jean mills from portugal /bryn
on 7th July 2009 at 22:39
yes i think i remember the shop,i'm sure my mum used to buy furniture from there yes she did!
Comment by:
MACK
on 21st October 2009 at 14:28
mi mam bowt us our fust bed frum theer wen wi geet wed in 1967