Photos of Wigan
Photos of Wigan
Photo-a-Day Archive
Photo-a-Day Archive
Photo-a-Day (Tuesday, 19th May, 2009)
Open and Closed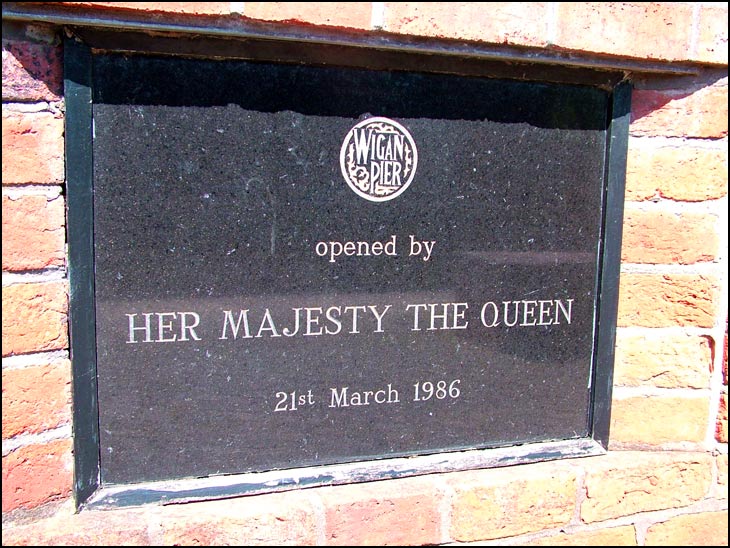 Wigan Pier. Opened by Her Majesty the Queen, March 1986. Closed by Wigan Council, December 2008.

Photo: Brian (Fuji Finepix S7000)
Views: 4,252
Comment by:
Alan
on 19th May 2009 at 00:03
Wigan Pier CLOSED ??????. Tell me more. I am thousands of miles away and know nothing of this.
Comment by:
maggie
on 19th May 2009 at 10:20
it is so sad - and stupid to rid the town of such a wonderful place. How are the next generations to get the feel of old Wigan, and be proud of what has gone before?
Comment by:
Margaret Wall
on 19th May 2009 at 12:04
Quite right Maggie, it was a wonderful place and a very popular tourist attraction. I think it's a crime what Wigan Council are doing to our town.
Comment by:
Mick
on 19th May 2009 at 13:20
The reason it closed down was because no tourist come to Wigan if it had been making money it would still be going.

If it was located in Manchester or Liverpool it would still be going today.

When it first opened it might have looked like it was popular but the crowds where made up with Wigan school children.
Comment by:
Carol
on 19th May 2009 at 15:03
I used to visit the pier when I came back to Wigan, and tell all of my friends, local-ish to go there. It is a crying shame that 'the way we were' has gone. So what about the school kids who do not have a chance to learn about their heritage. I felt very humbled when I visited - my southern guests thought it brilliant!
Comment by:
Pat
on 19th May 2009 at 19:12
Brian - are you okay? Your pictures of Wigan and around, which, by the way, are very good, seem to reflect a depression in your outlook??
It is not All Doom and Gloom!!!
Comment by:
Brian
on 19th May 2009 at 19:17
I'm OK, ta. ;)
Had a short stroll at lunch time around the Pier area and took a few pics, the camera never lies!
Comment by:
Barbara
on 25th May 2009 at 13:56
Visited Wigan 2008 and took our daughter and grand-daughter to see Wigan Pier what a shock!!!
It was a great place saw it several times on our visits to UK.
Great pity.
Comment by:
Cathy
on 8th July 2009 at 20:50
It's so sad that everything around the pier has gone. My grandsons had ancestors who worked in the pits and cotton mills around Wigan and I'm glad that they had the chance to visit the museum and feel the atmosphere and see the harsh working conditions. When they were little we loved to visit the 'Pantry at the Pier' where they messed around with all the big bakery machines without fear of being hurt or told off.
Please can someone clever take their camera to the site around Trencherfield Mill (where The Pantry at the Pier' was) and record the state of it now, in the hope that landscaping (or demolition) will improve the appearance in the very near future.
Comment by:
mad mal from southport baths on sundays
on 4th May 2011 at 10:13
yes it is sad that all the old features of wigan have dis appeared but this is progress to come home in the sixtys and early seventys through wallgate it was very depressing but with all the clearances it is quite pleasant not wigan lane, great town centre and to the people who complain vist other towns in the north west to draw a comparison in my considered opinion non can compare.