Photos of Wigan
Photos of Wigan
Photo-a-Day Archive
Photo-a-Day Archive
Photo-a-Day (Saturday, 9th May, 2009)
The Orwell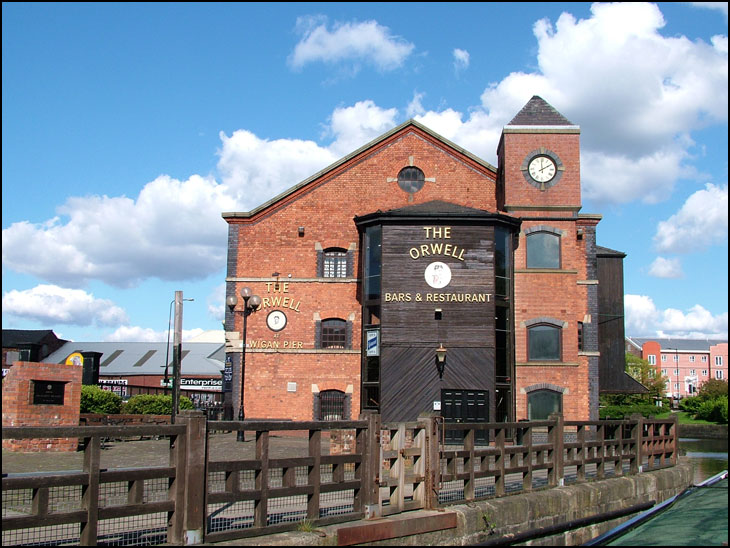 Photo taken from our day out on a narrow boat. Shame the pub has recently closed.

Photo: Brian (Fuji Finepix S7000)
Views: 3,987
Comment by:
Mick
on 9th May 2009 at 06:34
Before it closed down now it will start to fall down if nobody takes it soon.

I see that newly built building across the canal as a sign saying it for rent on now the one used by Encams.
Comment by:
brocklanders
on 9th May 2009 at 23:12
For a (nearly) town centre pub, this place should of been a gold mine, i had my 30th party here and loved it. Amazing how some lesser known pubs continue to survive whilst the ones you would expect to thrive shut down.
Comment by:
Mick
on 10th May 2009 at 00:22
Brocklander its about Location Location Location and this place is in the wrong one for the people who frequent public houses now a days.

Maybe a few years back it would be packed with couples having a drink and then a stroll a long the canal bank like it was at the Navi in Gathurst but time have changed since then.
Comment by:
A Parr Aussie
on 12th May 2009 at 11:25
Could not believe it had gone,when my wife and I,was in Wigan .May last year.
Comment by:
amanda333
on 15th May 2009 at 17:25
The Famous Wigan Pier, people travel miles to see this, hope it re opens soon, bet its lovely in the summer
Comment by:
Sparky2009
on 20th May 2009 at 02:36
Such a shame, beuatiful building inside as well as out. I have done many a wedding in this building. If a pub like this goes down, what chance has the rest. I wonder if this will end up as flats?