Photos of Wigan
Photos of Wigan
Photo-a-Day Archive
Photo-a-Day Archive
Photo-a-Day (Thursday, 28th August, 2008)
Gidlow Lane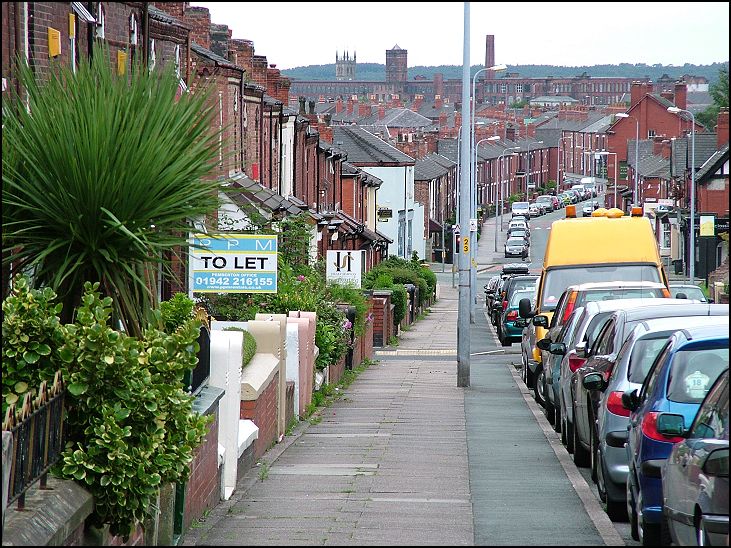 Looking down Gidlow Lane, Wigan. Park your car, first come first served.

Photo: Brian (Fuji Finepix S7000)
Views: 4,963
Comment by:
ken campbell
on 28th August 2008 at 01:34
Typical Wigan no Parking for Cars ,houses no Garages .Ho to live In the Wide open Spaces
Comment by:
Mick
on 28th August 2008 at 06:17
Is the Trencherfield Mill chimney still visable from there now that its as been reduced in size.
Comment by:
Dave Marsh
on 28th August 2008 at 09:11
Did you climb a lamp-post Brian?,they are there to be used.
Comment by:
Frank Healy
on 28th August 2008 at 10:00
At first sight, I would never have guessed that it was Gidlow Lane even though I've walked down thousands of times.
Comment by:
Ernest Pyke
on 28th August 2008 at 12:18
I thought it was straight downhill to the traffic lights, which you can`t see. Must be the end of `The Famous Pagefield Hotel`on the right. Does anyone know when it changed it`s name from `The Pagefield Hotel`? Like the palm tree !!Church tower in background must be St.Jame`s in Poolstock.
Comment by:
danni
on 28th August 2008 at 20:42
church tower is St James and the Mill is Eckersleys
Comment by:
she44
on 30th August 2008 at 06:24
when those houses where built people
didnt have that many cars so you cant any body for that
Comment by:
David Dawber
on 17th October 2008 at 20:20
It is St. James's church at Poolstock in the distance. The short chimney just visible is Eckersley's at Swan Meadow Mill on Pottery Road (shortened in 2005). The other is at Western Mills. It looks like the second chimney at Western Mills has gone, it would be to the right of the one in the photo. As for Trencherfield Mill chimney, that was a very large one demolished in the early 1970's.
Comment by:
David Dawber
on 14th November 2008 at 20:05
I must correct part of my previous comment. The second Western Mills chimney has not been demolished; it must be just off the picture to the right. I passed through Wigan North Western station on 27 October and I could see it from there.
Comment by:
David Dawber
on 22nd December 2020 at 21:53
Update in 2010 - The Western Mills chimney that I referred to above has now been demolished some time this year. It was getting into a bad state and has been leaning for some time. The one in the photo is still there.