Photos of Wigan
Photos of Wigan
Photo-a-Day Archive
Photo-a-Day Archive
Photo-a-Day (Saturday, 26th July, 2008)
Bank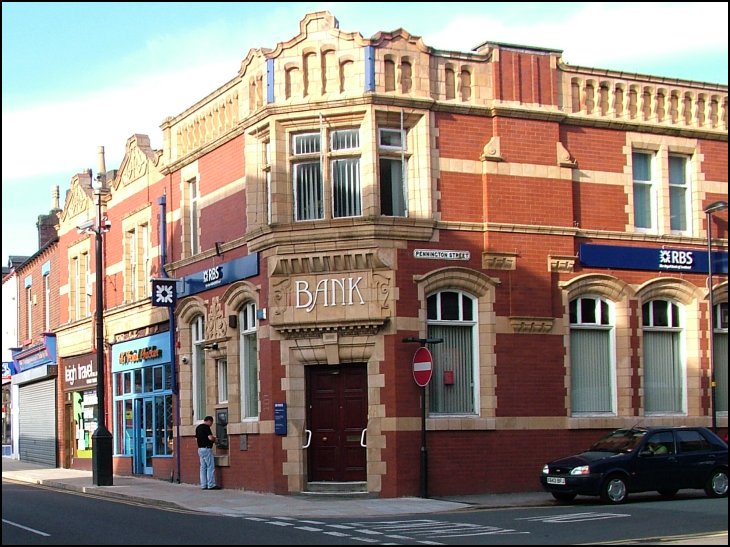 The bank in Hindley on Market Street with the junction of Pennington Street.

Photo: Brian (Fuji S7000)
Views: 4,641
Comment by:
dingerbell
on 26th July 2008 at 01:56
Used to be the Midland Bank in the fifties.
The Blue shop---Is it still the Post Office?
Comment by:
Dave Marsh
on 26th July 2008 at 16:13
Banks and Monasteries always have the best buildings in the area.Is there some connection.
Comment by:
jeremyb
on 26th July 2008 at 20:25
The building next door has not been the post office for a long time.

It relocated to the Co-op when that was built and when Tesco took over it moved to what used to be Rudd's printers in Worthington St.

Still there.
Comment by:
she 44
on 26th July 2008 at 21:04
no dingerbell its a fast food shop
Comment by:
jim
on 1st August 2008 at 06:04
don't remember it being the midland.It was Martins,then Williams and Glynns though.
Comment by:
Len Jones
on 3rd September 2008 at 11:48
I seem to remember the bank being Martin's, back in the 50s. Just up from the Post Office (as was) used to be Baron's toy shop - a looking- through-the-window delight for kids of my generation, in the 1950s. We had a teacher from the family that owned the toy shop at Argyle St. primary school around then. Surprisingly, she was called Miss Baron.