Photos of Wigan
Photos of Wigan
Photo-a-Day Archive
Photo-a-Day Archive
Photo-a-Day (Thursday, 8th February, 2007)
'Gingers' Easter Egg Run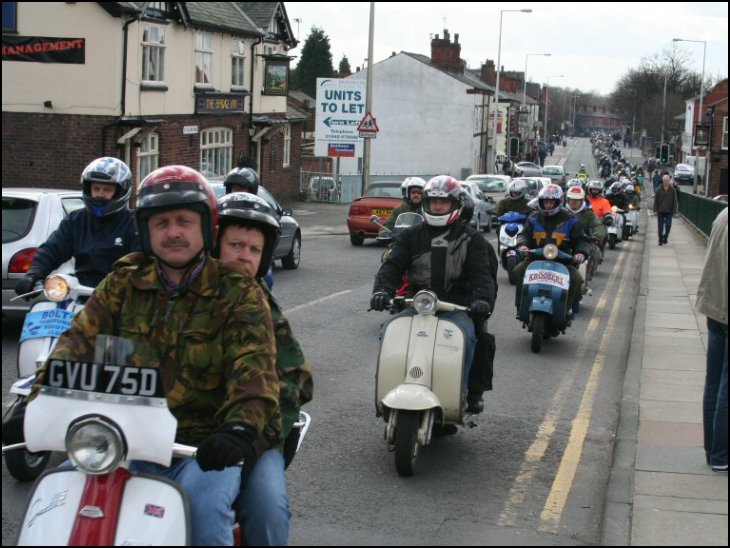 The 'Gingers' easter egg run, 2006 taken from Leigh Bridge.

Photo: John Ashcroft (Canon EOS 350d.)
Views: 7,097
Comment by:
A Bolton
on 8th February 2007 at 09:47
Happy days....Without all the car!...traffic!
Comment by:
mags
on 8th February 2007 at 11:19
reminds me of Jim MacDonald in Corrie!!!
Comment by:
John Ashcroft
on 8th February 2007 at 20:17
This is a yearly event. Starting at Lowton civic centre and ending at Pendlebury childrens hospital. All the scooterists take easter eggs for distribution amongst childrens wards throughout Manchester, money donations are also made. The event usually attracts around 1,500 scooters. Major headache's are the order of the day after inhaling huge amounts of two stroke exhaust emmisions, one of the joys of scootering! :-)
Comment by:
Dave Marsh
on 23rd February 2007 at 17:01
Those were the days.King of the road on two little wheels.
Comment by:
joseph c.
on 20th February 2009 at 18:10
Would hate to be the tailender!