Photos of Wigan
Photos of Wigan
Album Contents
Album Contents
Wigan Album
Wigan and District Brass band
6 Comments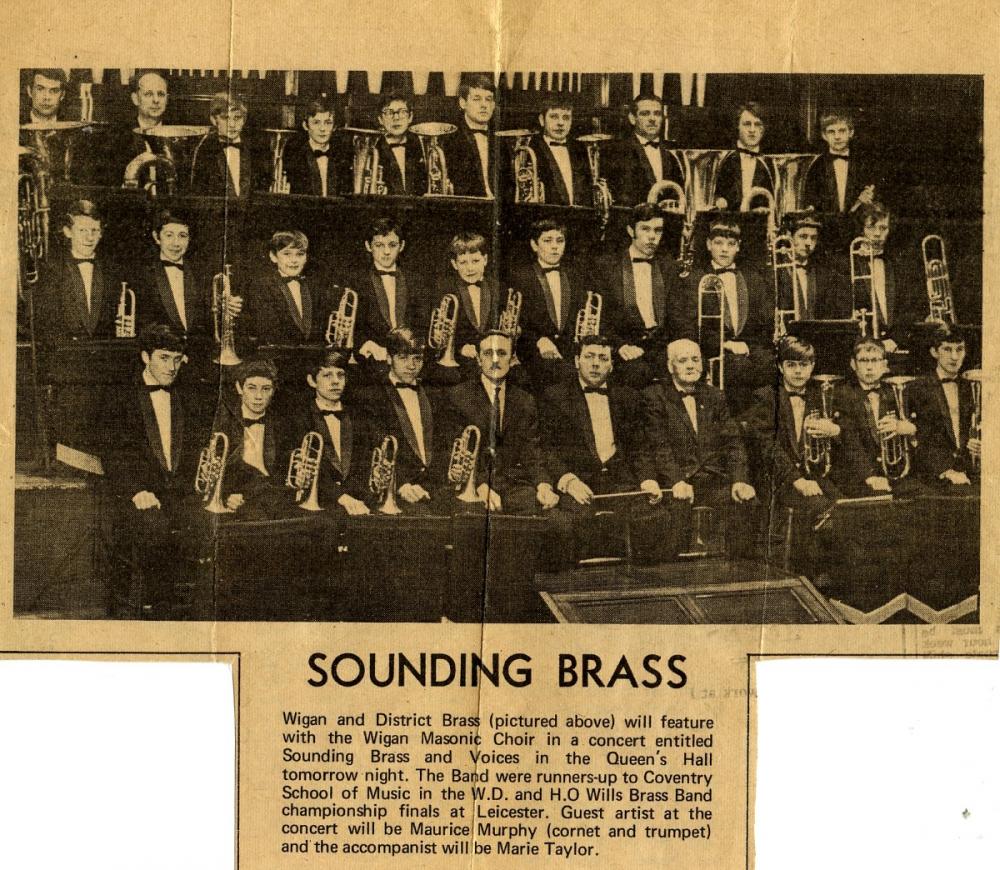 Wigan and District Brass band
Photo: Ian
Views: 1,383
Item #: 8678
Wigan and District Brass band paper cutting.
Comment by: Stephen on 13th January 2009 at 16:08
Is that Walt Holmes at the back lol
Ian, thanks for putting these pics on. It's also nice to have some info about the event too. It's brought back some memories now and i can remember the guest trumpet player. He was amazing.
Stephen, Yes it's Walter Holmes lol
Send me an email I have a couple of photos for you.
Comment by: dave on 13th January 2009 at 16:45
I remember Alan Mason at the front with the baton, but i also remember that really fancy trombone with all the pipework and extra bits. Gold coloured and that looks like it on its own far right at the end of the trombones line.
Comment by: Kath Nicholson nee Roberts on 20th January 2009 at 15:06
Great photo Ian! I played in Trinity Girls and recognise a few of these lads. Ken Pollitt back row (euphonium, and a fantastic player) next to him is Pete Hidden and middle row Paul Statter (flugel). Jim Tollitt front row cornet player, I also recognise the lad next to Jim but can't think of his name. Speaking of Maurice Murphy I was lucky enough to have some private tuition by him at his home in Heald Green, Manchester. Great bloke and fabulous player!
Yes I was the only guy to play music with the trinity girls brass band - awesome ! (Philip - drums and percussion)
That's me with the trombone on the end with the fancy pipework. It was a King Bb and F.