Photos of Wigan
Photos of Wigan
Album Contents
Album Contents
Wigan Album
Wigan and District Brass band
10 Comments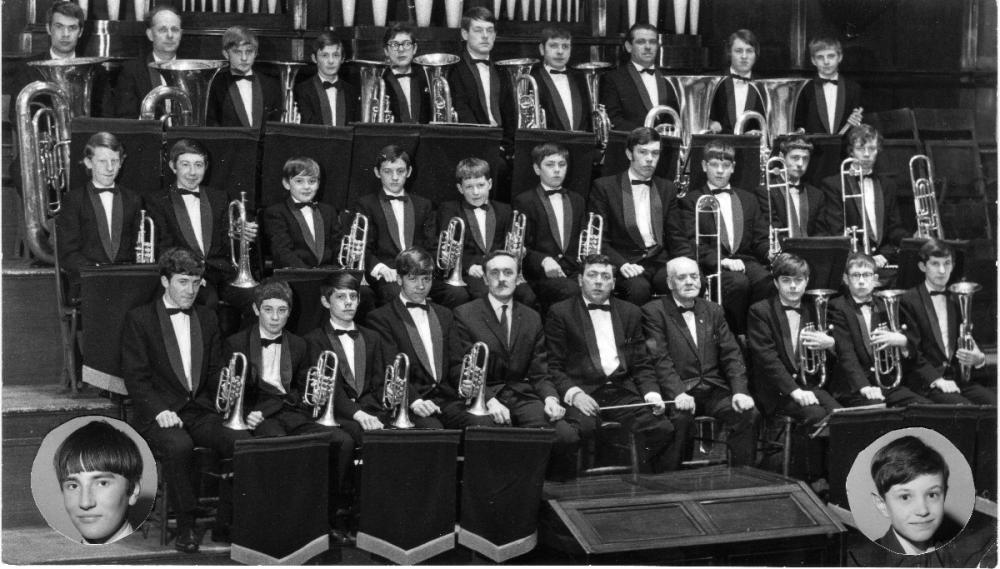 Wigan & District Brass band
Photo: Ian
Views: 2,699
Item #: 8616
Another photo of the Wigan & District Brass Band at the Queens Hall, Wigan. Including Alan Mason (my wife's late father) centre front.
Comment by: Stephen on 10th January 2009 at 22:35
I think this is the better of the two photo's. The faces are clearer in this one. This was taken circa 1969. I'm middle row 4th from left. Mick Dugdale is front row second from left and although he was only 13 or 14yrs old he could play 'The Nightingale' along with the best. Can anyone add any more names?
Thanks for these photo's Ian.
Comment by: Mick on 11th January 2009 at 00:19
Neil Parkinson, inset photo, bottom left hand corner.
Comment by: Art on 11th January 2009 at 11:03
Third from the right, top row is Walt Ainscough, who was in the old Wigan British Legion (town branch) B/Band, as I was.
He played euphonium then. I was solo trombone (this was late 50's/early 60's.
As far as I know, he's still running the Brass Band Archive in Scholes. [url="http://www.brassbandarchive.com/"]Link[/url]
Comment by: Cyril Ashurst on 11th January 2009 at 21:04
I think you got it wrong Art, third from the right top row is Walter Holmes, I played with him in the 70s, he was a good mate, sadly he died.
Comment by: Art on 12th January 2009 at 00:58
Well Cyril, if you look at the 1st Queens Hall pic of the same band. The same man <quote>"Back row 3rd from right Walt Ainscough Bass player"</quote> is in the same place on that pic. If not, it's his twin ;o)
Comment by: Cyril Ashurst on 12th January 2009 at 16:06
Hi Art,
Well my friend whoever put the names on the pictures got it wrong, I played for about 5 years with the band on the double B in the early 70s.
Walt Holmes was on the Eflat and Walt Ainscough played the flugel horn.
I'm sure if you contact Walt Aimscough at the Brass Band Archives he will tell you the same.
We had a Bass quartet at the time consisting of Walt Holmes, Jimmy Moss, Rory Kelly and myself.
Comment by: Stephen on 12th January 2009 at 19:01
Hi Cyril and Art, I'm on these 2 Queens Hall photo's and played with Wigan until the split in 72/73. I couldn't remember Walters surname but saw that Art had named him on the very first photo which was posted back in October. The one where you, Cyril are holding the banner. As no one commented on his name being wrong at the time i pressumed it was indeed Ainscough. Walt Ainscough must have joined the band after i left in 72 as Paul Statter was our Flugel player.
This is a photo I remember also Queens Hall , we did also joint concerts with Wingates Temperence ! - I am on the extreme right with the drumsticks - Philip ex wigan boys band club also
Top right on this photo going left is Phillip (drums), then Jeff (e flat base) then Walter Holmes (b flat base). God bless everyone who can remember these wonderful times. Ian AnderrtonA
I remember the Queens hall. Wingate band also appeared with us I think. I was the drummer at the time on the right hand side the very back holding the drumsticks (Philip Lawrence).. great times.