Photos of Wigan
Photos of Wigan
Album Contents
Album Contents
Wigan Album
Wigan and District Brass band
10 Comments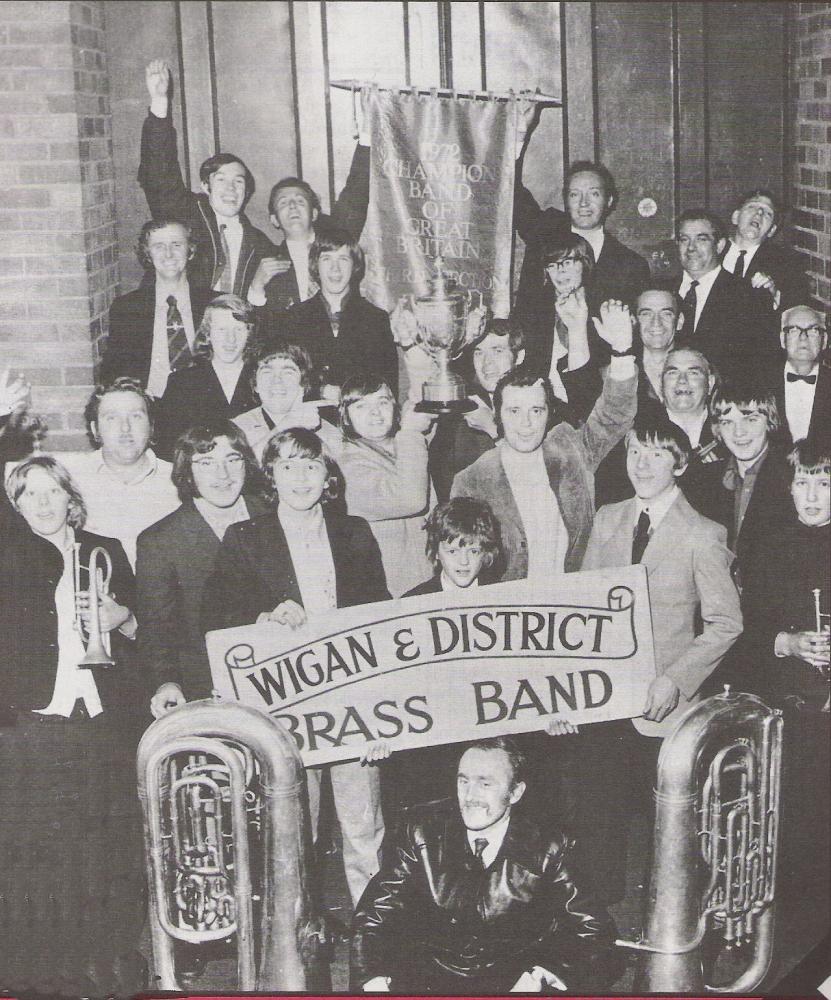 Wigan and District Brass Band
Photo: Joseph
Views: 3,415
Item #: 7789
Wigan and District Brass Band under the guidance and musical direction of Alan Mason and later Ted Gray.
Comment by: Stephen on 29th October 2008 at 19:22
Great photo Joseph, Alan Mason had already left Wigan and was conductor at Haigh when this photo was taken. A couple of noticable absentees are Mick Dugdale and Paul Statter. Also i can't see Ken Pollit unless thats him far right back row behind Walt the Bass player. Others i can see are ? trombone player with his arm raised. Peter Cromptons dad holding the banner Rory in the white shirt. Ian Anderton, Nigel Cavell (his dad is sat front centre) Peter Crompton front row far right and the soprano player in front of man with raised arm (red haired lad but can't remember his name) Anyone fill in the gaps please. I also think Terry Nichols or Nicholson is the lad pointing at the trophy?
Comment by: Stephen on 29th October 2008 at 20:29
Just realised there are quite a few raised arms. So, Trombone player with arm raised is back row far left. Can't think of his name but he used to pick me up in his car in Platt Bridge on concert days. I think he lived in Lower Ince or Spring view.
If you mean the chap on the far left in front of the one on the back row with his arm up... I think you're right and that it is our very own Graham Worthington. Still making music with enthusiasm.
Comment by: Art on 30th October 2008 at 10:55
Walt Ainscough (top right)used to be in Wigan Town Branch British Legion Brass band with me. Played & supped together ;o)
Him on the E Flat, me, Solo Trombone. Walt now runs the [url="http://www.brassbandarchive.com/"]Brass Band Archive[/url} in Scholes..
Comment by: cyril ashurst on 30th October 2008 at 15:21
I can add a few names for you, I'm holding the banner,Cyril Ashurst. In front of the banner are Chris Sleigh and Phillip Jones. Holding the cup are Norman Hardman and Jimmy Moss.
Also in picture is Paul Johnson extreme left. Alan Ainscough. Sid Rainford and Charlie Silcock.
Ken Pollitt and Harry Brown are missing from the picture.
Comment by: Susan Atkins (nee Atherton) on 30th October 2008 at 23:51
What a blast from the past Joseph. I was Euphonium player for Trinity Girls at this time and remember so many of the faces and some names already mentioned. One I think I recognise is back row far left with arm raised .. is it Clive Bilsborough. Could be wrong as the brain blocks come soooo easy these days lol. Great photo.
I was there ! loved it and would like anyone involved at the time, especially M. Dugdale, N. Caville P. Hiddon etc to get in touch
I'm in front of Lot Crompton. Great days, we were virtually unbeatable for those few short years. But the memory remains.
Yes Susan it was Clive. For some reason I wasn't there when the photo was taken. We all got a little engraved plaque which Iv'e still got.