Photos of Wigan
Photos of Wigan
Album Contents
Album Contents
Wigan Album
Wigan Infirmary Nursing Staff
7 Comments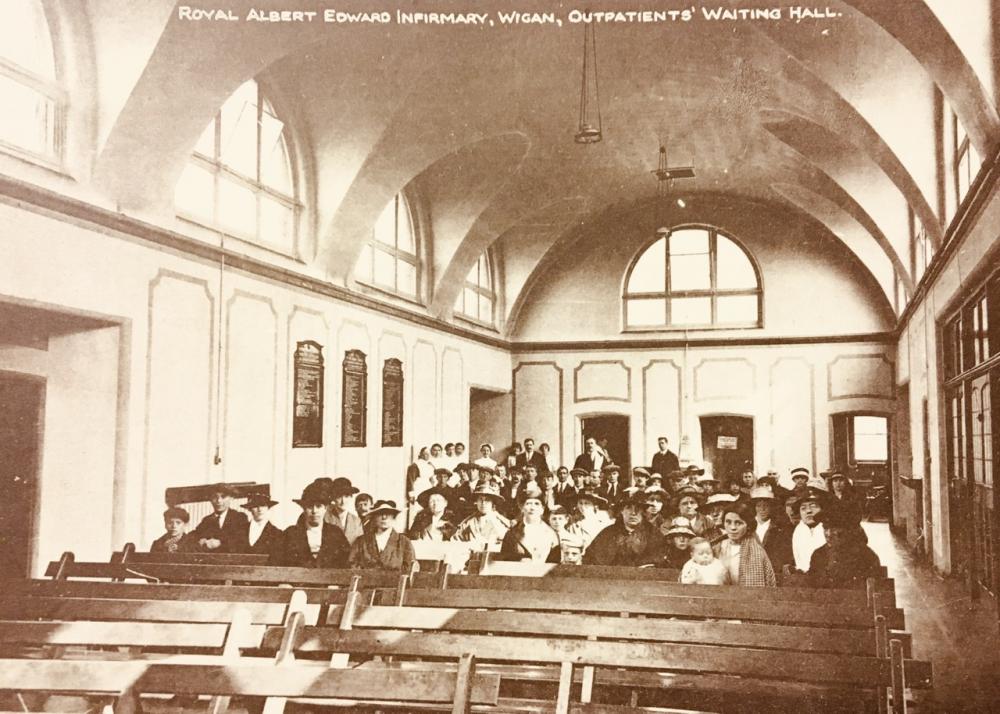 Wigan Infirmary Outpatients Hall
Photo: David Molyneaux
Views: 448
Item #: 32940
Royal Albert Edward outpatients waiting hall circa 1920s
Comment by: Donald Underwood on 13th February 2021 at 18:38
I vividly remember waiting here to be called to have a cyst removed from my eyelid in about 1938
Comment by: Veronica on 13th February 2021 at 20:06
I recall this Hall where you had to wait to be called in the fifties. I don't think benches were used then. I remember all the doors leading off. I always felt a feeling of dread when my name was called for whatever reason I was there for.
Comment by: e on 14th February 2021 at 02:24
Why do beggars stare at me,
lift their noses wafting.
Bringing with them fancy wares,
in pockets ready made.
How do folk who look like them,
know what really matters,
when disinfectant fills the air
and a loaf is all we need..
Comment by: DerekB on 14th February 2021 at 12:47
Spent many miserable hours on several occasions in here waiting to be seen in the 50s. The one that sticks in my mind was about seven hours waiting to have a broken wrist attended to.
Comment by: Veronica on 14th February 2021 at 13:19
I think my 'dread' stemmed from having a broken arm at four or five years old. All I remember is being laid down under a bright round light . I must have been 'put out', but that fear never left me. It's very strange the things you remember from early childhood.
Comment by: Edna on 14th February 2021 at 16:01
This is where I must have been taken, age 5/6. When I fell on broken glass, and needed 7 stitches in my chin.Although I don't remember the benches.WW.. doesn't half bring all kinds of memories flooding back.
Comment by: Pw on 15th February 2021 at 09:42
Spot on Veronica and Edna,bad memories and a creepy place.