Photos of Wigan
Photos of Wigan
Album Contents
Album Contents
Wigan Album
Steam Traction Engine.
10 Comments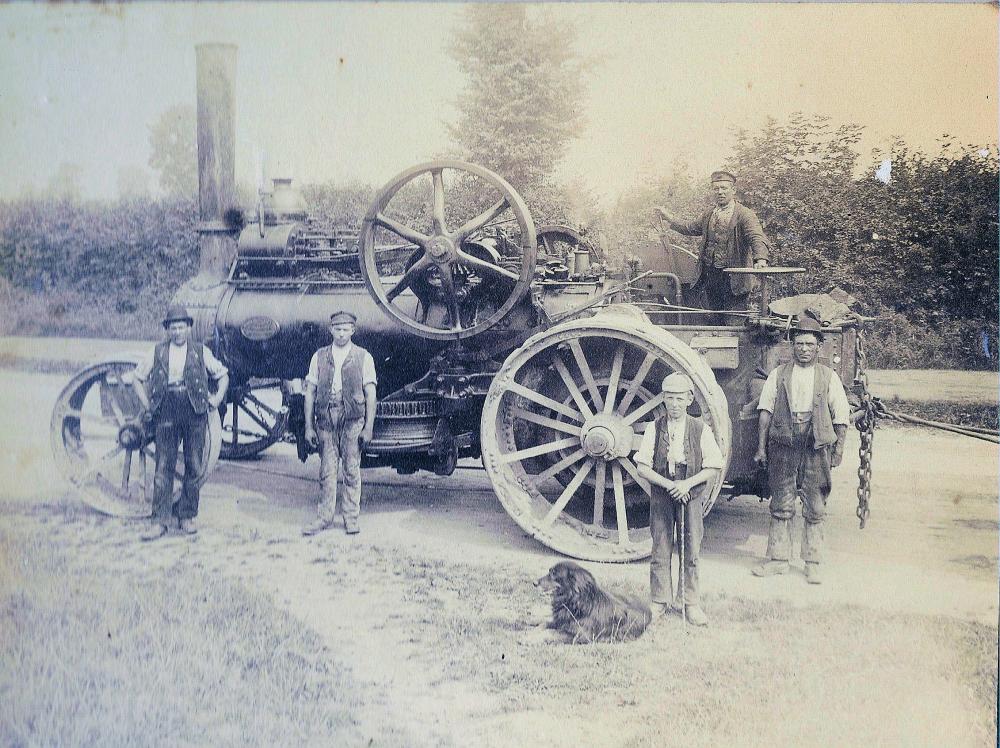 Steam Traction Engine 1881.Driver William Old aged 21.
Photo: Barrie.
Views: 1,117
Item #: 32845
Relating to my comments in photo.#32825 about my grandfather and the family bible, this photograph is kept in the family bible. It shows my grandfather (died before I was born aged 80) driving the engine at the age of 21.According to my father,he was employed by Messrs.Whiting Bros and travelled with the firms threshing and steam ploughing machinery around the local farms in the Newport Pagnell area of Buckinghamshire. Later he became an engine driver at the Wolverton Carriage Works.My father left school at 14 and became apprentice joiner at the same works working in the railway carriages repair shop.He then moved to Wigan in 1926 joining Northern Counties before moving over to Massey Bros. and the rest is history.
Comment by: Pw on 26th December 2020 at 18:48
Brilliant photo,love steam engines of any kind
Comment by: Edna on 26th December 2020 at 22:04
What a treasure this photo is Barrie for your family. My husband loved steam engines, and I still have a replica of this, in working order, and thats a treasure as well.
Comment by: Brian B on 27th December 2020 at 14:46
By the looks of the cable drum under the boiler I think these chaps are about to do a bit of ploughing.
Comment by: James Hanson on 27th December 2020 at 21:53
BrianB, the cable drum you refer to is, actually, a rope haulage which is driven by pto off the primary gear. Tha' sees.
Comment by: Brian B on 28th December 2020 at 13:39
Reet James!A rope haulage to drag a ploughing frame across a field to the ploughing engine ont tuther side.
Comment by: Barrie on 28th December 2020 at 15:50
I am glad that you all like the photograph from a bye gone age. I used to take my wife & son to the steam rallies at Grappenhall & Lyme Park in the 198O's when Fred Dibnah used to show his traction engines.
My Father bought me for Christmas about 1980 ( I was in my 30's) a Wilesco fully working model Traction Engine "Old-Smokey" along with a driving cable that could be attached to the steering arm that I used to "steam up" and run it around the house. My young son loved it but the dog couldn't make it out and tried to attack it. The following birthday, I received a Mamod Workshop that could be connected to the steam engine and operate the various miniature tools attached to it.Both are still in the boxes in pristine condition. Now I'm in my 70's should I run them again one day? They will pass to my Son in due course if he would like them as a keepsake. Steam engines on a highway can be frustrating if you are behind one and can't pass it.
Comment by: Edna on 28th December 2020 at 17:56
Barrie, I'm sure the ones your Father bought for you, will become treasure's as well in your family.Thank you for the photo.It brought back lots of memories.
Comment by: Roy on 29th December 2020 at 11:04
Barrie, you're getting 'old' as we all are, if you'll pardon me. Great photo with some great memories for you. My grandparents were at 11 MG.
Comment by: there is forum devoted to on 29th December 2020 at 21:11
Barrie there is a forum devoted to mamod and other small steam engines, Google it and I think you will find it interesting.
Comment by: Barrie. on 11th January 2021 at 16:34
Roy, I've been racking my brain on the names of all the neighbours in MG during the 1950's & 60's and couldn't remember all . No doubt it will come to me in due course.
I've accessed the forum mentioned and looks interesting to spend a period of time with. Wilesco company is also listed and I found the model I have was an upgraded one from the original brought out in the 1970's.