Photos of Wigan
Photos of Wigan
Album Contents
Album Contents
Wigan Album
*UNKNOWN* - Can You Help?
6 Comments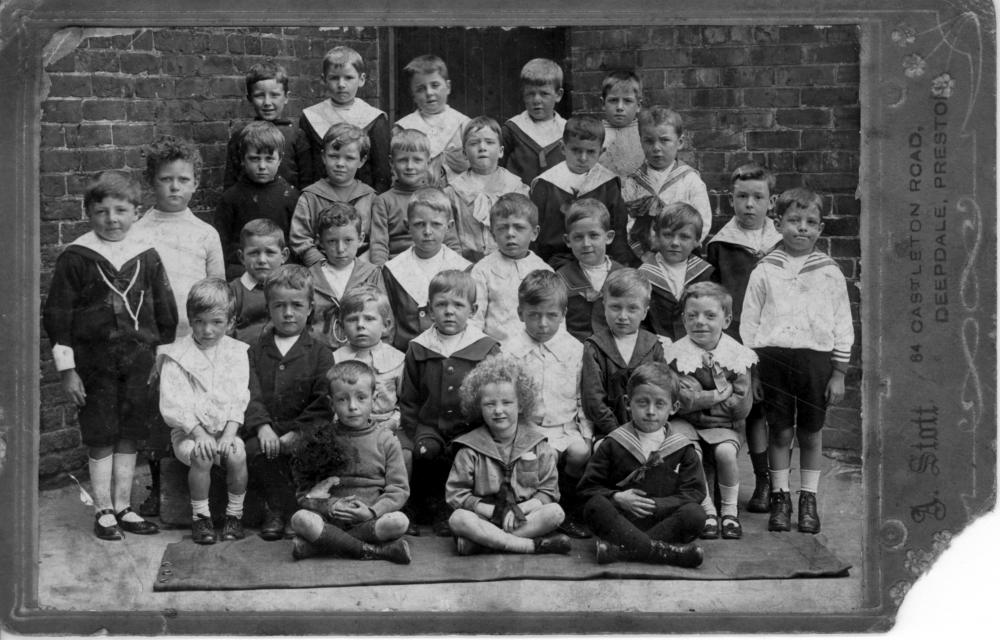 about 1913, school photo anybody know where? Wigan, Ince, Lytham?
Photo: Jim Orrell
Views: 740
Item #: 32214
My uncle Frank Orrell b1907 is 2nd row up, 2nd from R sitting.

Possible schools:
[1] Hall of Ince/ St Mary's School
Frank went to this school on an earlier pic and lived Warrington Road, Lower Ince.
Comment from our WW sage Rev David Long
" ... looks like an infants class - and the brick background fits the Hall of Ince/ St Mary's School - but, as the Infants School is still standing, it is possible to look to see if there is anywhere where that group might have been taken - and I can't identify it. However, the section now used as the vestry is a later addition, and the new hall has changed the whole of the north side of the building - so it's still a possibility. There are a number of group pics taken around the building - and none like this one."

[2] Frank later lived at Delph Street, Wigan near Mesnes Park, so that would suggest St Andrews or Blue Coats school.

[3] For a short period Frank went to King Edward VII School in Lytham St Annes school (probably prep school)

Comment by: Ben on 11th May 2020 at 09:25
Don't know if this helps but a Frank W Orrell was living at 267 Warrington Road Lower Ince, Ince in Makerfield in 1911, age 3, a few hundred yards from Hall of Ince/ St Mary's School (that I attended in 1946) and the Warrington Road house still exists.
The address of the photographer/ developer on the dark strip on the right of the photo is Deepdale, Preston. I would have thought they would have used a local photographer for the schools in the Wigan area. I looked closely because my Dad was born in 1908 and went to St. Mary's.
Ben - thanks, I had checked out the 1911 census and as I said have an earlier picture of him at Hall of Ince school. I'm not sure when they moved to Delph Street, or when he attended Edward VII school at Lytham.

Irene Roberts - yes I had noticed that Deepdale address which if it is where Preston North End is situated would be on the North side of Preston nearer to Lytham. However, I have a school picture of Denton the other side of Manchester being taken by a Blackpool company. So perhaps the seaside photographers went out to schools etc in the low season?

Irene - if you check out my earlier pic for Hall of Ince at
https://tinyurl.com/y78znwau
you might see your father on that

I'm not sure how well dressed the boys are for that period, would that signify a private prep school over a local council school?
Comment by: Josh on 11th May 2020 at 20:15
For what it's worth my Wigan based Primary school photos were usually taken by a Blackpool outfit.
Comment by: Philip G. on 12th May 2020 at 08:52
A well-turned-out crew Jim. It seems the craze for 'a child's navy rig' had began from the moment the four-year-old Prince of Wales had been seen wearing his rig in 1846. And, for what it's worth, this Preston-Blackpool bit is a cute reminder of the football 'derby game' that I attended in the Spring of 1960; Matthews didn't play, but Finney scored one of the home side's four. I'm also reminded of Orrell's sixteen-year-old John Barton keeping goal for Preston in the fixture played over the 1958 Christmas period (I didn't go to that game.). Thanks.
Comment by: MickLD on 12th May 2020 at 09:23
I think you can eliminate the King Edward VII school at Lytham from the equation, Jim.
There are a few photos to be found online of class photos taken at this school in the same time frame, and they all show pupils in a uniform similar to that worn at Eton, standing in front of a huge building of classical design.