Photos of Wigan
Photos of Wigan
Album Contents
Album Contents
Wigan Album
*UNKNOWN* - Can You Help?
16 Comments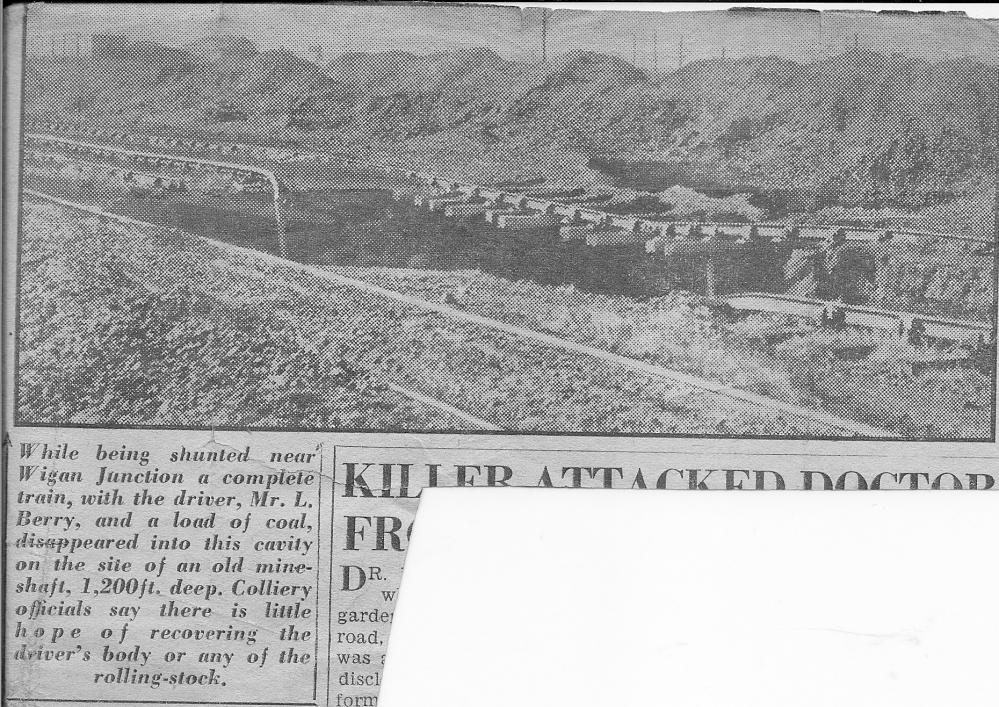 Newspaper cutting on a train disaster-Wigan Area (when or where?)
Photo: Barrie.
Views: 998
Item #: 32039
This cutting from a local paper details a disaster to a coal train in the Wigan area. I found it in one of my Fathers' diaries recently.It was often talked about in our household during the 50's as we grew up, but I cannot remember any further details.Father came to Wigan in 1926 so I assume it was later than this.
It is strange that he kept this cutting all those years.
Comment by: mygriffiths on 2nd April 2020 at 21:56
Search this site for Ludovic Berry and Dolly for your answers
Comment by: Arthur on 2nd April 2020 at 22:03
Dolly the engine and driver disappears at Abram Colliery.
That was April 1945 when a very large hole opened up under the railway tracks and swallowed up Dorothy the engine and driver.
Comment by: Dave lewis on 2nd April 2020 at 22:03
Hi Barrie, the drivers name was ludovic berry and the loco was named Dolly, the disaster is on this site somewhere, very tragic the shaft was filled in it was ludovics final resting place.
Comment by: Arthur on 2nd April 2020 at 22:07
The drivers name was Ludovic Barry.
Comment by: Keith on 2nd April 2020 at 22:12
According to a newspaper report on May 1st 1945, the train fell 1,200 feet with its 13 wagons and about 150 tons of coal. The driver Mr Ludovic Berry, a widower, had been a driver for the Maypole Colliery since 1908, and the train load of wagons was the last before he finished work for the day. The brakeman and colleague, Mr John Ward heard rumblings and noticed steam was gushing out, as they approached that part of the railway which crosses what was the main shaft of the old New Zealand colliery, but there was no reason to anticipate danger. When the train was immediately over the old shaft, Mr Ward saw the ground slowly cave. He shouted to Berry to jump but the driver was too late.
Comment by: Geoff on 2nd April 2020 at 22:16
There is a commemorative plaque for the engine driver Ludovic Berry at the Travelers Caravan site, which is signposted off Bickershaw Lane. It's on the left going towards Bickershaw. Here's the link to the page on Wiganworld. http://www.wiganworld.co.uk/stuff/past1.php
Comment by: Albert. S. on 3rd April 2020 at 10:58
I remember this occurring, I was eleven years of age. They never recovered the engine driver's body. A service was held where this tragedy occurred . The bake man tried to apply the brakes, on some of the twelve wagons, to no avail.
Comment by: Albert.S. on 3rd April 2020 at 11:08
There were two sister engines. One was Dorothy, I cannot remember the name of the other one.
Comment by: Barrie. on 3rd April 2020 at 12:41
Thanks to all on the comments. Been a great help and looking at the story from yesteryear. Have looked at my Fathers diary for the period (I was born days later at home before war ended) and he was travelling to Tyldesley from Wigan each day by train so I guess it was the talk of the compartment the following morning but no mention in the diary. After the current world crisis is sorted and we can move freely again, a trip over to the area is beckoning.
Comment by: Albert.S. on 4th April 2020 at 09:59
Last night I remembered what the other pit locomotive's name was. It was DELIA. There was DOLLY, DOROTHY, and DELIA..
Comment by: WN1 Standisher on 4th April 2020 at 11:47
Let me know when your going Barrie, when all the giddiness stops I'll have a ride over with you. I believe the plaque is in undergrowth near a travellers site. Wouldn't mind a look at what, if anything, is left of the old Maypole site whilst we're over that way.
Comment by: Albert. S. on 4th April 2020 at 14:50
When the time comes for your visit to the site of the once Maypole Colliery. It may be appropriate to visit the memorial monument in the Parish Church cemetery, where all of the victims of the 1908 explosion are laid to rest. Their names are inscribed on the monument. The church is on on the very sharp bend, opposite the council offices.
Comment by: mick on 5th April 2020 at 12:21
the old maypole site is a housing estate now . The church has some maypole memorabilia on display as well as the memorial .
Comment by: Albert.S. on 8th April 2020 at 11:16
There is a very good book, with very detailed contents that I had many years ago. ' Diary of a colliery disaster'.ISB number.9500 280 88. May be obtainable on the internet.
Comment by: Albert.S. on 8th April 2020 at 11:57
Correction ISBN code 0 9500 280 88.
Comment by: Albert.S. on 8th April 2020 at 12:14
Having looked on the internet, it would appear that this book is out of print. Wigan Heritage Centre may hold a copy.