Photos of Wigan
Photos of Wigan
Album Contents
Album Contents
Wigan Album
miscellaneous
12 Comments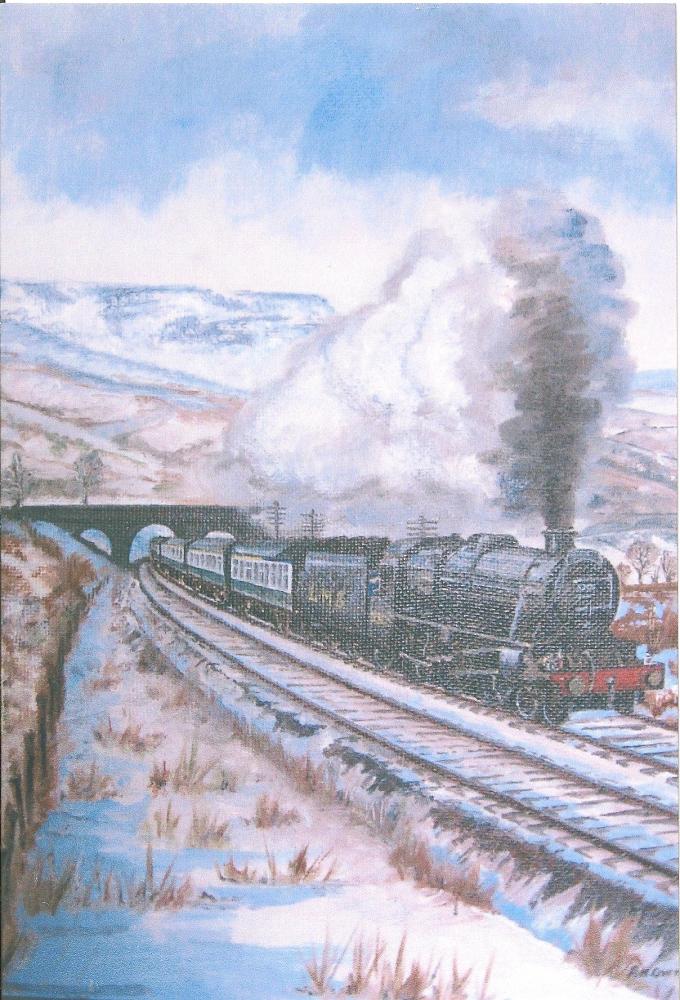 Painting of LMS 5305 by Standish Artist Robert Overton 1982.
Photo: Barrie
Views: 1,098
Item #: 30285
Bob and his wife Gill ran R O Pottery in the High Street. This painting (framed by Frame it Studio & Gallery in Wigan) was given to my Father as a present. It now has pride of place in my Son's (now 42) bedroom.
The locomotive LMS 5305 (now 45305) is based at the Great Central Heritage Railway in Loughborough.
The view, I guess, could be Settle way.
Comment by: John Brown on 14th March 2018 at 14:13
A great painting.I love it.
Comment by: Garry on 14th March 2018 at 14:51
I can almost smell the steam and smoke, brill.
Comment by: Maureen on 14th March 2018 at 15:27
That's a brilliant painting.
Comment by: Veronica on 14th March 2018 at 16:52
Comment by: Philip Gormley. on 14th March 2018 at 18:02
A fine painting of such a handsome 'brute' and, also, of a ne'er-to-be-forgotten era. I think that I would have enjoyed being a passenger on this train's journey through the snow-covered landscape. I also like the dusky grey-green of the carriage livery.
Comment by: irene roberts on 14th March 2018 at 18:18
Comment by: Roy on 15th March 2018 at 09:04
Another brilliant piece of art (amongst many) by a good friend of mine Bob Overton.
Comment by: A.W. on 15th March 2018 at 10:50
Comment by: Mick on 15th March 2018 at 19:56
Southbound at Ais Gill with Wild Boar Fell in the background.
Comment by: Robert Overton on 16th March 2018 at 01:15
I am absolutely thrilled to see that this painting of mine is still being enjoyed and loved today. I remember well doing the painting and seeing how much Arthur Old liked it. But I can't remember if he bought it from me, or his son bought it for him, or if I gave it to him. But I am so happy that it is still appreciated.
Comment by: Barrie on 16th March 2018 at 08:55
Hi Bob, I remember Father showing this picture to us one time we were over and after he died, our son decided he would like to keep it in his bedroom as a memento of his Grandpa where it hangs today.
Comment by: Stuart on 22nd April 2018 at 18:46
Do you want the good news or the bad? The bad first. This is not from the 'golden era' of train travel. The loco became 45305 in 1947 and stayed as that until withdrawn in the mid 60s. The picture depicts a Settle & Carlisle line special from the 80s or 90s as evidenced by the BR blue and grey carriages. The good news? There is a Wigan connection because the last shed this loco was allocated to was Springs Branch. It is an excellent painting and is a credit to the artist.