Photos of Wigan
Photos of Wigan
Album Contents
Album Contents
Wigan Album
Point duty
39 Comments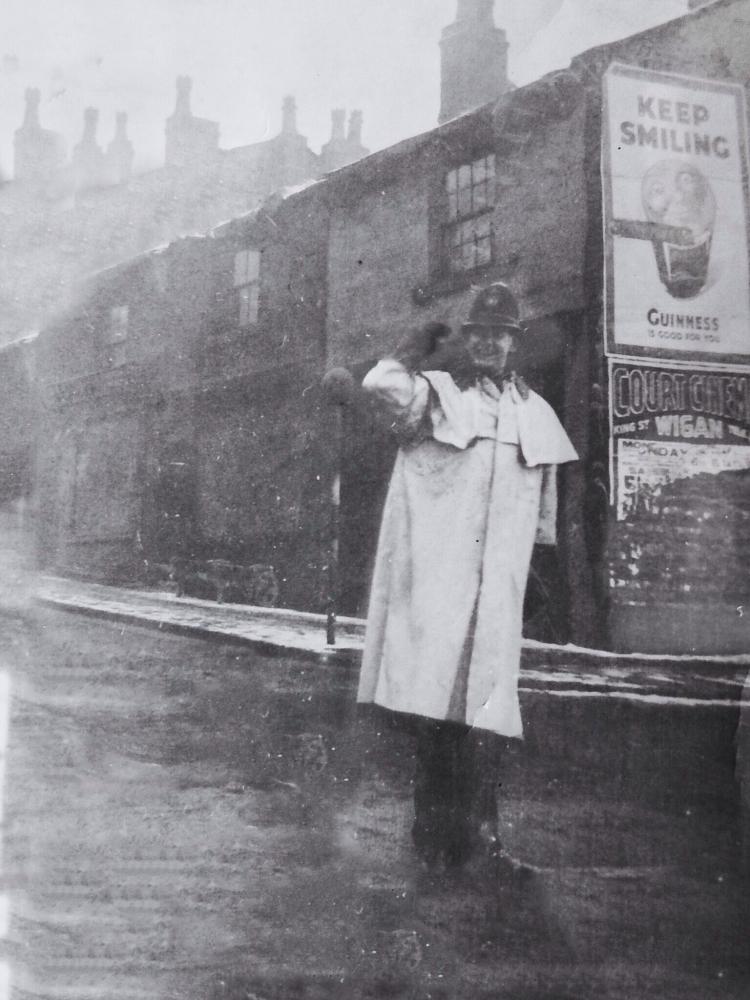 PC Tolson on point duty
Photo: Graham Parkinson
Views: 2,517
Item #: 30078
Photo of Reg Tolson on point duty somewhere in Wigan . His daughter reckons it's around 1942
Comment by: DTease on 14th January 2018 at 19:43
Is that Scholes Crossing? He looks very happy considering the weather.
Comment by: ThomasTom)Walsh on 14th January 2018 at 19:50
Scholes Crossing I'm sure, the higher building higher up is The Fleece .
I new Reg very well, I attended his 90th a few years ago . A true gentleman, he was a stalwart of Wigan Parish Church.
Comment by: irene roberts on 14th January 2018 at 21:00
Brilliant photo...."The Laughing Policeman"!
Comment by: Veronica on 14th January 2018 at 22:38
I wouldn't have thought Scholes crossing was busy enough to have a policeman on duty in those days. Love seeing the old Scholes.
Comment by: Thomas(Tom)Walsh. on 15th January 2018 at 00:36
Veronica, there was a policeman on point duty in busy times. The eve of the 1951 Wembly final (Wigan v Barrow) the policeman had gone of duty only a short time before, there was a terrible coach crash in which to lady's were killed on on the night of the crash the second lady a few days later. I think this wax the catalyst for the traffic lights being installed ;the old people used to refer to them as 'electronic bobbles' ! I wrote an article about this tragedy, I will try to post it in the next post , but it may be to long to use.
I should apologise for my earlier post and the typo, missing the 'K' off in knew , I should follow the maxim , check twice - send once!
Comment by: Thomas((Tom)Walsh on 15th January 2018 at 00:45
Triumph and Tragedy
May 1926 May 1951
By Tom Walsh.

Along with the whole (almost) of Wigan I watched this years Cup Final. I found it incredulous that video referees decided to disallow Tony Clubb's try which arguably cost Wigan a 20th Challenge Cup win .Although to be fair Shaun Wane said Hull were worthy winners. I'll go by the mantra, Hull deserved to win but Wigan should have won.

After watching this game my mind turned to games of yesteryear, and the history of the game .My family is steeped in Rugby League. My Dad particularly so , me much less because of circumstance. I did however pay my 'Thrupenny Bit' to watch from 'The Hen Pen' every Saturday.
Being a St.Pats ( the cradle the game in Wigan and arguably Lancashire ) lad and with my Dads history, many of my family thought I might take up the game seriously, alas from my early years it was very clear to everybody, including me I wouldn't make the grade, nor to be fair to get anywhere near. When playing at school and I saw someone, usually much bigger, charging towards me I thought it was a good idea to let another player have the ball pronto !

My Dads involvement with the game started in the 1920s He was a member of St Patrick's team when they won the inaugural The Daily Dispatch Shield final in 1926 beating Widnes St. Bede's , whilst he didn't score he got a good critique in that weeks Wigan Observer. Amazingly for a schoolboy match, the attendance for that game was 16.000 .The semifinal in which St.Pats eventually (alter a reply) beat the old enemy St Helens High Grade, three points to Nil .Both games were played at Central Park, the semifinal drawing a crowd of 12.000 each game played on a Wednesday which makes the figures even more remarkable. Just a thought, the first semifinals game that ended in a draw was played at St.Helens that game watched by just 3000 spectators. I wonder if the discrepancy could be used in the oft repeated debate ,which is the greater Rugby Town, as I said just a thought !

1926 had been a very difficult year economically and politically speaking . A general strike had been called on the 4th of May. The final was played on 12th of May the day after the General Strike had been called off . Briton was in turmoil, strikers in Northumberland derailed the Flying Scotsman train, there was great unease across the land. Baldwin declared that 'Britain is 'threatened with a revolution'. Tuesday 11 May: The TUC called off the strike. The strikers are taken by surprise, but drift back to work. The miners struggle on alone until November when they are forced to go back to work for less pay and longer hours. The final must have been a great source of pride for the town at such a difficult period in the history of our country, and I must admit a feeling of satisfaction;that it was 'the lads' from my parish who lifted the spirits of the town, in this one the darkest of times, certainly in peacetime.




Another distraction in these troubled times , part of the final was filmed and shown at The Princess Cinema the following week, it must have been a great novelty in the early years on cinema.
It would be a great part of the history of Rugby League if that film came ever came to light, unlikely, but stranger things happen. One piece of film that has survived is the Leigh team meeting The Duke of York,later George VI in 1934 , for those with computers if can be downloaded from Pathie News, it's a very short clip ,but for me seeing my Dad on film, years before I was born is quite moving.

My Dad went on to play professionally for Leigh, Dewsbury and Castleford, in 1933 he was Leigh's top try scorer and top goal kicker. He played a part in the failed attempt to widen the games appeal from its northern power base signing for a London team, Sretham and Mitcham ,in 1936 . After some initial success the experiment failed .The concept was doomed from the outset not only the distances needing to be travailed every week but the greater appeal of Rugby Union to our southern cousins !

Wembley 1951, Wigan versus Barrow . Wigan are triumphant 10-Nil , Ces Mountford Wigan, wins the Lance Todd Trophy . I mentioned tragedy in the title of this article and although I can recall the event quite vividly . I was very young and have relied heavily on reports in The Wigan Observer and the now defunct Wigan Examiner , along with memories from Russ Calland who is part of the story. Amidst the the scenes of joyfulness and merriment in London in Wigan there was heartbreak for one family and a neighbourhood . A coach carrying fans from Bottling Wood was involved in a fatal accident. It left there at about 11-45 pm on the Friday before the match. It had traveled only a mile or so, when disaster struck as it negotiated Scholes crossing it was hit broadside by a double decker bus coming from its left .The force of the impact sending the coach careering into Callands Book Shop. Russ Calland ,13 at the time ,clearly remember his brothers bed being moved across the room such was the force of the impact.One lady, Jane Houghton (48) a Mother of 8 from Bottling Wood was killed , there were 37 people injured including Jane Houghton's husband who sustained head injuries. I think it was this accident that was the catalyst for traffic lights being installed at this crossing. I can remember some of the old residents from Scholes referring to the lights as ' electric bobbies ' that's easy to understand when you realise that at busy times there was a policeman on point duty. In some of the reports it states that on the night of this catastrophe it was only shortly before the incident that an officer had gone off duty

There was the usual crowds waiting when the team came hope , but I sure that the cup lost some of its lustre that particular year. As with all accidents ,you can't help but think 'if' the coach or bus had been one minute early or late, 'if ' so-and-so had been on time ; then the coach party would have had a wonderful time ,watching there team lifting 'The Cup' and a family and a community would been spared so much heartache. Although as it is often said "if " is the biggest word in the English language
Comment by: Harry C. on 15th January 2018 at 07:18
I think a policeman would only be there at busier times of the day.
Comment by: Elizabeth on 15th January 2018 at 08:48
I love seeing old Scholes photos too.My Auntie used to sometimes take me to Wigan walking from Manchester Road,Ince up Birkett Bank and down through Scholes.It always seemed to be its'own self-contained little town with loads of shops and pubs.
Comment by: Albert. on 15th January 2018 at 10:51
Somewhere in Wigan, yes, but I am not convinced that it is Scholes Crossing, because of the gradient that was both down, and up, in Scholes, from the crossing.
Comment by: Grannieannie on 15th January 2018 at 11:00
The advert over the policeman's head made me smile!
Tom that was a well written and thought provoking piece you added earlier.
Comment by: Mick on 15th January 2018 at 11:13
With regard to point duty.
A tale an ex Wigan Borough colleague told me.
The Wigan Borough force continued to use officers for traffic control on junctions far longer than many other forces.
They amalgamated with Lancashire Constabulary in April 1969, and prior to the amalgamation, Bill Palfrey, the Chief Constable of Lancashire came to Wigan to speak to the officers, and address any queries they might have.
Before this meeting, Bill Taylor, the Acting Chief Constable of Wigan Borough made it known that if any officer attending asked any awkward questions, he would take a very dim view of it.
Come the day of the meeting, Chief Constable Palfrey spoke to the assembled officers, and then asked if there were any questions.
One brave (or foolhardy?) PC stood up, and asked if the junction of Wallgate and Library St would still be controlled by an officer on point duty, when Lancashire Constabulary took over.
By all accounts Chief Constable Palfrey was shocked to learn manpower was being wasted in this manner, and told the assembled officers they could rest assured this practice would cease, adding a comment to the effect that this was the 20th Century, not the 19th.
The officer who asked the question was a 'marked man' after that, for quite a while.
Comment by: Maureen on 15th January 2018 at 11:56
My Mam was born in and grew up in Harper Street and I believe a bomb was dropped nearby in WW1 which shook the house,my Mam was a baby at the time and she was found under the table,Scholes,Ince and Wallgate were great communities ,the folk were hard working salt of the earth and steadfast, we all know that poverty as in these communities has almost disappeared ..thank goodness ..but what an awful lot we have lost.
Comment by: Albert. on 15th January 2018 at 12:38
Has anyone any idea as to what those quite large properties are in the background?.
Comment by: Veronica on 15th January 2018 at 12:55
Yes Elizabeth it was self contained - you are correct. There was no need to go 'up town' shopping - every shop you could think of was in Scholes. Saturday was the day we went there - something different and a bit 'posher'!
Thanks Tom I didn't know about the accident at the crossings.
Comment by: Elizabeth on 15th January 2018 at 14:05
Apologies to Tom,I omitted to say, a well-written piece about a tragic happening.
Comment by: DerekB on 15th January 2018 at 14:53
My father joined Wigan Borough Police in 1939 as what was known as a WR (War Reserve)constable(to replace policemen who were being conscripted) and stayed with the force after the war until retirement. I remember very well as a child in the early forties him saying he was going on point duty at Scholes crossing.
Comment by: Thomas(Tom)Walsh. on 15th January 2018 at 15:21
This is a follow up article to the one above , maybe it's of interest to some viewers.

Memories of a Nightmare.



Tom Walsh.

Following on from the story about the Wembley coach crash, and the lady who was killed. I was contacted by one of Jane Houghton's daughters,Irene Mahoney she has memories of the night her Mother died she still has the newspaper cuttings and wished to share these and her thoughts about that fateful night.

Irene along with her brothers and sister waved the coach off, just before midnight, little realising they would never see their Mother alive again. Irene recalls the morning after the tragedy, getting up and being surprised that the house was full of aunts and uncles her Dad sat on the chair his head heavily bandaged ,an aunt took her to the outside lavatory to break the sad news she clearly remembers the words she used " Don't cry love, because you'll make your Dad cry " she then broke the heartbreaking news about her Mother. She recalls how her Mother had been so excited about the trip never having been to London and being an avid rugby league fan it was a fulfilment of a long held dream, adding to the utter anticipation of the day, she had arranged to meet two of her elder daughters who were living in London, having moved south to help the war effort as part of The Land Army.

Another aspect to the story I'd never heard before, the trip had been organised by regulars of The White Lion and Railway, Whelley, 'the vault' had often arranged such trips in the past. This was the first time women had been allowed to join the excursion ! Again that word 'if' comes into play ,if this distinction had carried on for one more year Jane Houghton would in all likelihood have lived to see her children marry and see her grandchildren and great grandchildren. Irene also told me that there was another fatality caused by that ill fated coach trip, Sally Armer, a friend of her Mother and Dad who died a short time after the crash from her injuries, she was buried at Hindley Cemetery on 15th of May 4 days after Janes Houghton's funeral . Irene remembers the day of her Mother's funeral clearly ,one of the things that is an abiding memory is that the whole Wigan team attended bringing a very large wreath of cherry and white flowers. This was another part of the story I'd been unaware of until meeting with Irene, she is such a kind person,as nice as anybody you could wish to meet .and tells the story without self pity, although it must have been the cruelest of blows to lose your Mother at such a young age, Irene was 13 at the time.

I mention the vault in the previous paragraph, and include this as a example of the power of' the vault' so to speak ,the term was the colloquialism for the public bar in many public houses, Tap Room in others. They were completely no go areas for women until the late 1960s and early 1970s, not so much in the south of the country . In the north it would be considered a mortal sin,
for a woman to even think of entering its hallowed halls ! Any transgressors would be treated with contempt and likely to be asked to leave in no uncertain manner by both customers and landlords alike,or more intimidating still 'landladies' who seemed in those days to make the bullets for their husbands to fire, if he failed in his duty , she was more than capable to discharge the fire herself ! This outdated attitude came to a juddering halt on the 1st of January 1976 with introduction of the Sex Discrimination Act. Until that date at least one Public house in Wigan had two bars reserved for men only, The Market Tavern, the Vault with a separate entrance in Marsden Street, and a Gentleman's Room which was screened off from the main body of the pub, such screens were often known as ' Snob Screens' women would never dream of setting foot in ether until the change in the law.
Comment by: Albert. on 15th January 2018 at 19:15
Reg Tolson must have retired before I joined the Wigan Borough Police, in May, 1958. There were still two war reserve officers still serving, One, I believe, must have retired soon after I joined, Tommy Bond, and Danny Lowe, he was the reserve man, in the front office, He was on the same section that I was on. There were quite a number of officers that had served in the armed forces, during the war.
Comment by: TD,. on 15th January 2018 at 20:23
Tragic, but not forgotten Tom. Thanks to your interesting comments.
Comment by: Maureen on 15th January 2018 at 22:05
Tom,what very interesting information..thank you very much.
Comment by: Aubrey on 16th January 2018 at 09:26
Albert, Reg Tolson was a Sergeant at the time you were at Wigan. He was certainly there until the mid 60s.
Comment by: Poet on 16th January 2018 at 09:40
Tom, even after the change in the law the very nature of tap room culture ensured it remained a male preserve.
Comment by: Albert. on 16th January 2018 at 10:32
Very interesting Tom, very extremely detailed, overshadowed by the memories of such tragic circumstances.
Comment by: Veronica on 16th January 2018 at 15:06
Now men have to go in the garden shed instead to get away from women! Really interesting article Tom as always!
Comment by: Albert. on 16th January 2018 at 15:51
Thank you Aubrey. You tended to remember the ones that were on your section, or constables with you, unfortunately I just can't bring Reg. to mind. Although a lot of water has gone under the bridge, in the past fifty three years, (1964) since I left Wigan, and went to Kent.
Comment by: Poet on 16th January 2018 at 20:50
Veronica, when l finally become King , l will instantly invite you to become minister for equality.
Comment by: Dave C on 18th January 2018 at 13:18
If that is Scholes Crossing, one of the shops behind the Policeman, either the second or third one up from the corner, was Mr. Woo's Chinese Laundry (he of George Formby fame). I used to go there with my Grandmother to drop off and collect my Grandads starched, stud fastened, collars. In the mid-1950's you can imagine my fascination looking at an Oriental face. I'd only ever seen one in my school books. Always remember he had a smiley face.
Comment by: Veronica on 18th January 2018 at 14:32
I only remember Wongs laundry further up - I too used to take my dad's collars for starching. The children in the family went to St. Pat's school.
Comment by: Albert. on 18th January 2018 at 19:39
Dave.C. Quite a few of the Wigan Borough bobbies would take their police shirt, detachable blue collars, to this laundry to have them starched, and pressed, me included. Especially we single bobbies.
Comment by: Veronica on 21st January 2018 at 09:16
I think those three shops would have been knocked down by the 50's as I remember some spare land at the end of the row. Also the windows look as if they are boarded up.
Comment by: DerekB on 21st January 2018 at 14:02
Further up than the Chinese laundry was Bolton's herbalist shop. They used to sell dandelion and burdock, ginger beer and sasparilla in stone jars, and I seem to remember that you could go into the shop to buy a glass of these to drink there.
Comment by: Veronica on 22nd January 2018 at 19:16
Wongs was nearer to Pie Joe's shop I think. It's so long ago - Tom will know I'm sure!
Comment by: Thomas(Tom)Walsh. on 22nd January 2018 at 21:51
Veronica , DerckB is right Wongs Chinese Laundry was on crossing side of Boltons Herbalist, I think you are probably thinking about their second business, the chipshop,that was next door to 'Pie Joes'. Mrs Wong ran that shop whilst Mr ran the laundry. You are right about the shops at the bottom being demolished. DerekB you are correct in remembering a seat in Boltons it would seat 2 or 3 is had arms; a glass of ginger beer was 3d,you could also have sarsaparilla or hop bitters. Mr Bolton seemed to be in a constant bad mood , I don't think he was over found of children, Mrs, was much nicer as was his daughter Lilian.
The photo certainly looks like Scholes Crossing but there are a couple of things which raise doubts.As a boy, I lived in Bold Street only approx.150 yards from Scholes Crossing so I remember the area very well. If Reg's daughter is correct in saying the photo was taken around 1942, I very much doubt if it is Scholes Crossing. The shops immediately behind Reg look closed and dilapidated, but in 1942 they were open for business.The first (or second)shop was MoyToys Chinese laundry (not Mr. Woo's); then there was Joe Foster's barber's shop. Higher up was Bolton's Herbalist and a Clogger's shop where you could have new irons fastened underneath your clogs. I always grumbled at my mother because she insisted I had rubber under my clogs which meant I couldn't make sparks as my mates could.In addition,queries have been made about the tall buildings at the rear of the photo. I just can't place them. It has been suggested that it might be the Fleece but I think that was much higher up Scholes.
Comment by: Veronica on 24th January 2018 at 09:57
Tom: I had even forgotten about the chippy run by Mrs Wong! All I remember is going in with my dad's collars - the place was small with a dark wooden counter. It was on the same side as Bolton's Herbalist. The children were very friendly with Bolton's Fruit & Veg shop's kids a bit further down. I was at school with Ann Bolton their shop was turned back into a house. Do you remember them. Ann's dad went around with a horse and cart selling fruit and veg. The horse was kept around the 'backs' just past the spare land where those three shops in the picture had been.
Comment by: Albert. on 24th January 2018 at 20:00
Norman Cunliffe. Norman could this be the Junction of Powell Street, with Standishgate, and the large building in the background, the Convent. and the crossing, there for children attending St John's school.?
I doubt it, Albert.The road gradient behind Reg is quite steep but actually, as you turn out of Powell Street into Standishgate the road is quite flat until you reach St.John's Church, then the gradient starts.
Comment by: Brandon Hilton. on 16th November 2018 at 10:12
Reg Tolson was still serving in 1964 when I joined Wigan Borough Police as a cadet. He was a Sergeant in charge of the Communications room. He retired before I was appointed as a Constable in June 1966.