Photos of Wigan
Photos of Wigan
Album Contents
Album Contents
Wigan Album
Belle Green Choir Trip
5 Comments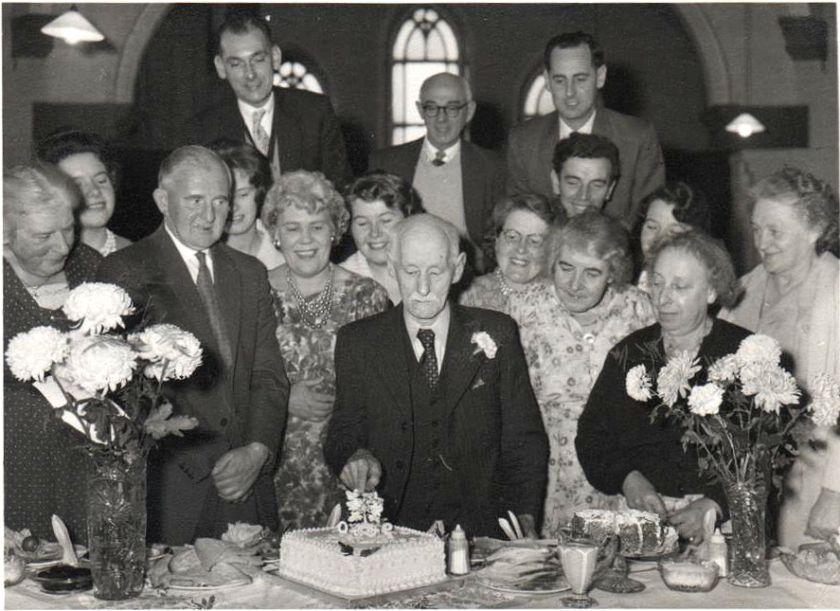 Belle Green Choir, Aarons Roby 80th Birthday party.
Photo: Maureen Rutter (nee Green)
Views: 2,261
Item #: 2765
Belle Green Choir Aarons Roby 80th Birthday party.

Aaron Roby was the oldest Belle Green Choir member. He used to live in Ince Green Lane near to The Manley.

Back row Harold Green (my dad), Tommy Aspinall (Belle Green school Caretaker) Tommy Unsworth who later in life went to live in Aspull and played the organ at St Elizabeths Church.

Middle row Margaret Duckworth, Thelma Aspinall &a,p; Barbara Aspinall (my cousins) Hilda Green (my mum) Tom Connolly, Margaret Connolly and Phoebe Aspinall.

Front row Maggie Eastham (who used to live under the bridge in Petticoat Lane near to Barons Farm)Billy Wilding who was the organist and choirmaster and used to live in Keble Street Ince then moved to Whiteside Ave Hindley, Annie Wilding, Aaron Roby, Mrs McCabe and Miss Kirkman who lived in Belle Green Lane across from The Bush Hotel.
I remember Maggie Eastham, as children we used to go past her house on our way to play over the fields behind the slag tip. Oh happy days
my dad played with Aaron Roby as a child in the streets at the top of Belle Green Lane in the 1920s. Did he have some problem with a leg or am I muddling him up with someone else? Others my dad used to mention-- Billy Gusso, Hodgekiss who fancied himself as Pym the Bolton goalie of the 1920s,and ,of course John Lawrenson.
Comment by: Neil Cain on 21st June 2009 at 18:47
Other families in Francis ST. B.G.L. in the 1920s my dad spoke of---Fords, Holmes, Richards, McDonalds and from close by Mary Nichols, the Penningtons[Jack and Corney], the Gregories in Hemfield Road, and John Willie Heaton.
Comment by: kathleen meadwell nee molloy on 19th May 2010 at 19:49
the annie wilding and billy wilding that used to live in keble street, did they have a son called michael, Hiya maureen, smashing photos you put on
Comment by: Maureen Rutter (nee Green) on 24th October 2010 at 19:34
Hi there, sorry not replied haven't been on WW for ages. No Annie & Billy Wilding did not have any children