Photos of Wigan
Photos of Wigan
Album Contents
Album Contents
Wigan Album
Shops
12 Comments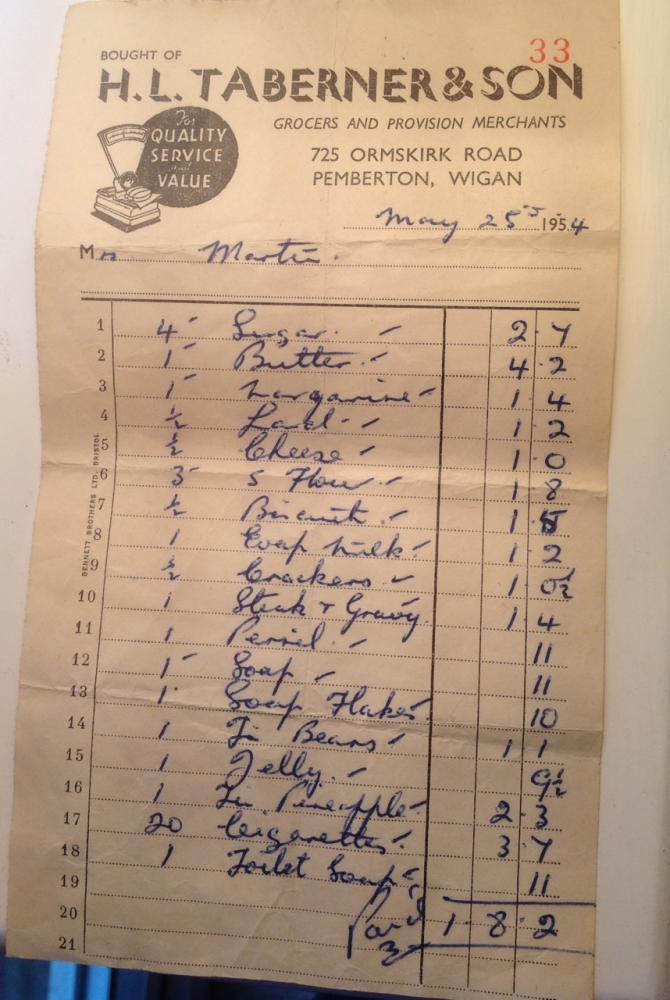 1954 Weekly Shopping List
Photo: Sylvia Gaskell
Views: 1,327
Item #: 27015
My Grandmothers weekly shop at Taberners in Pemberton which is now Winstanleys Pram World
Comment by: irene roberts on 17th November 2015 at 12:57
That's fascinating! As everyone knows, I love anything to do with old shops. How I wish I could walk I there as it was in 1954. Thanks for posting, and for keeping such a precious item; it could so easily have been thrown away.
Comment by: Sylvia on 17th November 2015 at 13:58
Thanks Irene.
I've got about 50 of these, just couldn't throw them away.
Comment by: Thomas Clancy on 17th November 2015 at 14:38
Back in the late fifties,i drove for Thompsons Poolstock.I delivered to Tabeners with groceries.I think his son later on drove buses for Wigan Corp.Later a Inspector.
Comment by: Roy on 17th November 2015 at 14:48
Brilliant Sylvia, you must have dug deep for that. 3s7d for 20 cigs, getting towards £10 now for the better ones (that's if there is such a thing as a good cig). 3/7d in 1954 is equal to £5-47 today, so cigs were almost half as cheap then by comparison.
Comment by: Roy on 17th November 2015 at 15:00
No you haven't dug deep, you've got 50 of them, lol, good for you. Just had a look at grandmas final bill of £1-8s-2d which is equivalent to £35-12p today, her shopping list doesn't involve too much food and i think if you went to Lidl or Aldi today you could do as well if not better with £35 than your grandma did with her £1-8s-2d.
Comment by: Peter on 18th November 2015 at 23:52
Roy why put something so stupid??? the lady has shared a list close to her heart and you go on about aldi and make a stupid comment!!! Grow up you dikc 😬
Comment by: Roy on 20th November 2015 at 10:03
Peter, is there something wrong with you ?? I was making a simple comparison of shopping in Sylvias grandmas day and now, were you around in 1954? I was, very much so, and although this is something close to Sylvias heart it is also close to mine because of that. I would like to know Sylvias reaction to my comments.
Looking at this bill, and thinking about how quickly most supermarkets nowadays open another till as soon as queues start to build up, makes you realise how our shopping habits have changed. 60 years ago you'd set off to the shops with your shopping lists - one for each type of shop you'd have to visit. Queue up for your turn to be served, wait while the assistant fetched each of your purchases... and then wait while the bill was totted up, as in this pic. Then you'd pay - the co-op my mum sent me on errands to took your money, put it in a jar, and attached it to a pulley system to be sent to the cashier at one end of the shop - to be checked and your change returned to you via the pulley system. Then you could take your purchases and head off to the next shop and start all over again.
We don't know we're born....
Comment by: John G on 20th November 2015 at 23:17
When you look at the year then the prices on the bill: Butter for example 4shillings & 2pence,they have not long come off rationing, I have not looked it up but I think it was early 1954 when it finished, I was born 1952 and had a ration card.
,
Comment by: Roy on 21st November 2015 at 00:14
As you say JohnG rationing ended in 1954.
Comment by: Sylvia on 21st November 2015 at 16:46
No problem whatsoever with your comment Roy.
Comment by: Roy on 21st November 2015 at 19:20
Thank you Sylvia, nice to have your approval.