Photos of Wigan
Photos of Wigan
Album Contents
Album Contents
Wigan Album
Brass Bands
12 Comments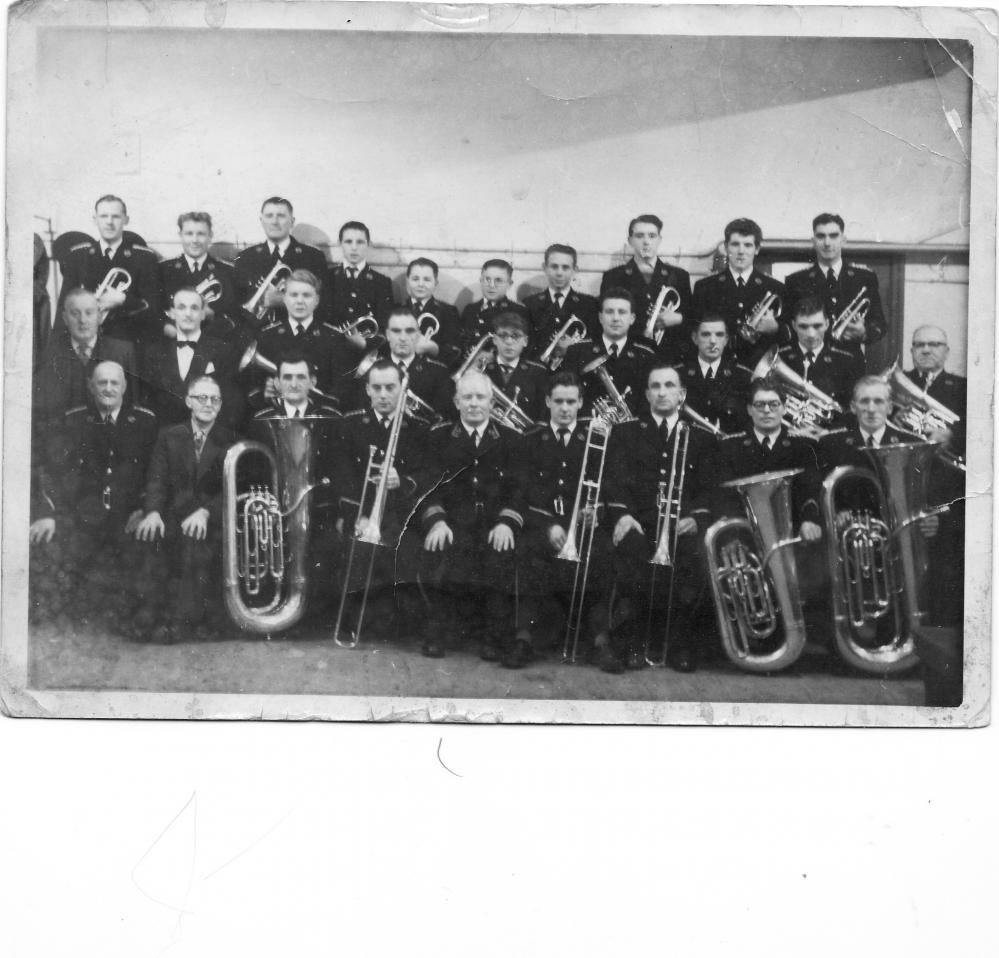 Crook Miners Welfare Band
Photo: Norman Latham
Views: 2,283
Item #: 25370
Crooke Band
I am the one on the back row 7th from left.(Norman Latham)
Please find ones you know please !
I think 4th from front left on the G trombone is John Marrow
Comment by: Mick on 19th July 2014 at 20:38
Is that Brian Moss, third from left middle row, with tenor horn?
Comment by: Mick on 19th July 2014 at 20:52
Come on Art which one is you.
Comment by: Gareth Cheetham on 20th July 2014 at 18:53
My Dad, John Cheetham is the little lad in the middle of the back row (the one without the glasses). His Dad, my Grandad Jimmy is the white haired bloke with glasses second from left, front row. Based on my Dad's age, this was taken about 1953 or 1954. The bloke with the trombone is indeed John Marrow
Comment by: Mick on 21st July 2014 at 22:27
Norman did you used to live at the end of Skull House lane
Yes Mike I did live in Scull House Lane,I know everyone on the photo but it is nice seeing people pick out family,friends and relatives.
I know a lot of Mike`s (what is your surname?)
Hi Gareth hope you and your dad are well, i recognise a few of the old faces, Alan Marsh 2nd from the right on middle row, Walt Moss far left back row,he was the conductor when I joined in 1969.
Then there is old Bob Bullen sat to the left of your Grandad, always remember the funny tail about old Bob when conductor Phil McCann asked him to play a note on his own during practice, Bob replied,"I can,t I've forgot my teeth", your Grandad Jimmy, quick as a flash shouted,"you can borrow mine Bob".
Beltin memories
Comment by: Gareth Cheetham on 23rd July 2014 at 22:51
Hi Paul, Dad's well enough considering. Jimmy's been gone nearly 30 years now, but our 2 year old Jack Russell carries his name on..Jimmy is nowty, stubborn and impatient-remind you of anyone..?. Lol
Comment by: Mick on 24th July 2014 at 07:01
Norman my surname is Byrne but you wont know me but may know my brother John who was older.

I know you because I used to come down to Appley Bridge from Shevy every night and knock around with Brian Finch, Irene Shambley, Mary Boardman, Pat Moss and the Owen twins.
Mike, Yes I remember John and obviously know all the Appley Bridge contingent well (I am 70 this year !!!)
Gareth, I have a good photo just of your dad, Norman Whitter and myself in Wigan Park when we were about 12ish and I will try and find it.
Norman
Comment by: Gareth Cheetham on 25th July 2014 at 08:37
Mick, Brian Finch is my next door neighbour- I'll show him this thread as I'm sure he will be interested..
My uncle Gordon Moss on back row. My grandad Fed Moss conductor and his brother Walter Moss.