Photos of Wigan
Photos of Wigan
Album Contents
Album Contents
Wigan Album
Springfield ARLFC
10 Comments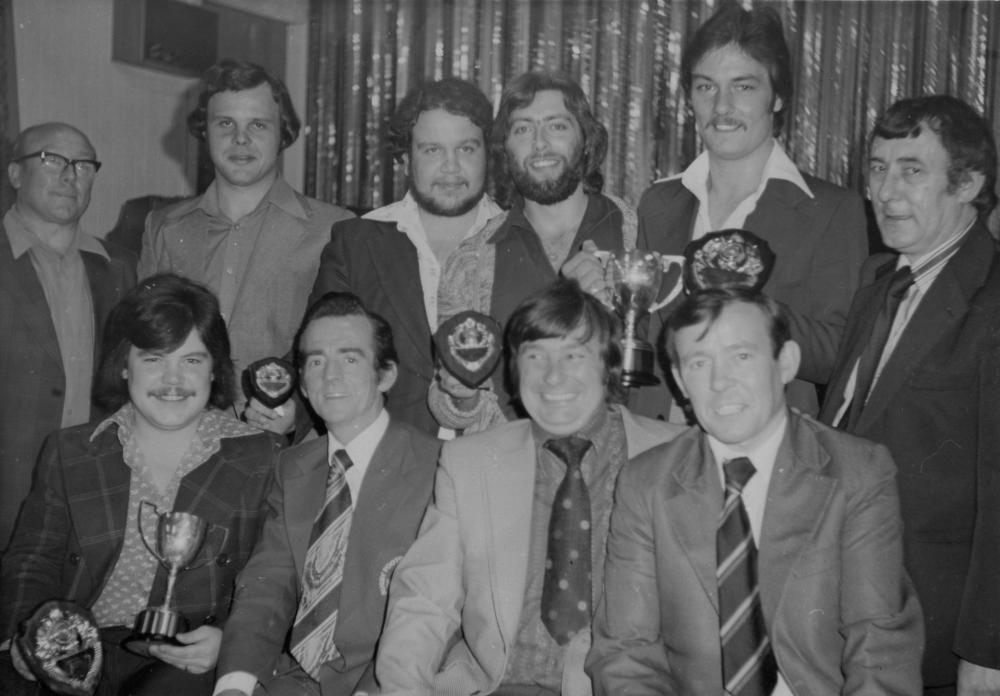 Springfield ARLFC award winners
Photo: Dave Wigman
Views: 2,484
Item #: 9831
Eddie Cunningham presents the Springfield player of the year awards circa 1978 to Dave Wigman, Alan Butler, Alan Pye and Jim Melling with club officials John, Wilf and Jerry McDonald looking on.
Front row second from left my brother Vince Moss. Wigan born grade 1 referee. Year before this 'photo (1977) he refereed the Wembley Challange cup final between Leeds and Widnes.
Comment by: Glassback on 30th August 2009 at 11:01
Wert as gud as wen Vigo presented them at Tudor House.With Sweeney eating the flowers and pool balls rolling between plates
Comment by: Wiggy on 27th August 2013 at 00:08
De La Salle boys looking good! Any other Springfield lads go into further education then?ZXa1h
Comment by: the silver blade on 5th January 2014 at 01:19
You should have been a referee Mossy because you were a crap hooker. Couldn't kick goals either.
Comment by: ian thornley on 1st March 2014 at 01:02
Only time Springfield players went into further education was at night to rob them. They weren't any good at that either.
Comment by: Graham Moss on 24th March 2014 at 15:25
Them de la salle lot should have learned how to spell tackle
when they were in further education as I never saw any of them make one.
Comment by: Terry Parkinson. on 24th April 2014 at 19:15
Graham Moss should have been named Hoscar Moss as he is full of crap.
He used to make coffee tables for us and they didn't last 2 minutes before they fell to bits.
Joe Lock chin was as bad I wouldn't let him rewire a plug!!
Comment by: Terry Parkinson on 15th June 2014 at 08:30
And I forgot about Pengy, I wound'nt let him felt my dog kennel
Comment by: wiggy on 14th January 2015 at 00:04
Mossy had an IQ of 80 which was 5 less than a chimpanzee. Come to think of it there's a family resemblance too!
Comment by: peter roberts on 29th June 2020 at 13:14
Sadly Dave Wigman passed away Christmas day 2019h