Photos of Wigan
Photos of Wigan
Album Contents
Album Contents
Wigan Album
Wigan Athletic
20 Comments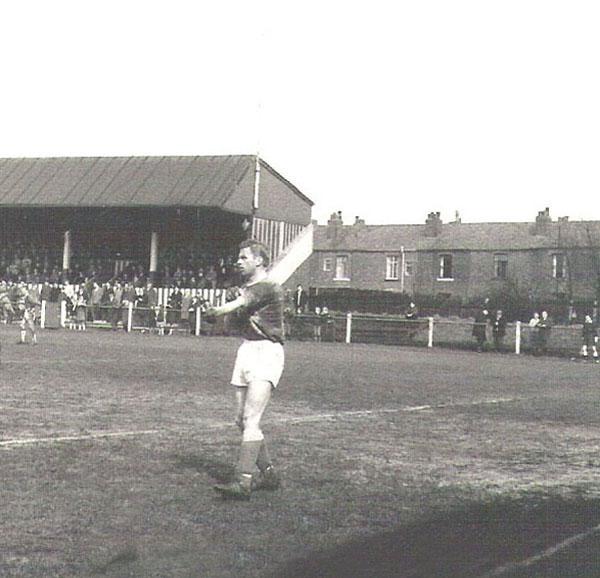 Mystery goalkeeper?
Photo: Ivor Hilton
Views: 28,953
Item #: 7537
Took this photo in the good old non-league days when me and my mate Ken Barton went to all the away games on coaches from outside the gas showrooms. Happy days and memorable matches!
I'll let the "oldies" recognise the Latics goalkeeper!
Comment by: Wayne Prescott on 9th October 2008 at 17:49
Not sure about the first name but is it Ray Gaskell
Comment by: wigan1957 on 9th October 2008 at 17:56
any clues to what yr we are talking about..lol
Comment by: geoff on 9th October 2008 at 19:32
it looks like the one and only,legendary.
HARRY LYON.to me.
Comment by: tom on 9th October 2008 at 21:09
its Harry Lyon and it looks like Chorley ground
Comment by: Wayne Prescott on 9th October 2008 at 21:34
Geoff thats a "good shout" on second look. I remember reading somewhere that he actually played in two cup finals as goalkeeper and was only beaten by a penalty.
Comment by: John Jarvis on 10th October 2008 at 19:13
No doubt about it: it's the legendary Hary Lyon. But is he playing in goal....? Could the goalie be just out of the picture, on the the right?
Comment by: tony j on 11th October 2008 at 15:26
yes it is harry lyon. i remember him playing in goal, can't remember who against, long time ago. it looks like he's in goal here, he wouldn't have been so close to his own goalie, been at the other end causing havoc !!!
Comment by: Ivor Hilton on 13th October 2008 at 08:57
Well done Geoff! It is Harry Lyon. Alan Halsall got injured and with no subs, Harry took over in goal. It's NOT Chorley ground Tom (no terraced houses behind Chorley stand.
Where's "Bluesfan" for recognising this ground?
Comment by: W.P on 22nd October 2008 at 23:15
Comment by: allan taylor on 26th October 2008 at 16:24
geoff is spot on the one and only harry lyon not sure about the ground.
Comment by: Ivor on 19th November 2008 at 14:33
It was played at Hyde Utd and the score was 1-1.
Comment by: Ian Oakes on 18th December 2008 at 14:25
Ivor- Nice to see a blast from the past,and a mention for Latics stalwart KB. Harry was always happy at the chance to put the gloves on.
Comment by: Ivor on 21st December 2008 at 19:41
Hi Ian. Nice surprise! You're a blast from the past! Yes I'm a "saddo", I still prefer the Springfield Park era! Always met behind the goal with "Dad's Army";- me, you, Joe, Ken Barton, Geoff Beresford and Eric Wilson. Hope they see they've got a mention!
Comment by: Ashley on 26th July 2009 at 15:30
The only time I saw Harry play was at Ewood Park (Blackburn Rovers ground). It was a cup final of some kind, no idea who Wigan played and I'm rather ashamed I can't even remember the result. It was early to mid 1950's, my only excuse was that I was very young, however the most enduring memory was the "blinder" that Harry played.
Comment by: alan halsall on 15th November 2009 at 08:06
yes, its harry lyon - i was playing in goal , he took over when i was injured
I know 4 definate it is Harry Lyon he was a plasterer for Kanes he was a pesonal freind of mine he use to come in to the crofters when he lived in the flats at Scholes and sometime come and watch us play football he was a great bloke who enjoyed a pint. Harry went in goals may a time because there where no subs used so u played with ten men
yes Harry Lyon maybe at Wittin Albion Cheshure League days
its deffo harry lyon I played with harry in the late 60,s in the reserves I was 18 then harry was at the end of his career top bloke !!
Comment by: david austin on 9th March 2017 at 20:57
Harry played in goal against Altrincham in Cheshire League Cup Final-played in goal in both legs I think Beaten by a penalty but I think he even got his fingertip to it even though it was in top corner. I think it was the legendary Jack Swindells who took it? Could the ground in photo be Altrincham? Second leg of final?
The ground is Hyde United where he replaced the injured Alan Halsall. He then played in the 1st leg of the Cheshire Lge Cup Final and also the Final of the Lancashire Junior Cup at Morecambe.