Photos of Wigan
Photos of Wigan
Album Contents
Album Contents
Wigan Album
highfield c.c
7 Comments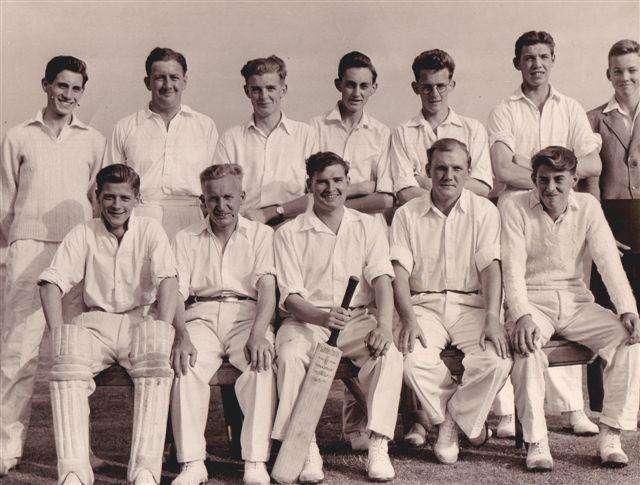 Highfield 2nd XII 1955
Photo: fred foster
Views: 3,618
Item #: 5987
Highfield 2nd xi 1955 Back row. L-R Joe Fairhurst,Alan Ashurst, Geoff Hickman, d/k, Michael Lang.D/K, D/K.
Front Row. Derek Welsby, D/K, D/K, George Ashurst, D/K,David Taylor
The scorer back row far right Peter Hogdkinson (popcorn).
Comment by: ttd on 26th April 2008 at 21:50
Peter Cottam player with the bat was captain
Comment by: Bob Aspey on 28th April 2008 at 11:09
The guy on the back row 6th from the left is Derek Tennant...he was in my class at Highfield university !
between Derek Welsby & Peter Cottam is Jimmy Lowe former 1st team opener played with Jimmy Anglesea & Hughie Lowe & John et al
Could the owner of the original photo please let me have a copy and I will ensure it is framed and added to the collection of old team photo's hanging in the HF Gaskell Lounge at Highfield CC. If I am not around please leave behind the bar!!
Comment by: Suzanne Knowles (nee Hitchen) on 19th February 2009 at 20:16
Back row 4th from left is my Dad, Thomas Hitchen from Winstanley.
Can You Help Unravel The Early History of Highfield Cricket Club?
A written history of Highfield Cricket Club, covering the period from its re-formation in 1924 on the current ground, to 1999, was produced by myself on the occasion of its 75th anniversary. I would be pleased to provide free copies of the fifty page brochure, including photographs of individual teams decade by decade, to anyone who is interested in reading more about the club and the people associated with it. If you would like a free copy, please contact me by email on chairman.highfieldcc@hotmail.co.uk or call me on 07721 639970.
I also remain very interested in the cricket club that preceded the one re-established in 1924 and wondered if anyone might be able to help fill in the gaps in my knowledge. From records and maps, we know that there was a Highfield Cricket Club playing behind the Railway Inn on Enfield Street, as far back as 1880, indeed there was a fixture between Highfield CC and a team known as "Nil Desperandum" (!) back in the summer of 1880. That particular cricket ground alongside the old Highfield Club had disappeared from local maps by 1908 and I cannot locate any fixtures played beyond 1904, so it is highly likely that there was a "cricketless" period of circa 20 years before the club was re-established on the current ground.
I would be delighted to hear from anyone who has information and even documents and photographs, perhaps passed down from family members, about the Highfield Cricket Club that played in Enfield Street. I would also be pleased to fill in some gaps in the information we have about the early days of the club founded on the current ground, in particular any information relating to its re-formation in 1924 and also the names of the first eleven captains from 1926 through to the early 1930's. Finally, please do make me aware of any photographs or documents you have concerning the cricket club in general as I am determined to chronicle our rich history, as best we can, for those that follow.
It may be a little early to be looking forward to 2024 and celebrating the 100th anniversary of the cricket club as we now know it, but it may be that around the same time, it coincides with a 150 years anniversary of the original club. It would be good to know.
Gary
Gary Speakman, Chairman, Highfield Cricket Club