Photos of Wigan
Photos of Wigan
Album Contents
Album Contents
Wigan Album
Wigan Schoolboys FC
10 Comments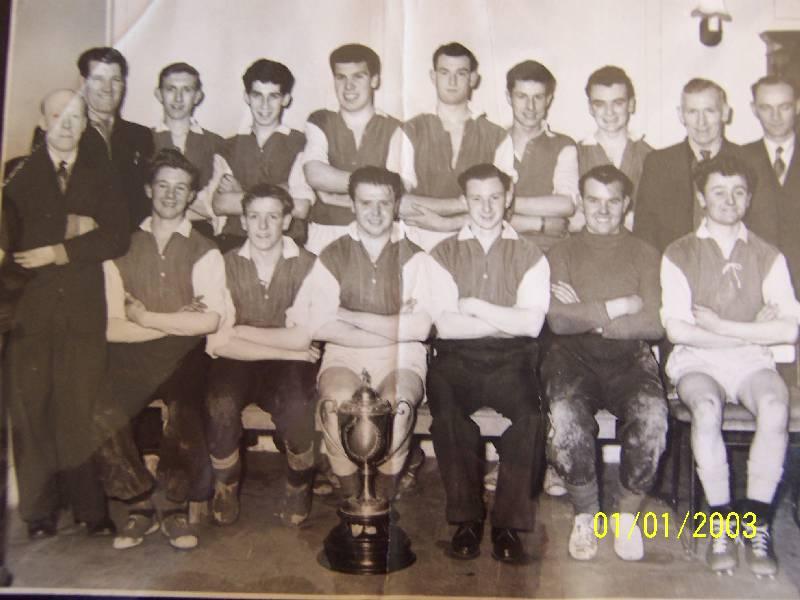 Wigan Schoolboys or Counties Side
Photo: Roger Roper
Views: 4,287
Item #: 4417
This is a photo from my dads collection, it is a photo of either Wigan Schoolboys side or a County football side, slightly unknown at present. Based on my dad playing for Wigan from 59 onwards this must be a photo from somewhere between 1955 and 1959.

My father is back row, 2nd (player) from left. Harold Roper
Comment by: J P on 19th March 2008 at 21:17
The guy on the back row left,looks like the old Wigan Ath.defender Tom Hitchens
Comment by: J P on 19th March 2008 at 21:26
I remember Harold when he played at Wigan Rovers,with Arther Shaw,Jimmy Crank.When Eddie Brown(ex Birmingham City) was manager.That was fun football.Eckersley Arms was our meeting place, before and after games.
Thanks for the info JP, I will pass this on.

Regards

Roger
Comment by: JP on 24th March 2008 at 21:06
The guy on the back row is TREVOR Hitchens not Tom.(sorry about that)
Comment by: TerryA on 1st July 2008 at 12:37
Trevor Hitchen only played for Wigan Athyletic in the 57/8 season.Therefore this team could be Latics Colts team who won the Excelsior Cup in 57/8,which may be the trophy in the picture.
Comment by: Graham Pearson on 17th November 2008 at 17:35
Hi Roger (and J.P.)
I remember your dad well, Harold played alongside me at Wigan Rovers in the 60s together with Arthur Shaw, Jimmy Crank, Kenny Miller, Derek and Jackie Robinson, David Crompton, Malc Green, Geoff Eastham (goalie), Joe Lundy and Barry Crookall, just to mention a few! Eddie Brown was our Manager and Laurie Coutts was Chairman. We had some really good times and won quite a lot as well! In fact, I got a trophy presented to me from Jimmy Armfield when we played Blackpool Mechanics away, it was for 500 appearances. Happy days!
Thanks for the comment, just check back on the photo to see the new comments. i will pass this on to harold.

regards

roger
Hi, I'm looking for more information and possibly pictures of an ex player for wigan, played in the 60s as goalie, called Geoff eastham (my amazing grandad
Comment by: RON HUNT on 14th November 2020 at 11:52
Comment by: Tony Brown on 6th December 2020 at 19:26
I remember Harold Roper playing for Latics. Wing half? Jimmy Crank at left back, John Higgins centre half and captain. Frank Briars right back. Billy O'Loughlin on the wing. What year would that have been? 1961 maybe?? I remember my dad telling me Harold lived in Darlington St East. Not sure how true that was.