Photos of Wigan
Photos of Wigan
Album Contents
Album Contents
Wigan Album
Wigan Schoolboys FC
16 Comments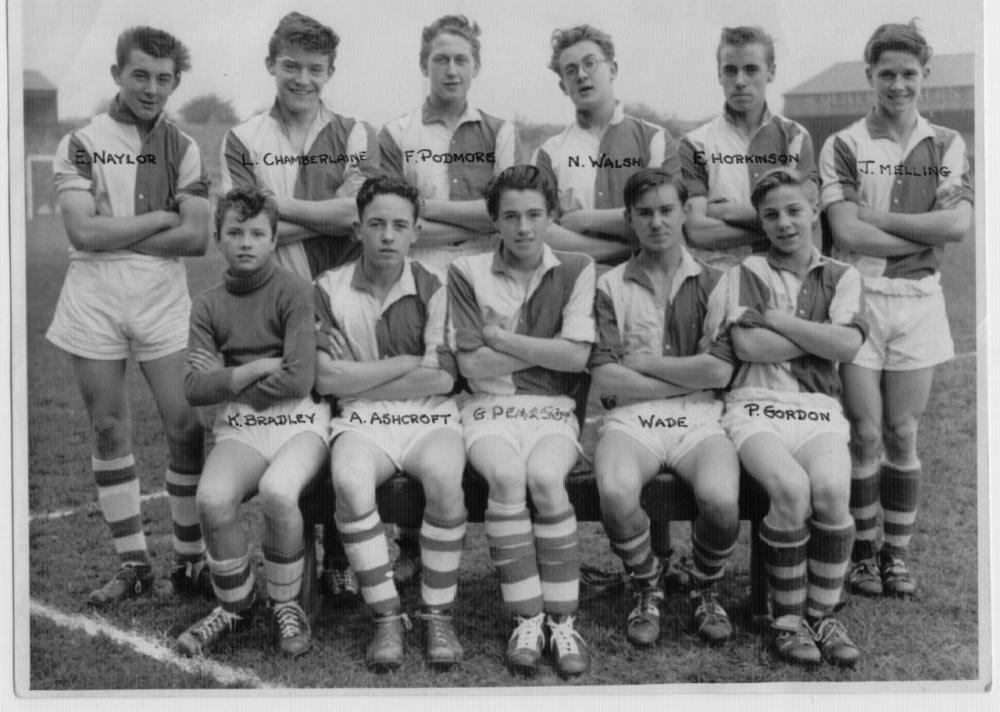 wigan u15 schoolboy team 1960
Photo: keith bradley
Views: 6,193
Item #: 4282
wigan town team under 15s taken at springfield park 1960,anyone remember travelling by train to stockton on tees for quater final of the english schools trophy,liverpool were on the same train gong to play middlesborough .dave hickson talked to us
Comment by: Broady on 10th November 2007 at 16:41
Is that the Parry Gordon who went on to play rugby for Warrington?
Comment by: RON on 10th November 2007 at 16:57
Alan Ashcroft went on to play for England schoolboys. I think he signed for Mancheater United? but didn't do anything.
Comment by: RON on 10th November 2007 at 17:03
How many of the team came from the Linacre? I know 'Nobby' Naylor and Fred Podmore and yourself. Was there any more. My cousin played in goal after you? At that time there was a few lads from the Linacre in the team.
Comment by: keith on 11th November 2007 at 22:53
Looking through my newspaper cuttings we were the only threefrom linacre in town team in that year,I left school that year and don,t know about year after.Parry Gordon was also good at rugby and possibly went on to play for warrington
Comment by: David on 19th February 2008 at 20:09
Parry Gordon did play for Warrington alongside Jack Melling who is also pictured
Comment by: JP on 19th March 2008 at 21:08
Graham Pearson(center front row)got an English amateur international cap.
Comment by: J.P. on 5th April 2008 at 20:30
Jacky Melling played for Warrington with Parry Gordon,I think
Goalkeeper Keith Bradley went to the Linacre, he came from Adlington.
Graham Pearson from Ince played for England and was Captain, as I'm pretty sure Alan Ashcroft from Newtown did too !
Comment by: royM on 19th January 2009 at 11:17
I suspect this photo is from early in the 1959-1960 season because it seems to be the team just before I got into it. I remember the trip to Stockton very well, it was quite an adventure for young lads like us. There was a problem with the ground where the game was due to be played and the game was switched to Billinham Synthonia's ground which was a brand new stadium provided by ICI for it's workforce. The pitch was superb, just like a bowling green, but it rained all through the game. Nevertheless, it was a great experience even though we lost 6-2. I scored our first goal and I think either Colin Hopkinson or Jackie Melling got the second. Stocken had a really good side with a number of England internationals in it. After the game we were taken babk to the hotel for lunch and then to Ayresome park to watch Middlesborough take on Liverpool. The Middlesborough centre forward that day was Brian Clough, later to become more famous as a manager.
i remember that trip to stockton liverpool were on that train it made you feel like a footballer we stayed at the queens hotel in darlington would like to get in touch with some of these lads,sorry to say parry passed away a few weeks ago
Comment by: Anon on 6th August 2012 at 20:16
There is a photo of the Stockton 1960 team that beat Wigan taken before the game on the picturestockton web-site.There was one schoolboy international in the team Dennis Thwaites,four of the team became professional footballers Dennis Thwaites(Birmingham City),Don Heath(Middlesbrough,Norwich City & Swindon Town,was in Swindon team that beat Arsenal at Wembley in the Football League Cup-Final),John Pickering(Newcastle Utd.He was Blackburn Rovers & Middlesbrough's first team coach) & Davvy Butler(Watford & Workington,he was Terry Venable's physio at Spurs & England.
Comment by: Alan on 31st March 2013 at 23:00
This is Alan Ashcroft (of the above photo fame) and I can clarify that sadly I did not sign for Manchester United but Bolton Wanderers instead. However I did go on to play for England School Boys from 1961. Does anyone have archive footage of England versus Wales School Boys 1961?
Comment by: Eric Winstanley on 28th May 2014 at 16:14
I didn't realise Les Chamberlaine played at this level. He was a brilliant athlete. His style of running was something to treasure.
Comment by: Fred Podmore on 24th November 2014 at 17:21
I went on to play football for Portsmouth fc
Comment by: Mary Pearson on 27th April 2016 at 10:00
I have this photo in my album, but reading the comments brings back a lot of memories. Me and Graham went out together from school and I remember him going to Stockton on Tees. It's ironic the mention of watching the Middlesbrough match as I've met Alan Peacock who played alongside Brian Clough there and Leeds Utd and who also played in the Workd of 1962 in Chile and in the squad if the winning 1966 team. Graham was the first Youth International Wigan produced and gained 3 caps for the NABC England team. I have a programme of the Wales match in 1962 but don't think it's the Schoolboys game mentioned by JP. Graham went on to do a spell under Jimmy Adamson at Burnley and then under Nat Lofthouse at Bolton. He also had 500 appearances for Wigan Rovers and played for Hindley Green FC with Fred Podmore. By the way Fred, I never knew you'd played for Portsmouth!!
Comment by: fred podmore on 7th September 2017 at 18:27
i scored the other goal at Stockton