Photos of Wigan
Photos of Wigan
Album Contents
Album Contents
Wigan Album
The Tyldesley Brothers
9 Comments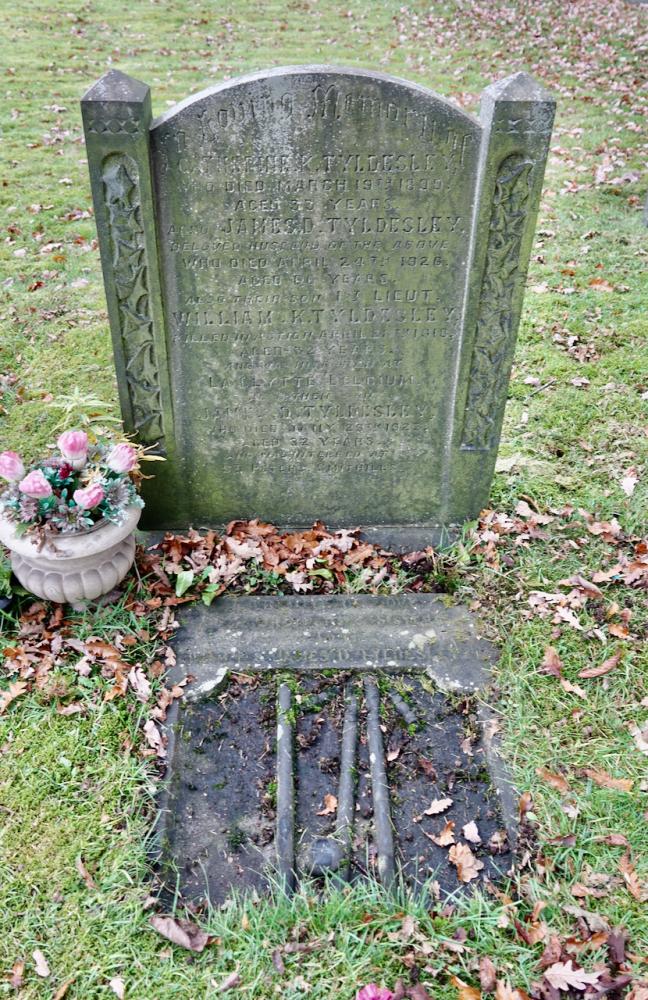 Aspull's Hero Cricketer
Photo: Rev David Long
Views: 854
Item #: 33417
The unusual grave honouring Aspull-born William Knowles (Billy) Tyldesley, one of four brothers (the others were Jimmy, Harry, & Dick) who played for Lancashire. Their father was James Darbyshire Tyldesley - he married Catherine Knowles at St Bartholomew's, Westhoughton - which is next to where the grave lies - in Westhoughton Cemetery. His occupation was given as 'Professional Cricketer'.
Sadly Lt. WK Tyldesley was Killed in Action in Belgium in April 1918. The tablet featuring the scattered wickets was placed on the grave by his bothers and sisters and also honours his brother James, who died during an operation in 1923.
This was the first time I've seen a grave with this feature - but later I found another, to a local cricketer who died in 1921, elsewhere in the cemetery. Funny old world.
There's also a grave nearby to a woman 'killed by a snowball' - another first.
Comment by: Cyril on 20th November 2021 at 19:42
My mother once told of her would be uncle having been killed by a snowball, apparently the boy who threw it had padded snow around a big pebble, this hit him on the temple knocking him unconscious and never regaining consciousness. He was a choirboy at St Michael's and before he died in the infirmary he sang The Church's One Foundation.

Lads do daft things like that never thinking of the consequences, so maybe something similar could have happened to the woman at Westhoughton David?
Comment by: winnie on 21st November 2021 at 14:36
Name: William Tyldesley
Age in 1911: 23
Estimated Birth Year: abt 1888
Relation to Head: Son
Gender: Male
Birth Place: Aspull, Lancashire, England
Civil Parish: Westhoughton Street Address:12 Green St Westhoughton
Marital status: Single
Occupation: Electrician Household Members
Name Age
James Tyldesley 49 Deputy In Coal Mine
William Tyldesley 23 Electrician
James Tyldesley 21 Pro Cricketer
Harry Tyldesley 17 Worker In Coal Mine Labourer
Richard Tyldesley 14 Mill Piercer
Margaret Tyldesley 16 Mill Weaver
Elizabeth Preston 25 No Occupation
John Preston 23 Collier Hewer
Elizabeth Taylor 4 Single
Comment by: Albert.S. on 21st November 2021 at 15:28
Reverend David. Would it be a custom related solely to the southern counties of England, the following.
I seem to remember it being pointed out to me, in a Kent church graveyard, an enclosed stone built, small building, where I was told that ancient graves were emptied of their contents, ( particularly bones and sculls) and placed inside of these buildings. Whether there is any truth in it, I never discovered.
Interesting names at the bottom of that list, winnie - one of the graves at Westhoughton carries two commemorations for a Corporal John Preston, missing, aged 29, in 1917. One is on his wife Elizabeth's grave, the other is his parents', Moses and Rachel Preston - they didn't have much luck - losing 3 children in infancy - Joseph, Robert & William.
Albert - the official CofE line is that burials are permanent... but in earlier days (and, of course, now, if the graves are in the way of a new road etc), there were no such scruples, especially if a church had a small graveyard and space was required. I expect the poor, in unmarked graves, were the most likely to be moved aside into an ossuary (place for bones). I think you're more likely to come across them in the South because of higher populations there in pre-Industrial Revolution years.
Comment by: Veronica on 21st November 2021 at 20:48
I think William Tyldesley is commemorated in the Library upstairs along with other famous sportsmen and women from W/H i.e. Tom Woodward and Francis Lee and a girl runner from the 30s or 20's. I can't check as the Library is undergoing work for 3 months.
Comment by: cindy on 22nd November 2021 at 16:52
My Grandfather was a Knowles, Don't know if it is any relation he may have possibly been born in the 1890s.
cindy - Knowles is a fairly common surname, and lots of them in the Wigan area - it means someone who lived at the top of the hill - so that could be someone from anywhere in the country. So lots of relatives potentially - but no assurance of kinship with anyone else with that name - (just like my surname).
Comment by: ttd on 29th November 2021 at 13:31
He his buried at LA CIYTTE MILITARY CEMETRY BELGIUM.
Comment by: Ranger on 30th November 2021 at 09:32
Harry Tyldesley, James Tyldesley, Richard Tyldesley and William Tyldesley all played cricket for Lancashire. Richard was the most famous, playing for England and taking over 1500 wickets for Lancashire. None of them lived to a great age - Harry was 42 when he died, James 33, Richard 45 and William 31. They are no relation to John and Ernest Tyldesley, who both played regularly for England and were born in Roe Green, Worsley.