Photos of Wigan
Photos of Wigan
Album Contents
Album Contents
Wigan Album
Roby Mill Football Team
10 Comments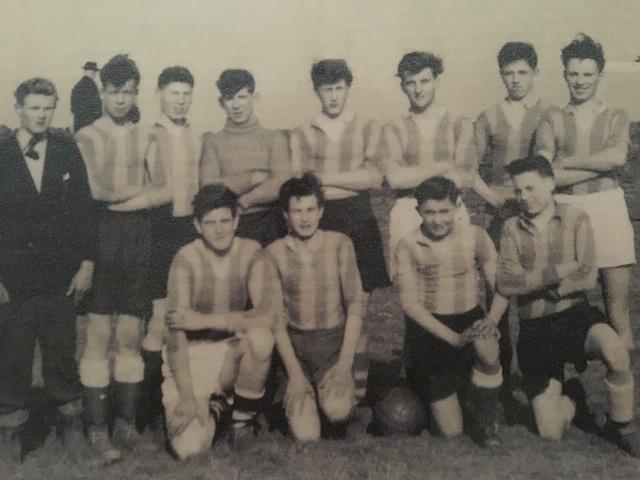 Roby Mill St-Teresa's Junior Football Team 1955-56
Photo: Philip Ashcroft
Views: 925
Item #: 32873
This image is provided by Harry Ashcroft who franks the photo in March 1956.Taken at Farley Lane with the road from Crow Lane to Roby Mill running West-East in the background.
Back row L-R: 1.Fred Latham 2.Tony Atherton 3.David Foster 4.TBC 5.TBC 6.David Banks 7.Ken McGregor 8.Ron Darbyshire
Front Row L_R: 9.Ken Darbyshire 10.Harry Ashcroft 11.Ray Smith 12.Bert Bragger
1.Fred Latham is the same FL who has been and still is a stalwart member of Orrell RT CC.
9. Ken McGregor sadly passed 4/8/20. He was a renowned flyer and signed for Swinton RL. Playing on the wing he scored Swinton's only try in the Lancashire Cup Final 9-15 defeat against St. Helens on the 29th Oct 1960 at Central Park in front of 31,755. Opposite Ken that day Saints boasted a three quarter line that included Jan Prinsloo, Brian McGinn, Ken Large and some guy called Tom Van Vollenhoven.
Any other memories ,details,anecdotes or recollections are most welcome.
Comment by: David on 17th January 2021 at 09:19
I think that the suited man, extreme left on the back row may be Fred's brother Tommy Latham. It isn't Fred.
Comment by: James Hanson on 18th January 2021 at 17:25
Tom Van What? ....

https://www.youtube.com/watch?v=9j9gTFXDx8s
Comment by: Ian. on 18th January 2021 at 19:15
Ken Darbyshire looks like a man l used to work with in the building trade. He was a bricklayer and he lived at that neck of the woods. If it is the same man he is the nephew of Bill Darbyshire who played for Warrington in the 1950's.
Comment by: Fred Latham on 20th January 2021 at 17:30
David. It is definately me Fred Latham in this photo. Are you thinking of Fred and Tommy Latham who lived on Farley Lane.? I lived in Ayrefield Road. My brothers were Ben,John and Joe
Comment by: David on 20th January 2021 at 22:25
Sorry Fred. Yes I am indeed thinking of the other Fred Latham. He's my uncle and I knew it wasn't him. Didn't realise that there were two Fred Lathams around at that time. Once again, my apologies Fred.
Comment by: David on 21st January 2021 at 13:00
Fred, have you seen the other photo of the Roby Mill team on the "sports" section? It looks to me like you may be on it and identified wrongly as Tom Latham by somebody else. Spoke with my Uncle Fred this morning and he tells me that he remembers you and that there was more than two Fred Lathams.
Comment by: Fred on 21st January 2021 at 18:17
Thanks David I will take a look. Only just found out about this site. I knew Fred and Tommy well
Message to Ian: Harry Ashcroft (10) has confirmed that Ken Darbyshire (9) is the nephew of Warrington player Bill Darbyshire