Photos of Wigan
Photos of Wigan
Album Contents
Album Contents
Wigan Album
Wigan RLFC Challenge Cup Winners
16 Comments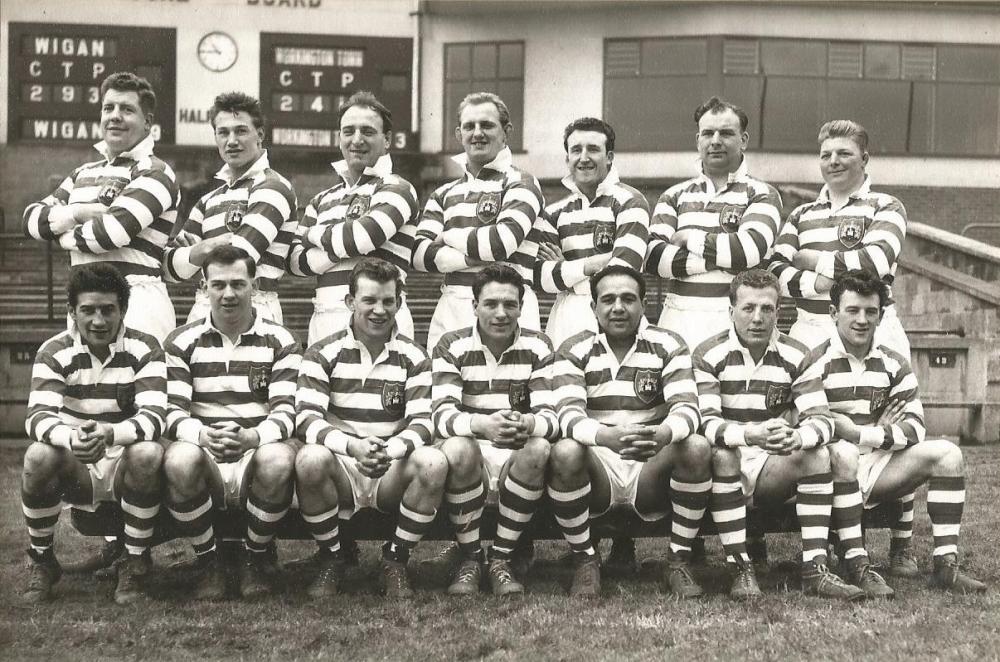 Wigan Rugby, Cup Winners 1959 against Hull
Photo: John Gostelow
Views: 1,256
Item #: 32616
Photo of Cup winning squad
Back Row L-R Collier, Evans, McTigue, Cherrington, Sayer, Barton, Bretherton.
Front Row L-R Bolton, Griffiths, Sullivan, Ashton, Boston, Holden, Entwistle
Comment by: tuddy on 22nd July 2020 at 19:36
A few legends there, but why are there fourteen on the photo?
Comment by: tom on 22nd July 2020 at 20:09
Comment by: John Gostelow on 22nd July 2020 at 21:50
Regarding 14 on the Photo. That Photo was included in a Album presented by the Manchester Evening Chronicle to Directors of the Club. Frank Collier and Terry Entwistle did not play in the Final but were part of the First Team Squad along with Jack Cunliffe. Rees Thomas who played Scrum Half was for some reason missing from the photo.
Comment by: AH on 23rd July 2020 at 15:28
1959: FINAL Scum half Rees Thomas; Forwards bretherton sayer barton mctigue cherrington evans
Comment by: Dave on 24th July 2020 at 11:59
My next door neighbour played in this final but he played scrum half for Hull. he also played in the the final the year before against Wakefield and lost in that final as well. I think he scored the only try for Hull against Wigan he is now in is eighties and a bit frail but a lovely gentleman.
Comment by: AH on 24th July 2020 at 15:51
Dave ;could it be Tommy Finn
Comment by: Dave on 24th July 2020 at 19:01
Comment by: Eric on 24th July 2020 at 19:13
I was wondering why frank Collier didn't have a blazer and matching tie.like John said ,he didn't play in the final
Comment by: AH on 25th July 2020 at 09:09
Dave; The try he scored at Wembley was shown on the introduction to Grandstand BBC in the earley sixties ; I think Tommy came from St Helens ?
Comment by: Dave on 25th July 2020 at 19:13
AH i have watched an abridged version on you tube of the game unfortunately it doesn't show the try.
Comment by: AH on 26th July 2020 at 11:41
Dave ; it is on youtube, on a short clip approx. 2min long , the try was scored near the end
Comment by: alan (golden bear) on 28th July 2020 at 14:31
Hi i would just like to add that this was the team my father took me watching all those years ago ,but what i wanted to say about the photo and team was that i was and still very proud of my cousin ,,,BILL BRETHERTON,he would pass on stories that live with me to this day i thought he was a damn good forward as where all that particular side,happy memories.
Played on the same team as half a dozen of em.......cricket at Highfield, when John Heaton was captain!
Comment by: Golden Bear on 12th September 2020 at 14:53
Hi there Derek did you go to Highfield school? i attended there between 1957/1962 but my first school was the infants almost opposite the church 1954 started there ,oh happy days.
Comment by: Jim on 12th September 2020 at 16:20
Would this team beat todays team answer - yes
Comment by: Phil C on 16th January 2021 at 22:26
Always difficult to compare teams. A totally different game. Today's team would have to have the edge because of fitness.
I believe that today's game is more of a team game because each player needs to know exactly what the others are doing further down the line.
However is it a more attractive game ? No I don't think so. I once heard Bill Ashurst say that we could express ourselves whereas today's players aren't coached to do this.
Today you see few long distanced tries as defences are so good. You can't blame the coaches it's the way the game has developed.
Despite my comments I have seen some excellent games eg Grand Final