Photos of Wigan
Photos of Wigan
Album Contents
Album Contents
Wigan Album
Wigan Rugby Players
3 Comments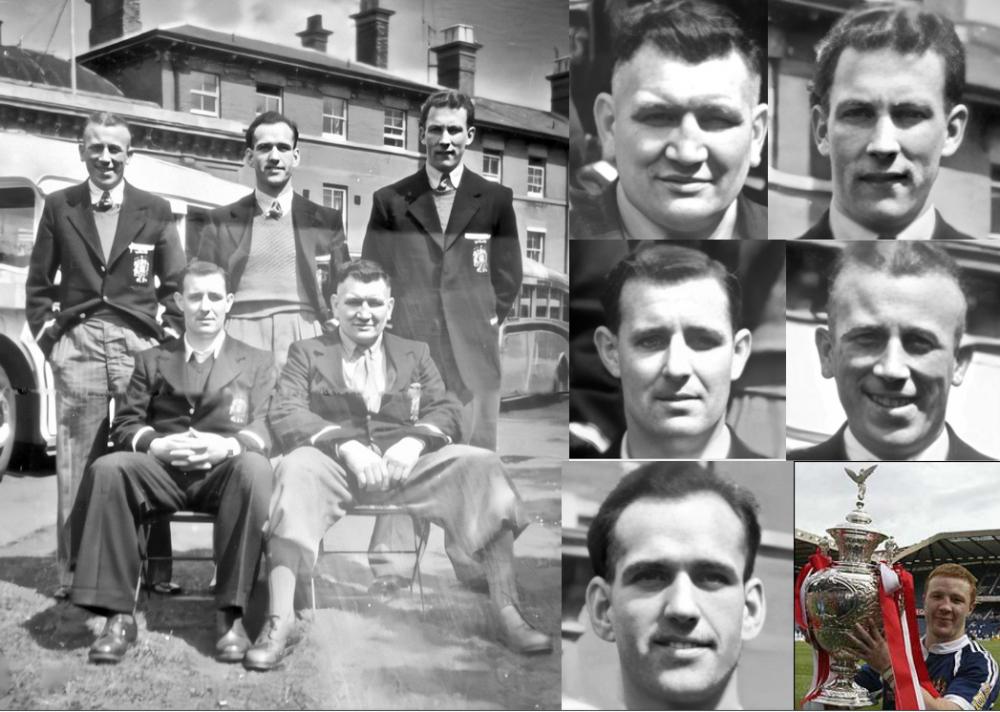 Wigan at Wembley 1948
Photo: Keith
Views: 496
Item #: 32592
Another photo taken by my father, this time in 1948 when he was a reserve for Wigan at Wembley, as were these players, apart from Ted Ward, who played against Bradford Northern and Wigan won 8 - 3, in front of 91,465 spectators. For the first time in a rugby league challenge final Royalty was present in the form of King George VI.
As reserves they also enjoyed the same winning bonus of £45 which today I believe is around £1,700.
Standing left to right, Johnny Lawrenson who later played at Wembley but for Workington Town when they won the cup in 1952 with Johnny scoring two tries, Jack Cunliffe who played in three finals, 1946, 1951 and 1958, Brian Nordgren who played in the 1946 and 1951 finals.
Front, left to right, Ted Ward who played in the 1948 final, George Banks who had played in the 1946 final. My father unfortunately missed out in the 1946 final, he was in the Forces and was reserve for this one.
I've included the "enhanced" photos of them on the right and a small photo of Kris Radlinski, now an Executive Director at the club, holding the cup.

I was there watching Wigan win in 1948.I was 6years old at the time ,me and dad traveled down by bus and stayed at my relations in Watford. My wife grandma was Wigan number one support a couple of years ago ,she past away since at 101years old.
I forgot to mention that around 1957 58 I played soccer at lunch time with the lads from behind Thomas and Fosters including Jack Cunlife,it's a small world
Comment by: GeorgeB on 10th July 2020 at 14:42
George Banks, a Wigan front row forward, who once scored a try by running from the halfway line, looking very dapper in his plus fours.
Just for info' "Plus fours are breeches or trousers that extend 4 inches (10 cm) below the knee (and thus four inches longer than traditional knickerbockers, hence the name). Knickerbockers have been traditionally associated with sporting attire since the 1860s."