Photos of Wigan
Photos of Wigan
Album Contents
Album Contents
Wigan Album
Wigan Rugby Players
7 Comments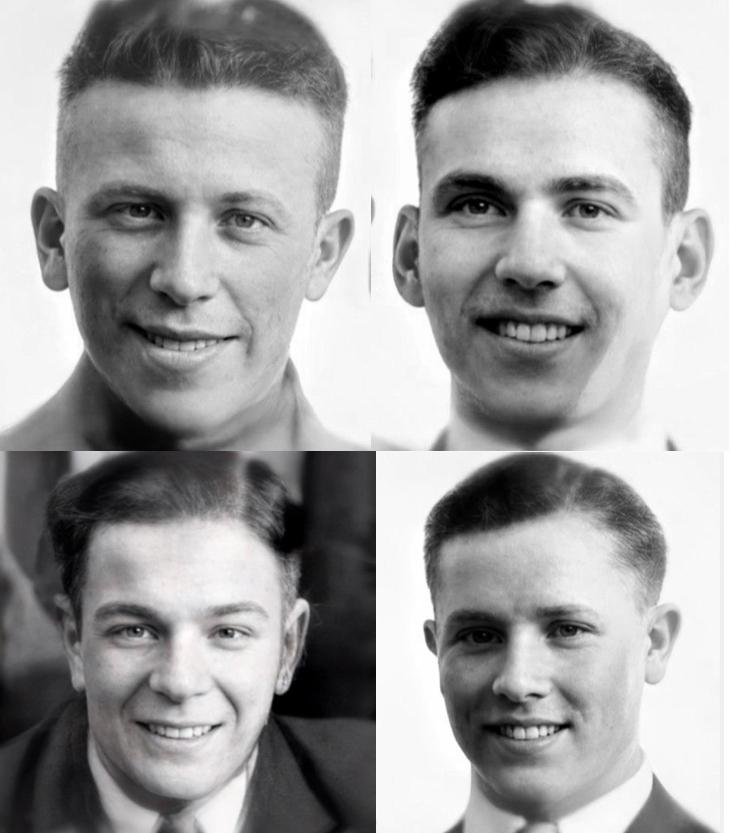 4 Local Lads
Photo: Keith
Views: 825
Item #: 32589
The "enhanced" photos taken from the previous photo showing four teenagers, all local lads who were incredible servants of the Wigan club. They were at the very start of their successful careers.
Top left Johnny Lawrenson (played 219 games and scored 187 tries a great scoring ratio), top right, Jack Cunliffe (played 441 games), bottom left, Tommy Bradshaw (played 302 games) and bottom right, Martin Ryan (played 300 games).
Comment by: John on 8th July 2020 at 00:24
Great photos. Jack Cunliffe actually played first team rugby for Wigan in 4 decades. His first match was on 9th December 1939 against Leigh, and his last match was on 9th January 1960 v Workington. A magnificent achievement and as a one club man.
Comment by: Dave Lewis on 8th July 2020 at 01:02
Thanks for sharing Keith, great pic of them in their youth do you know when Martin Ryan was given GT Britain full back spot.
Comment by: Scholes Malc on 8th July 2020 at 07:45
Comment by: Philip Gormley. on 8th July 2020 at 09:38
Looks to me as though they're a modest bunch of lads. Autograph?, sure, ... there you go, ... another for your collection.
Comment by: Tom on 8th July 2020 at 12:02
Comment by: Keith on 8th July 2020 at 22:03
Thank you everyone for those nice comments. Tommy Bradshaw was born in October 1920, so he could have been 20 at the time of this photo, Martin was born August 1923 so he could have been about 17, Johnny Lawrenson was born March 1921 so he could have been 19 at the time and Jack Cunliffe was also born at that time so he also may have been 19.
Comment by: Julie on 9th July 2020 at 11:17
Totally irrelevant but don't they all have lovely teeth.