Photos of Wigan
Photos of Wigan
Album Contents
Album Contents
Wigan Album
Wigan Rugby Players
5 Comments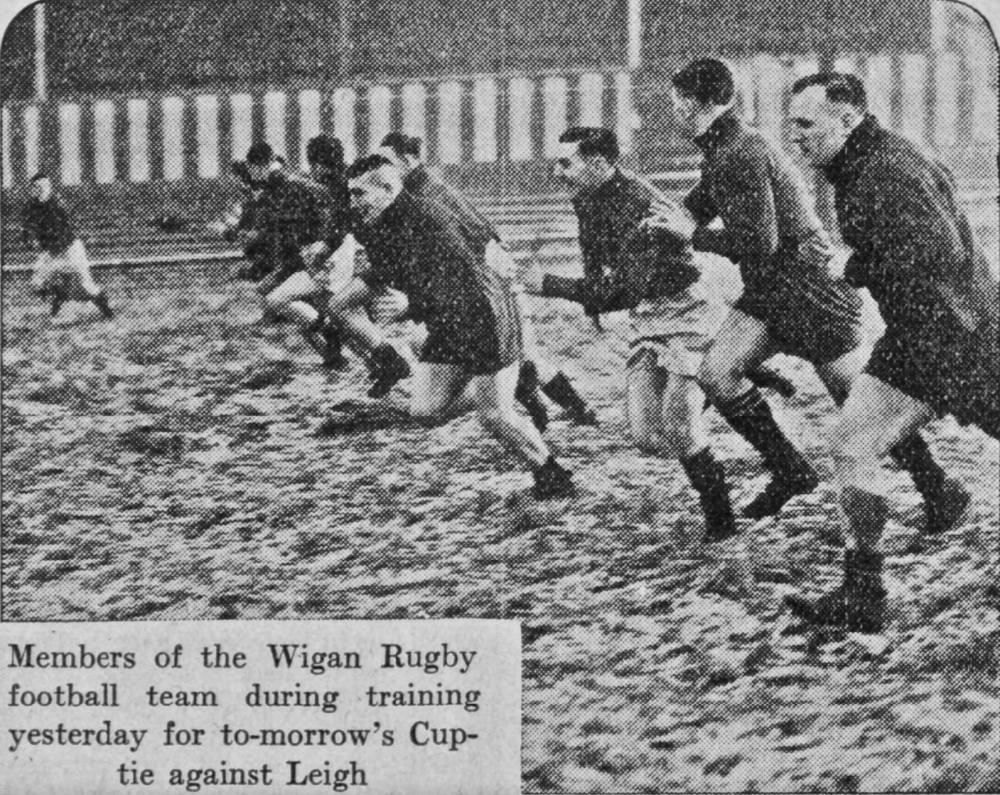 Wigan Training for Cup-Tie, February 1939
Photo: Keith
Views: 696
Item #: 32455
Wigan rugby league players training for their Challenge cup tie against Leigh, played February 4th 1939, Wigan winning 33 -0.

Four players I think I can name starting from the right, Trevor Thomas, Percy Moxey, Jack Bowen (my father) and George Banks.
I think the next player partially hidden by George could be Gwyn Williams.

The team that met Leigh on Saturday February 4th 1939 was :-
1. Jim Sullivan, 2. Jack Morley, 3. Ted Ward, 4. Denis Williamson, 5. Eddie Holder, 6. Jack Garvey, 7. Hector Gee
8. George Banks, 9. Albert Davis, 10. Percy Moxey, 11. Gwyn Williams, 12. Ike Jones, 13 Jack Bowen

Percy Moxey, who later joined the RAF and was a navigator, sadly lost his life in a night training flight over Erdington, Birmingham in August 1942, when his Wellington became entangled with barrage balloon wires. Six baled out, 3 survived but 3 others, including Percy, perished. He was the last out and possibly left it too late.

These men were training in preparation for a posting to an operational squadron. The fact that they died in a tragic accident in no way lessons their sacrifice. They were prepared, and preparing, to fight for their country. They are no less deserving of our gratitude and rememberance than those crews killed, for instance, on the Dams Raid.

Gwyn Williams and Percy were good friends and unfortunately Gwyn's football career was finished after being wounded in North Africa. He was fortunate to survive since he was shot in the face but survived. Both were Welsh, although Percy had moved to Great Yarmouth where his father ran a pub and where he married in 1941.
Comment by: Jinksi on 29th May 2020 at 10:07
Keith,my Dad was in the RAF during war heroes every one.Bless um all.
Comment by: Josh on 29th May 2020 at 13:27
Seeing George Banks sprinting reminds me that he spent some 12 seasons playing for Wigan in the front row. That was a really physically demanding role.
It was an era of contested scrums where the front row bore the brunt of the physical effort required. Add to that, the fact that there were anything from 50 to 80 scrums per match, and you'll appreciate the arduous nature of George's position, there wasn't an awful lot of surplus energy remaining at any period of the game.
Playing against Swinton in a first round Lancashire cup match, 10th September 1938, and roared on by 13,000 spectators, 15 stone George gathered the ball at the halfway line and sprinted the rest of the way to score Wigan's second try of the match. An amazing achievement once you are aware of the demands of his playing role in the side.
Comment by: Tom on 29th May 2020 at 14:37
Tough as old boots looks like the middle of winter
Comment by: Keith on 29th May 2020 at 20:09
Quite right Jinksi, heroes every one of them.
Comment by: Susan abram on 24th June 2020 at 21:03
Roy abram played wigan and blackpool now passed away