Photos of Wigan
Photos of Wigan
Album Contents
Album Contents
Wigan Album
WIGAN SPEEDWAY PROGRAM
4 Comments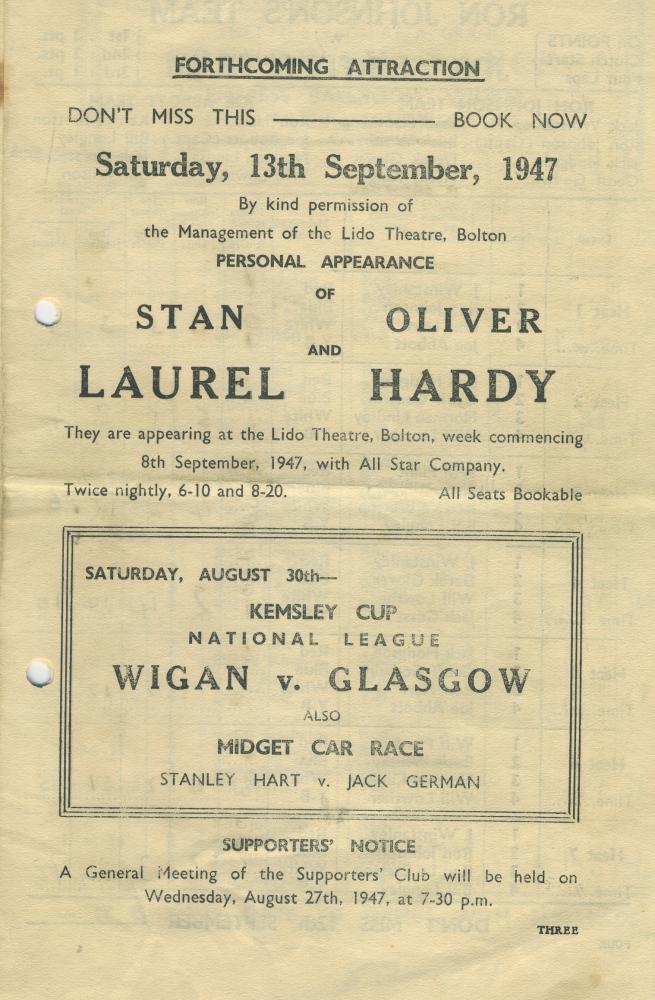 LAUREL and HARDY 1947 ADVERT
Photo: RON HUNT
Views: 813
Item #: 32375
An advert, in a recently acquired Wigan Warriors Speedway programme re. the forthcoming event the Personal Appearance of Laurel and Hardy to the Poolstock Track on the 13th September 1947
If anyone has any Wigan Speedway Programmes, or memorabilia. I'll pay the going rate for anything you want to sell. I am in the process of putting together a "TALK" on the "History of Speedway in Wigan" which I will be giving to the Local History Society when we get back to some sort of NORMALITY.
Comment by: Alan H on 19th May 2020 at 09:46
I was at Poolstock when Stan Laurel and Oliver Hardy made trip round the track on the back of an open topped top car. I think they did 2 laps and then they left.
Comment by: RON HUNT on 19th May 2020 at 11:52
Alan I don't suppose you have a photograph of the occasion? There is one going around purportedly taken at Poolstock showing Ollie and Stan with some other people stood at the side of the track, but it's now been proved, unfortunately,that it was taken at the Bristol track the week later..
Comment by: Pete Barker on 21st May 2020 at 05:13
My Mum & Dad saw Laurel and Hardy at Belle Vue in the early 1950's. Around about the same time they saw Jussi Bjorling at Kings Hall, Belle Vue.
Comment by: Margaret Prior nee (Frodsham) on 28th December 2020 at 02:43
I was at Poolstock speedway on 13th September 1947, I was 8 yrs. old, my brother would be 10yrs., and my sister 6yrs. I remember quite clearly Laurel & Hardy going around the track in an open top (I think it was an Army Jeep) & the crowd were all throwing money into it. At the time my dad (James Frodsham) worked at 'Garswood Hall Colliery' at Bryn, in the (Lamp Shop), one day he came home from work with the word's of this song for us to learn and sing to the tune of 'Bless em All', for when we went to the speedway. One of his workmates had written it.

Bless em All, Bless em all
Dick Geary and Hargreaves an all
There's Lambourn an Houghton an Gordon an Brine
An their ridin is all mighty fine
Cyril Cooper is well to the fore
And as you will see there are more
So come all supporters an come from all quarters
To cheer up the lads - Bless em All.

We also went to Belle Vue.