Photos of Wigan
Photos of Wigan
Album Contents
Album Contents
Wigan Album
Ladies Football
3 Comments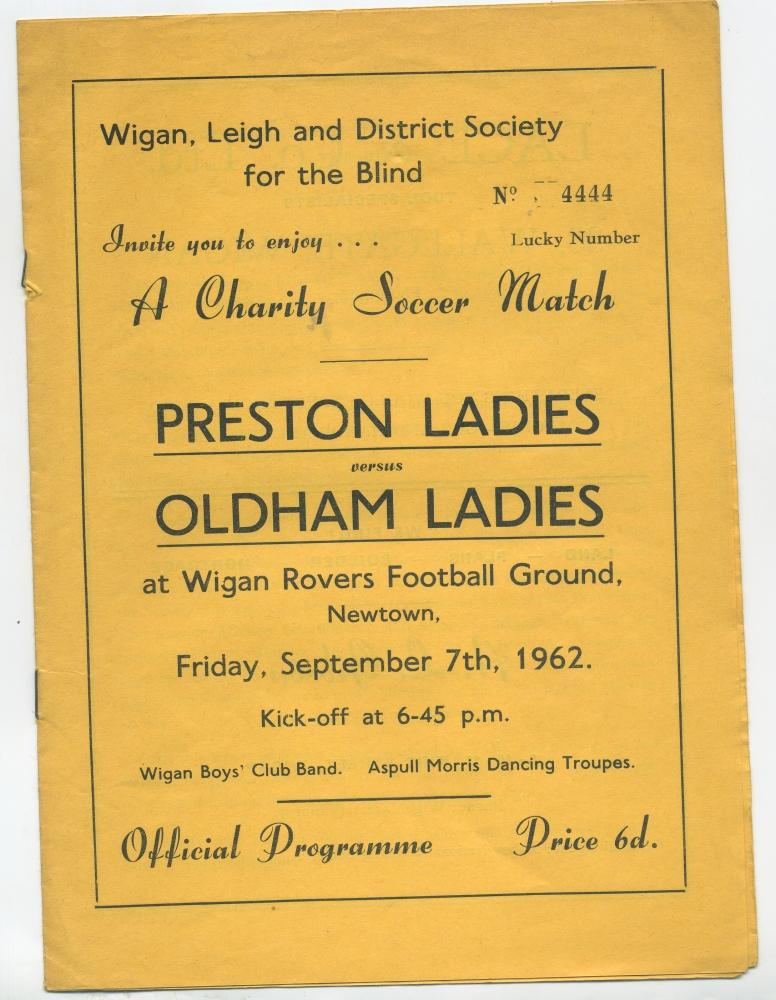 PRESTON LADIES v OLDHAM LADIES 1962
Photo: RON HUNT
Views: 678
Item #: 31457
JUST BEEN TRYING TO SORT OUT MY VAST COLLECTION OF FOOTBALL PROGRAMMES. AND CAME ACROSS THIS PROGRAMME FOR THE GAME PLAYED AT THE WIGAN ROVERS GROUND IN NEWTOWN. PRESTON LADIES STARTED LIFE AS DICK KERR'S LADIES IN THE 1920'S.
I CAN VAGUELY REMEMBER GOING TO THE GAME WHICH WAS PLAYED AT WIGAN ROVER'S FIRST GROUND AT THE SIDE OF RATHBONE'S BAKERY.
Comment by: RON HUNT on 19th August 2019 at 08:34
I NOW HAVE A VAGUE RECOLLECTION THAT THE GAME WASN'T PLAYED AT THE WIGAN ROVERS GROUND, BUT WAS PLAYED AT CHRISTOPHER PARK. DUE TO THE ROVERS GROUND BEING WATERLOGGED? I'LL HAVE TO CHECK THE LOCAL NEWSPAPER WHEN I NEXT VISIT THE HISTORY SHOP. MY RECOLLECTION OF VISITS TO THE WIGAN ROVERS GROUND, WERE TO WATCH WIGAN ROVERS. IT WAS NEARLY 60 YEARS AGO
Comment by: Philip G. on 19th August 2019 at 10:39
And what a squelching mire Victory Park could become, Ron.
I played football, there, after the rains, for our school team in its 1963 semi-final and which followed the other semi-final quite soon afterwards. What a mess! And ne'er were the services of post-match Dubbin more called upon.
Comment by: rod prescott on 22nd August 2019 at 18:52
The Lancashire FA stopped the game being played at the British Legion Ground in Newtown , also the home of Wigan Rovers , citing the FA Ban of 1921 , not allowing the Ladies to play on any FA ground . Rovers were told that they would face serious trouble and possible suspension , if the game went ahead . Tickets had been printed and posters put up around town , but the FA refused to give way on the matter , causing much furore throughout the Borough , as this was 1962 , not 1921 ! Several thousand apparently watched the game at Christopher Park to where it was rearranged and Pat Phoenix kicked off the match , which raised a lot of money to the Wigan Society for the Blind . The result finished 2-1 to Dick Kerr's of Preston , Carol Barber and talented local Hindley player Jean Lean being the Preston scorers .