Photos of Wigan
Photos of Wigan
Album Contents
Album Contents
Wigan Album
White Swan FC, Pemberton
8 Comments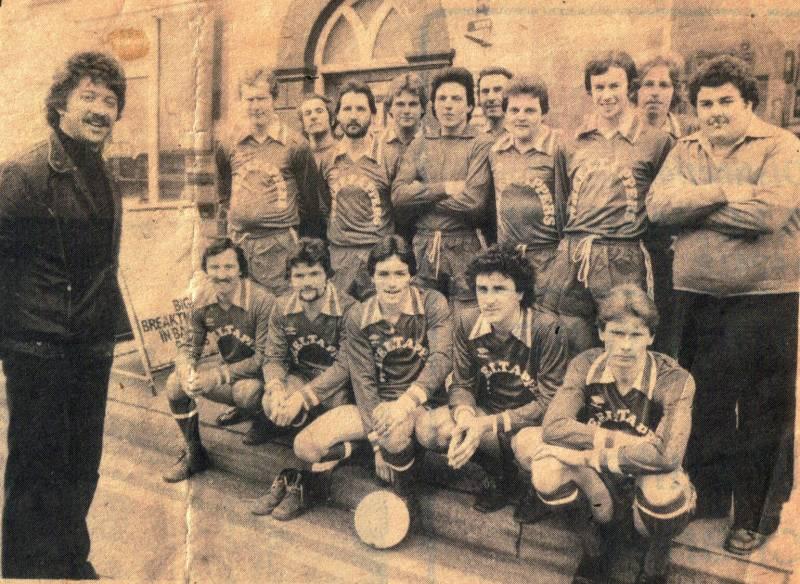 White Swan (A), Pemberton, 1980.
Photo: Keith Berry
Views: 5,272
Item #: 2512
Wigan Sunday Post & Chronicle first Division side, White Swan A from 1980.

Back row: Ian Weaver, Tony Fairhurst (Secretary now press secretary for South Lancs Counties), John Campbell, Peter Shuttleworth, Alan Baybutt, Tommy Boland, George Poole, Mick Ryan, Graham Shirley, Mick Hatch (Manager).

Front row: Sponsor Steve Anders - Kevin ?, Dave Braithwaite, Kevin ?, Bill Green, Alan Weaver.
sponsor - steve anders of wheeltappers, i run wheeltappers with him - still there after 30 years . photo took 1979
Comment by: John Turner on 22nd March 2008 at 23:49
The Kevin in centre of front row is Kevin Critchley
Comment by: J.P. on 5th April 2008 at 21:01
I remember Tom Boland from St Josephs back in the 50s,and Tony Fairhust from "Tommy More" in the late 50s
Comment by: Bill Green on 16th December 2008 at 17:55
Most of this side played in the Hancock Trophy Final in 1981 when we lost to Shevvy Plough n Harrow, 2-3 ( aet ). The match was played on a bone dry pitch in blustery wind at Ashton Town one friday night. Keeper,Alan Baybutt was out injured , so here's a teaser:
.... Who replaced him in goal for the final and also scored one of The Swan's two goals? And for a bonus point who got the other goal?
Comment by: H.WOOD on 23rd March 2009 at 21:32
HELLO BILL WAS IT CEORGE POOLE WHO PLAYED IN GOAL FOR WHITE SWAN F.C.IN THE HANCOCK TROPHY FINAL AT ASHTON TOWN AND SCORED A GOAL. (WRONG AGAIN HOPE NOT GOOD TEAM THIS)
Comment by: bill green on 3rd May 2009 at 12:13
you're right pal, it was pooley who played in goal andscored the pen . It was a lad - not in the picture- named Leo? who got the other... a teacher mate of dave braithwaite's i recall.
Bill -it was Leo Conley who now forms part of great quiz team as " white Swan B" every Thursday with associates Berry , Braithwaite and Walls ! 3 defenders and a forward who says we did not have brains !