Photos of Wigan
Photos of Wigan
Album Contents
Album Contents
Wigan Album
Springfield ARLFC
12 Comments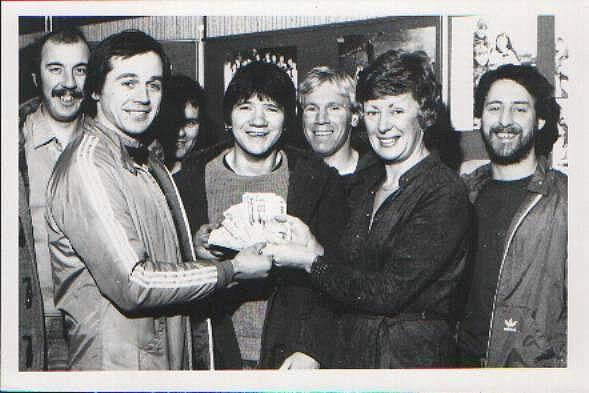 Players presenting a cheque to Hope School, c1980/81.
Photo: Ian Thornley
Views: 1,754
Item #: 2495
Springfield ARLFC players presenting a cheque to Hope School after raising the money by doing a sponsored run circa 1980/81.
Comment by: ian thornley on 8th January 2010 at 16:55
we ran from coronation park poolstock, up through winstanley, down the two mile stretch, up to the stag and down to old engine, across to heinz and down through marsh green, locals nourished us at the stork hotel. then down to asda and up swan meadow back to coro park.i led all the way but joe loc and jeff barker had to be pushed in a asda trolly for the last half mile.
Comment by: Pengy on 16th February 2010 at 21:58
You wudnt get Barker in a Asda trolly.It must have been one of Catteralls horse and carts
Comment by: joe mac on 21st February 2010 at 21:24
Ian me and lock came home first and barker was last remember the word BARKER GET OF THE FIELD.( Barrow JP 7s)
Comment by: jimmy Melling on 23rd November 2011 at 00:45
nobody in this picture could run anywhere.... except for Terry and he had to jump things along the way.
Comment by: kev holleron. on 6th June 2013 at 05:16
listen joe mac just seen the comments the fact is your julie would not let you run you had to go ASDA shopping with the mother in law and for the record jeff barker won that race
Comment by: glassback on 12th June 2013 at 05:13
is that joe lock on the far right hiding his long chin with the beard
Comment by: pengy on 24th July 2013 at 05:04
cant get a beard big enough to cover that chin
Comment by: glassback on 12th September 2013 at 05:18
Comment by: the silver blade on 5th January 2014 at 01:29
Good looking bunch of lads eh?
Comment by: Wiggy on 5th January 2014 at 01:51
Money raised from selling the lead they robbed from the roof!
Comment by: silver blade on 1st March 2014 at 00:46
Never! Pengys never set foot on a roof even though he owns a roofing company.
Comment by: The Horse on 15th March 2014 at 07:31
He never set foot near a bar