Photos of Wigan
Photos of Wigan
Album Contents
Album Contents
Wigan Album
Springfield ARLFC
12 Comments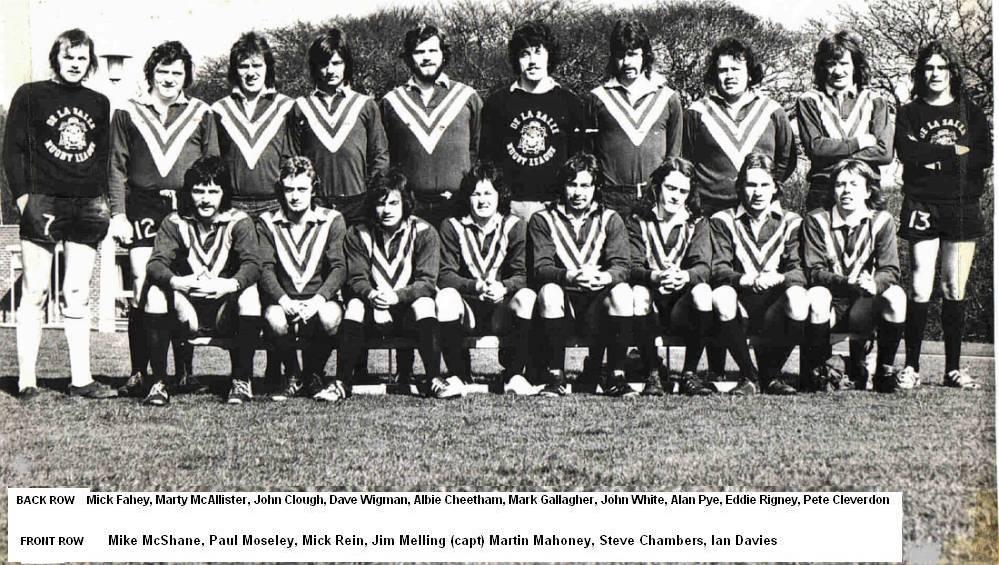 De La Salle Teachers Training College team of 1975 (Manchester).
Photo: Jim Melling
Views: 2,430
Item #: 2494
Not Springfield ARLFC but some of the players went on to play for them.

Jim Says: "The attached photo is of the De La Salle Teachers Training College team of 1975 (Manchester). The team played in the University League Division 1 and finished 3rd in that season. The team also won the Colleges cup and the Colleges league title in 1974. The team played Springfield ARLFC home and away in the 1975 season, lost away and won at home. There are 5 Wigan lads in the team, 3 of whom went on to join Springfield after they left College.

Mick Fahey (Atherton), John Clough (Wigan) Dave Wigman (Hindley), Alan Pye (Bickershaw) and Jim Melling (Billinge) are the Wiganers, the latter three playing for Springfield from 1975 – 1981."
Comment by: Ian Thornley on 30th August 2009 at 10:52
Did Wigman manage to get is C.S.E
Comment by: pengy on 13th November 2011 at 12:25
No. Wigman got a N.V.Q. level 3
Comment by: Jimmy Melling on 23rd November 2011 at 00:47
The only time springfield palyers got to go to college....and they robbed the statues and toilets and hid them on the bus. France Farrell did it.
Comment by: The Horse on 10th December 2011 at 17:50
Was it not a N.V.B. Not Very Bright
Comment by: jimmy on 1st March 2014 at 00:56
Ten of these lads played for Lancashire Universities in two seasons. Three of them played for Great Britain Universities v France.
Comment by: Terry Parkinson. on 21st March 2014 at 19:17
I played in a friendly for Springfield against De La Sallys.
I scored four tries, kicked six goals and got man of the match I finished up with the Sutherland Brothers and Quiver's accordion. Jimmy Melling passed it to me. Its the only pass I ever got off him.
Comment by: pengy on 22nd June 2014 at 04:57
It must have been draughts, when they played for G.B
Comment by: Jimmy on 14th January 2015 at 00:11
It was draughty in Montpelier playing against France. Ten of the french students played against Australia as most of the Professional players were registered as students.
I played for the DLS rugby league team back in 1974/75 season along with another Welsh Lad. Mike Hourn hand who alas passed away about 10 years ago.
Comment by: peter roberts on 29th June 2020 at 13:24
Sadly Dave Wigman passed away Christmas Day 2019
Another De La Salle rugby league player passed away today. Our captain Jim Melling! Keeping Wiggy company til we all join you!