Photos of Wigan
Photos of Wigan
Album Contents
Album Contents
Wigan Album
Springfield ARLFC
8 Comments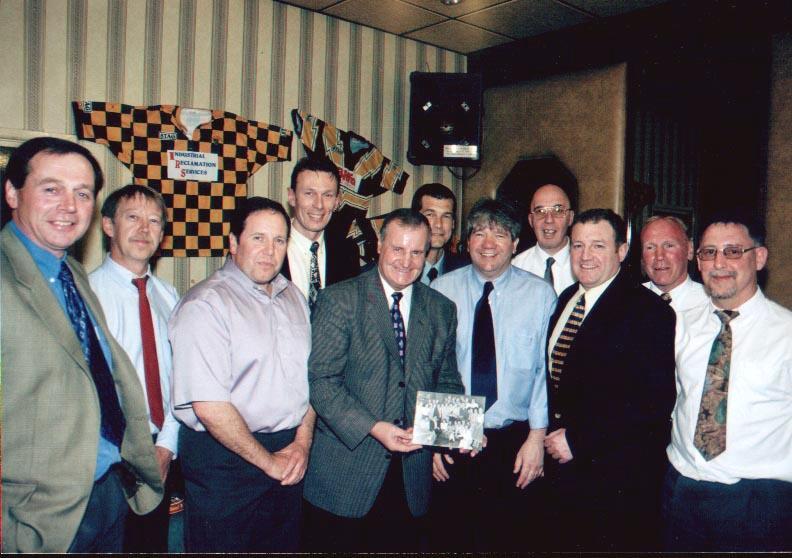 Reunion held at Scot Lane Labour Club, 2001.
Photo: Joe Pendlebury
Views: 2,871
Item #: 2483
Reunion night held at Scot Lane Labour Club by kind permission of St Cuthberts ARLFC who were having their annual sportsmans dinner where guest speaker Alex Murphy joined these old people on the photo.

Thursday before Good Friday, 2001.
Comment by: One good game dont make u an international on 12th July 2008 at 15:10
Better than any fireguard this lot. Even adults wouldn't go near the fire with a photo of these men hung over it. Only one good looking lad on there!
Comment by: Mortice Lock on 15th July 2008 at 21:05
Them two with the glasses on look alike are they brothers?
Comment by: tony hammil on 9th December 2008 at 09:14
not brothers closely related though.seem to remember a band on that night they put them on late to empty the club.it worked too. never seen a club empty so quick
Comment by: joe pendlebury on 14th August 2009 at 08:33
no there not brothers but they had a similar style of play. terry being the better player than joe hornby
Comment by: Joe Lock on 3rd February 2010 at 21:40
wheres that little fat scrum half?.
Comment by: Warty on 12th May 2010 at 18:51
The guy 3rd from the left is it Peter Kay the comedian? I didn't know he played at Springfield.
Mossy ( that good looking chap next to Alex Murphy in blue shirt) would never have got that hookers shirt if I hadn't left for the bright lights and a successful professional rugby career.
Comment by: Mossy on 13th July 2010 at 20:58
saw warty comin out the pie shop last week 3 pies in each hand you could feed africa off his bay window.
Comment by: alex murphy on 26th November 2010 at 16:41
who's that fella behind me and mossy, is he an extra from the evil dead or the hils have eyes