Photos of Wigan
Photos of Wigan
Album Contents
Album Contents
Wigan Album
Springfield ARLFC
18 Comments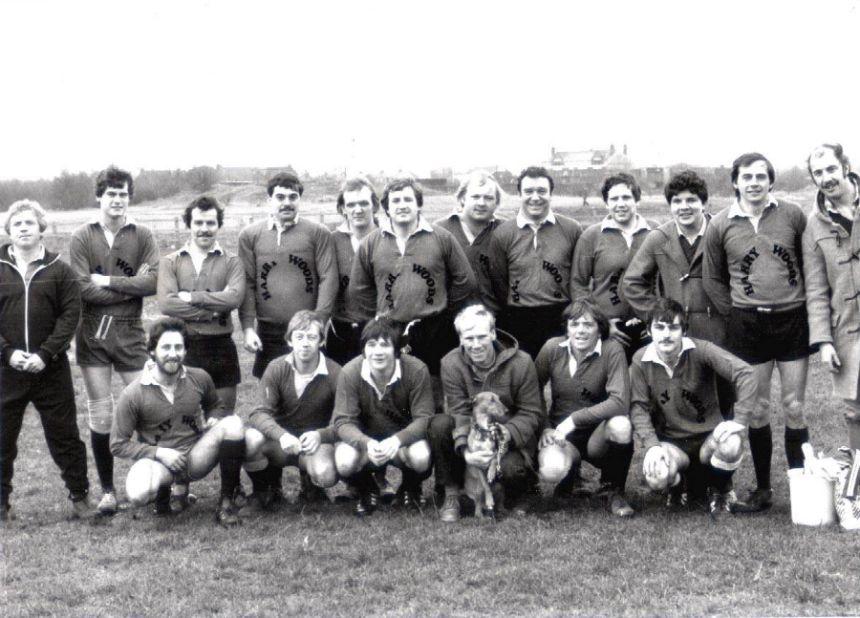 Springfield ARLFC 1982/83 season took at Clarington Park prior to victory over St Cuthberts 10-9.
Photo: Ian Thornley
Views: 4,444
Item #: 2482
Springfield ARLFC 1982/83 season took at Clarington Park prior to victory over St Cuthberts 10-9. Cuthberts scored 3 tries to nil (it was 3 points a try then) but Graham "radar boots" Moss kicked 5 penalties to seal victory.

Back row standing, Geoff Barker, Ian Thornley, Gerard Glover, Dave Westhead, Francis Farrell, Denis Smith, Frank Sharpe, Mick Moss, Graham Pye. Joe Mcnicholas, Joe Pendlebury, Terry Parkinson, Front row, Joe O'Loughlin, Kev Williams, Graham Moss, Les Greenhough, Derek Toothill, Neil Sedgewick.
Comment by: graham moss on 11th March 2009 at 21:42
thornley had a bigger bandage on his back no wonder he could'nt bend it. (still can't)
Comment by: mossy on 11th March 2009 at 21:44
is greenoughs dog still knockin about
Comment by: ian thornley on 12th April 2009 at 01:21
Greenhough is always at the top of the arcade.He never misses a saturday selling The Big Issue with his mutt on a string
Comment by: derek toothill on 14th May 2009 at 17:52
finished my career with this lot (55 years old) dont look do i.finished top scorer too, 220 goals and 47 tries.was also best player at wigan tech 1956-1981
Comment by: terry parkinson on 26th May 2009 at 22:06
the lad 4th from left is it dave westhead heard he is a expert on french cathedrals and australian plant life
Comment by: derek toothill on 29th June 2009 at 19:45
yes that is dave westhead. heard he has gone on a 6 month safari to africa phhotographing bushes.the trip has been sponsored by his wife and people who know him
Comment by: joe loc on 14th August 2009 at 08:40
the guy with the duffle coat on. is that joe mac nic. a great winger in his time. used to run rings round barker on the field and in the clarence with his smooth chat up lines
Comment by: Terence Parkinson. on 2nd September 2009 at 15:20
What a load of tosh this lot was. They could not win their down at dominoes never mind a rugby match. I'm glad Hull KR signed me when they did. I learned a lot off Roger Millward and Len Casey.
Comment by: joe mac nic on 26th November 2009 at 08:45
is terry still playin after 15 years at hull kr i heard he'd gone to hindley as player/head coach but he's not allowed on photos
Comment by: Pengy on 25th March 2010 at 19:55
Last I heard, Terry was head chef,at a Flinstones pie shop in Hindley
Comment by: Lockie on 4th April 2010 at 20:38
Terry's not the ugliest mon int world, but he looks like im.
Comment by: Lockie on 20th July 2010 at 20:30
them two wi duffle coats on. Father n Son????
Comment by: Wigginer on 9th January 2011 at 10:06
Are them two stood up at the right hand side brothers
Comment by: Joe Lock on 13th November 2011 at 12:40
Them 2 on stood up on the righthand side are lad and dad. Him in the dufflecoat is Pengys love child
Comment by: Joe Lock on 10th May 2014 at 18:39
Was with Pengy and Barker on Friday,still as tight only got one round in. It was a good job Mossy and Sharpy were there to help me out paying for the ale
Comment by: LOKIE on 29th January 2016 at 04:30
JOE you new the script jeff and pengy got the women and you lot got the ale
Comment by: Derek Tootill on 30th January 2017 at 19:20
I played with these bunch of comics at the end of my career. I was the oldest in the team by eight years,and was still the best player by far.
Sad passing this week of another team mate Neil Sedgwick, bottom row right hand side.