Photos of Wigan
Photos of Wigan
Album Contents
Album Contents
Wigan Album
Springfield ARLFC
10 Comments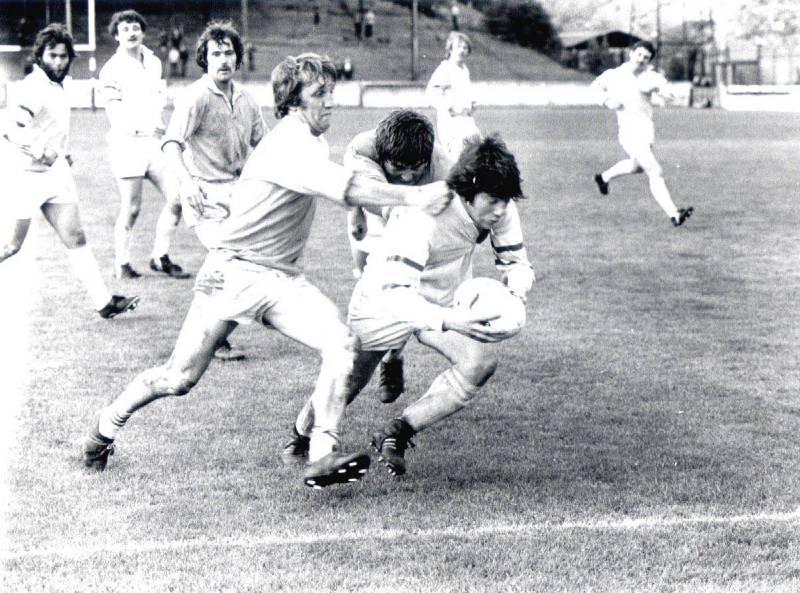 Springfield hooker Graham Moss crosses the Rose Bridge try line during the Ken Gee cup 1979.
Photo: Ian Thornley
Views: 2,356
Item #: 2481
Springfield hooker Graham Moss crosses the Rose Bridge try line during the Ken Gee cup 1979.
Comment by: Frank Oleary on 30th August 2009 at 11:26
Its the only try he scored in is career and was a crap goalkicker and hooker.The only thing he was any good at was making glass top coffee tables as foreigners when we worked at fosters.Sorry rephrase that,we went to fosters
dear sir i played in that match brings back alot for me
Comment by: jimmy on 23rd November 2011 at 17:30
I played in this match too(grizzly Adams lookalike) - i passed the ball to Mossy for his try. we lost 12-2 and the late great Cliff Derby pictured had a great game!
Comment by: Ian Tornley on 10th December 2011 at 17:38
No wonder the kids of today are thick. Grizley was a shoolteacher,when did you last get two points for a try
Comment by: Graham Moss on 11th December 2011 at 12:54
The only time Jimmy Melling parted with the ball is when he could run no further and then it was an hospital pass. If he could see the whitewash you've more chance of getting a pint off Alan Pye than a pass off Melling.
Comment by: Jim Melling on 21st February 2013 at 19:59
Wrong game! We lost to ince12v2 ....in fact we lost all our ken gee finals. As for Mossy's comments.....I did pass him the ball ....once! Once was enough.
Comment by: Jim Melling on 21st February 2013 at 20:01
As for you Ian ....you can't spell your own name so don't blag me mate!
Comment by: Ian Thornley on 24th June 2013 at 11:10
I'm not guilty of that comment, Jimmy. Someone is acting the Mick
Comment by: wiggy on 1st March 2014 at 01:08
Most of this team couldn't pass an 11 plus if they all sat together. Some claimed to be dyslexic.....they meant thick.
Comment by: Ian Thornley on 15th March 2014 at 07:22
Pengy always passed the bar, and always when it was he's turn