Photos of Wigan
Photos of Wigan
Album Contents
Album Contents
Wigan Album
Springfield ARLFC
11 Comments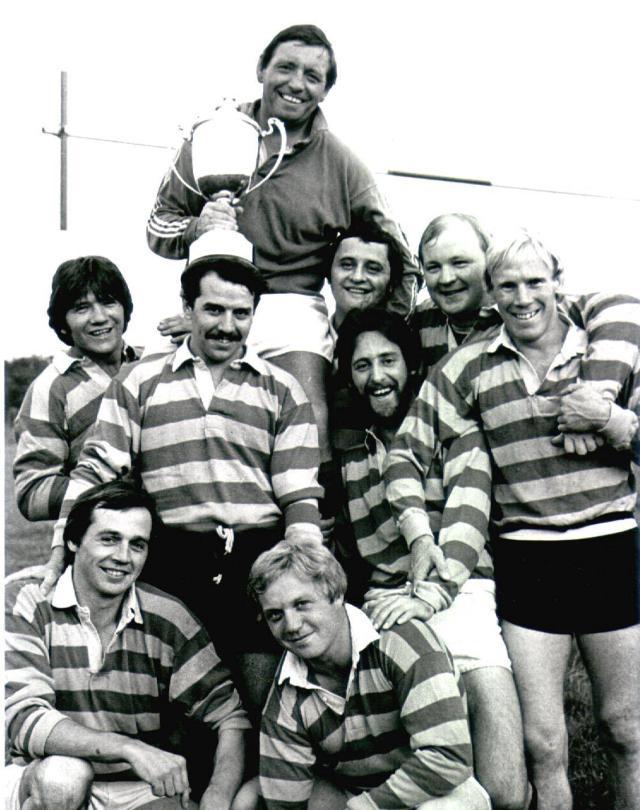 Springfield coach Ken Halliwell proudly shows off the trophy after coaching his team to victory in a seven a side tournament 1981.
Photo: Ian Thornley
Views: 3,439
Item #: 2479
Springfield coach Ken Halliwell proudly shows off the trophy after coaching his team to victory in a seven a side tournament 1981.
Comment by: shevaun on 21st November 2007 at 14:29
my dad on the right with hes curly blonde hair but wheres it all gone now haha
Comment by: Jimmy on 22nd November 2008 at 19:18
Springfield won the Wigan 7's 2 years in a row 1980 & 81
Also won the Millom 7's in 1980 the only club outside of Cumbria to do so at the time.
Comment by: Why were we kicked off Coronation Park? on 27th December 2008 at 18:56
I agree with you Jimmy on us winning the Millom 7's and Wigan 7's in 1980. Not so sure about us winning the Wigan sevens in 1981 though. I could be wrong. The Millom and Wigan 7's in 1981 clashed as they were played on the same day so we had to split our squad between Millom and Wigan. I pulled a short straw and was despatched to Millom to defend our prized trophy but alas we came home empty handed!
Comment by: John Davies on 3rd November 2009 at 15:20
Ken Halliwell was my grandad does anyone know where i can find more pictures of him?
is that jeff barker on the front row?,wasn't he the good looking one on the springfield team?
Comment by: elsie toothill on 26th November 2010 at 16:15
no the lad on the left of barker is the good lookin one.
is he married ? i know barker i saw him last week up wigan, he looks about 20 stone
Comment by: simon grant on 30th November 2010 at 09:31
on the left,isn't that Terry Parkinson,i think he wedd a wench from up hindley way
Comment by: terry parkinson on 7th January 2011 at 17:21
no that's not me i'd signed for hull kr by then.Best move i ever made .this was the only cup this lot ever won, better boozers than rugby players. if they had half as much dedication as me and joe mac they could have held their heads high but it was not to be. i see most of them go in the star wars bar at dinner time during the week, nearly called in the other week but our wilma would'nt let me.
Comment by: Ian Thornley on 9th January 2011 at 10:00
Terry Parkinson married a Fred Flintstone look alike
Comment by: Ian Thornley on 18th January 2011 at 15:14
Im not guilty of that last comment Terry. Ive a good idea who is though!
Comment by: pieman on 12th June 2013 at 05:23
how did joe lock get in a 7s team slowest mon on the springfield team