Photos of Wigan
Photos of Wigan
Album Contents
Album Contents
Wigan Album
Bill Hudson
17 Comments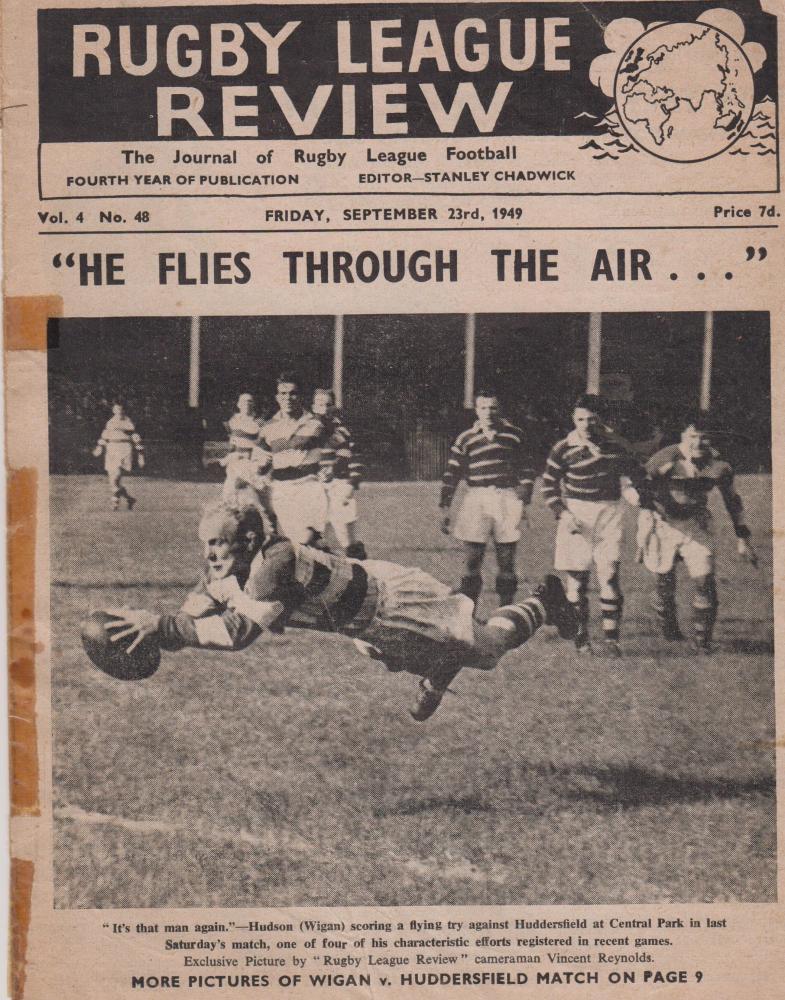 Bill Hudson
Photo: Alan Wright
Views: 2,302
Item #: 24264
One of my late dad's favourites. I never saw Bill Hudson play, but apparently the flying dive was his particular favourite. I hope this photo brings back happy memories for our more senior supporters! Incidentally, the try shown came from the Wigan vs Huddersfield game at Central Park in September 1949, watched by 35,700 spectators!
Comment by: Garry on 20th December 2013 at 17:25
The was very exspensive 7d in 1949.
Comment by: Bluesfan on 20th December 2013 at 19:29
Great souvenir, well before my time but very nostalgic. Thank you for posting
Comment by: broady on 20th December 2013 at 22:05
Bluesfan,

Well before your time???? I only missed it by six months.
Comment by: Roy on 21st December 2013 at 09:29
0.87p in todays money Garry. I was 2 years away from watching my first game at Central Park then, Wigan V Wakefield in 1951. I still maintain that some of this diving is totally unecessary and could result in injury and/or loss of the ball which we have seen in recent years, what's easier than just putting the ball down over the line.
Comment by: Bluesfan on 21st December 2013 at 10:26
It was another five years before I popped out Broady ;-)
Comment by: AB on 21st December 2013 at 11:37
I was there. Bill Hudson was signed from Batley. He played loose forward and was feared by his opponents although he was supersticous and insisted on a No 14 shirt Opposing scrum halves avoided using the blind side ( He did not take prisoners as they say)A great forward and a great character.
Comment by: Keith on 21st December 2013 at 18:15
At a guess the Wigan players in background, left to right, Ted Ward, Ernie Ashcroft, Billy Blan and Joe Egan - Wigan won 22 -12. Bill Hudson played just 3 seasons for Wigan a total of 67 matches, not sure which club he went to after that.
Comment by: AB on 21st December 2013 at 18:43
Your right Keith,I think Ted Slevin could be the Huddersfield player behind Billy Blan. I don't recall him playing after he left Wigan. He did maintain a connection in recommending players to Wigan, notably Bill Francis as a young prospect .
Comment by: AB on 21st December 2013 at 19:50
It is not Ted Slevin. Ted played in the 1950 championship match for Wigan along with Bill Hudson at Maine Road
Comment by: Keith on 21st December 2013 at 20:04
Might be worth passing on a few recollections of my father with regard to the view taken by the legendary Jim Sullivan, who was very much a down to earth, no nonsense character. He disapproved strongly of any "show boating" if you're over the line, his advice was," put the "so and so" ball down". The other point i remember was that he was dead against any player having bandages on knees!
In relation to the first point my father played one final season for Leigh, 1948 - 49, after his 10 year contract was up with Wigan (he also represented Wales that season). Leigh of course, were a different "kettle of fish" to Wigan but in one game against high riding Halifax they were drawing with just a few minutes to go when the Leigh scrum half or stand off, not sure which, (Riley or Rowe), went through under the posts, no doubt in his elation at being rewarded with the winning bonus, he leapt into the air as he grounded the ball, only to find his exertion resulted in him dropping it and the game finished as a draw but the "bonus" was lost. Not the most popular man in the dressing room after the match!
Comment by: Roy on 22nd December 2013 at 01:02
As i said earlier in the piece Keith B, there's nothing easier than putting the ball down when you've crossed the line.
Comment by: AB on 22nd December 2013 at 18:43
Showboating when scoring is risky as when Wigan played Swinton at Bury's Gigg Lane Shawn Edwards scored 9 or !0 tries and I seem to remember another Wigan player (I wont name him) doing a "Bill Hudson" and then missing a few matches injured,
Comment by: Ernest Pyke on 22nd December 2013 at 22:54
I saw Bill Hudson play and was 21 years of age in 1949.
I remember going to watch a Lancashire Cup Final at Station Road, Swinton, between Wigan and Warrington. Brian Bevan ran the full length of the field and the ball dropped out of his hands over the try line - no try!
Comment by: panc on 23rd December 2013 at 21:31
Keith Bill Hudson went to Wakefield.
Comment by: Keith on 24th December 2013 at 08:07
Thank you for that information, my father recalls meeting him, Bill called him over, sometime I think in the late 80's or early 90's, but sadly dad didn't recognise him, so changed was Bill by his illness.
Comment by: Keith on 27th December 2013 at 13:25
Seems as if the editor, S(tanley) Chadwick wrote a couple of books about Rugby League history a few years earlier.
Comment by: alan winstanley on 21st February 2021 at 14:45
I recall travelling over the pennines to play castleford in a cup tie and someone in our group knwe BILLY quite well what i will never forget was having a lunch put on for us he ran a pub in Wakefield near bus station ,as i say talking to him and him showing us some photo's was a truly wonderful experiance never to be forgotten ,,,