Photos of Wigan
Photos of Wigan
Album Contents
Album Contents
Wigan Album
Aspull RUFC
21 Comments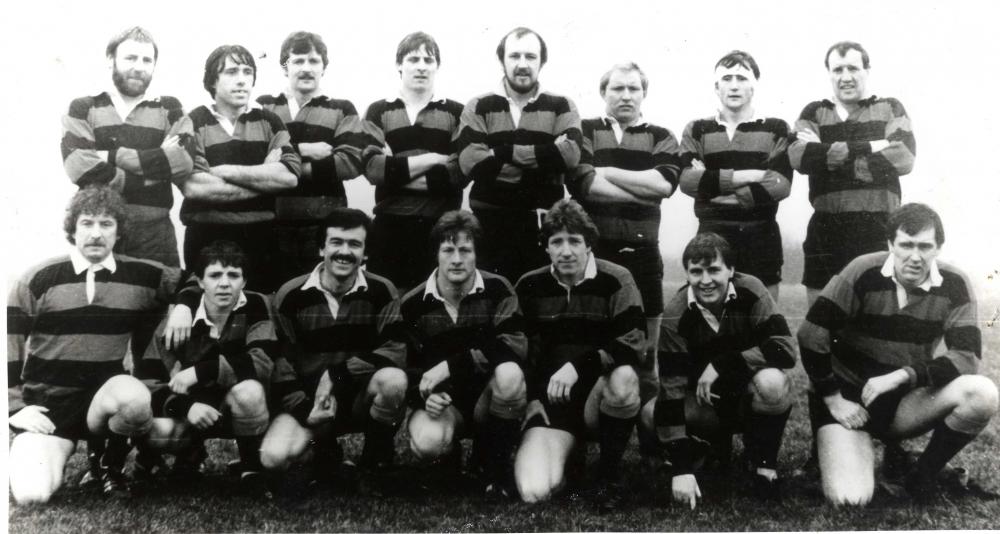 Aspull Rufc early-mid 1980s
Photo: Ken Barnes
Views: 4,813
Item #: 23063
a few familiar faces on here
Comment by: Steve Mercer on 30th March 2013 at 18:05
Front row third from left, is it Steve Donlan?
Comment by: Steve McQueen on 30th March 2013 at 18:09
I remember Steve Donlan, played at Wembley against Hull, his pace was deceptive, he was slower than he looked.
Comment by: Steve Coppell on 30th March 2013 at 18:18
Mercer you fool, that's not Steve Donlan, Donlan played centre, there's no way that mon third from the left ever played centre.
Comment by: Steve Biko on 30th March 2013 at 18:26
Mercer, front row third left is Bobby Ball, I'd know him anywhere, even without his braces on. Rock on Tommy!
Comment by: Eric Wink on 30th March 2013 at 22:31
wrong ste - Danny & Malc on same photot just means one thing!
Ball & Boot was shut for re-furbishment that day!
Comment by: t on 31st March 2013 at 09:14
steve peet 2nd right front row.
Comment by: steve lavin on 31st March 2013 at 13:29
If its mid 80s, front row 3rd from left must be Malc Hollands grandson.
Comment by: broady on 31st March 2013 at 18:09
I think that is "Geoff" Gregson on the front row right hand side. Not sure if his Christian name is Geoff.
Comment by: Wigvet on 31st March 2013 at 23:37
It was Geoff Gregson broady who was taken from us much too soon - good player, good ref and a good bloke
behind him is Bill Woodcock
At least 5 of that team were at the reunion Sat 30th March. If that is Graham Smith 3rd from left back row 6 and he is still playing amazing. The reunion was great so many old faces and happy memories!
Comment by: Jack on 1st April 2013 at 21:24
Bryn Gregory? Front row 2nd from left.
Comment by: Walter on 2nd April 2013 at 11:05
George Winstanley next to Malc,possibly Neil Telford the other side of George ?
Comment by: wigvet on 2nd April 2013 at 11:58
not Neil Telford Walter - thats Paul Winstanley
Comment by: mm on 2nd April 2013 at 19:07
Steve Peet front row 2nd from the right.
Comment by: Dave c on 6th April 2013 at 21:58
What's Malcolland doing smiling? Must have bought a round,(an unusual event in itself), given the barman a fiver and got change for a tenner. Can't think of any other reason
Comment by: Doug on 28th July 2013 at 22:08
Back Row 5th from the Left++++ Alan Waters
Comment by: Malc Holland on 28th December 2013 at 22:55
very sorry to hear the news today
RIP Eddie Powell 27th dec 2013 - back row 2nd left
top player, top coach but most of all...top guy!
never forget you pal
Comment by: Freddie Moss on 7th January 2014 at 16:28
Very sorry to hear of the passing of Eddie Powell - good Guy,replayed many a game with him over a few pints in the clubhouse - RIP Eddie,thoughts are with his family.
Comment by: chris brooks on 28th March 2014 at 09:46
this game was played on the 26-feb-83 against mid cheshire colleges with aspull losing 28-27 after being well in front
(thick fog this day that is why the background look,s white)
team-back row left to right rick sanderson eddie powell graham smith chris brooks alan waters john wilkinson jeff dunlop bill woodcock danny front row priest (danny played on the wing that day due to his blistering pace) bryn gregory
malc holland george winstanley paul winstanley (the wallasey windscreen)steve peet geoff gregson
Comment by: Sarah Powell-Burland on 23rd July 2014 at 21:48
Great pic. I have great childhood memories of Aspull rugby club, my dad is Ed Powell who we so sadly lost at Christmas. Thanks for the comments about him.
Comment by: peter smith on 16th September 2016 at 01:46
i think front row far left is peter ???.he played for bae lostock before aspull.a player with a heart of stone