Photos of Wigan
Photos of Wigan
Album Contents
Album Contents
Wigan Album
Springfield ARLFC
11 Comments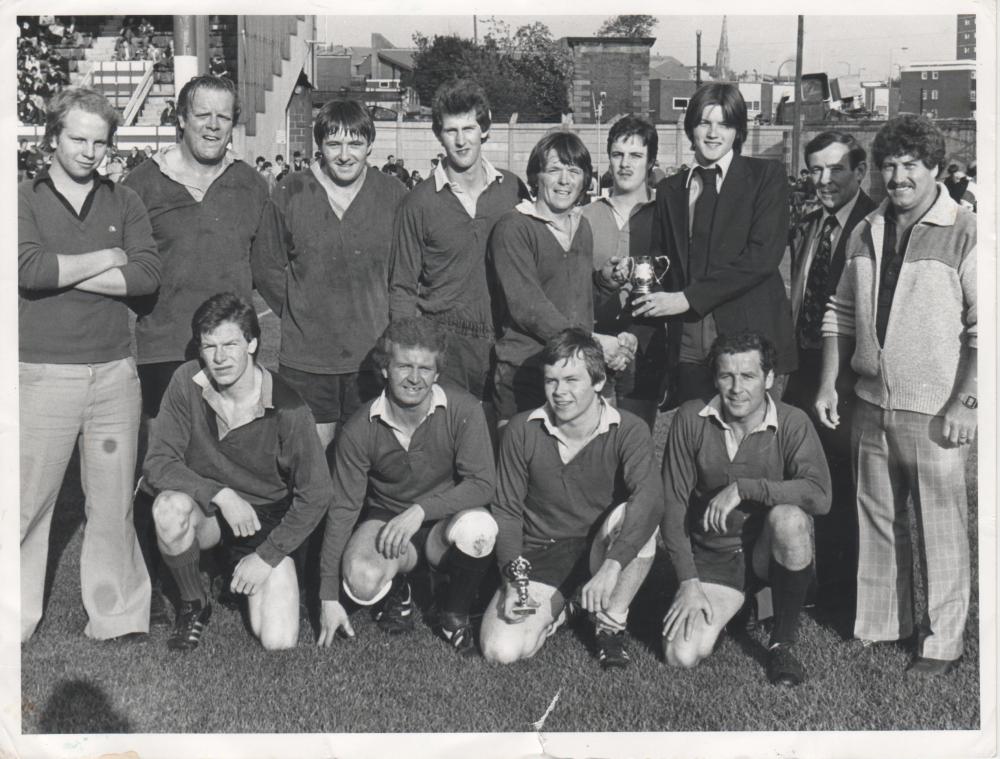 1980 Sevens
Photo: joe pendlebury
Views: 4,397
Item #: 20233
This is a photo from 1980 when a 7 a side cup competition was ran in conjunction with the Ken Gee cup. Here we have a young Derek Toothill receiving the winners cup from David Woods of Woods glass whom later became a Sprinfield player. The side was a mixture of Wigan tech lads and young Sprinfield players. Sadly this photo only came to light after the passing of Terry Berry who was the landlord of the Clarence Hotel in Wigan.Terry looked after the springfield team for several years and the Clarence became a popular meeting place for all the rugby teams in Wigan.Terry sponsored the team in this competition and played under the Clarence name. Terry is pictured on the right hand side along with John Mcdonald, manager.
The Leaning Spire of Scholes is very prominent in the background.
What a coincidence Reverend,i was on site yesterday on the school roof,
Comment by: steviegoko1958 on 17th March 2012 at 15:27
is that a young joe morton front row second from keft
Comment by: Scholes Malc on 17th March 2012 at 20:14
Derek Toothill was never 'young' – he's that old when he went to school there was no history!

yes Joe Morton in front row and 'jack' Toohey in back row

very sad to hear this week of the sad loss of Terry Berry – he always had a smile on his face
remember him as landlord of Clarence and later did he also go to the Ben Johnson?
His brother Tommy has a place in Scholes history – the first ever landlord of the Ball & Boot (Sams)
i think he went to Oz
Farwell Terry – top bloke – RIP
Comment by: Tom Clancy on 19th March 2012 at 15:54
I worked with Derek at Halliwells (Bottlers) Wilcock St.back in the sixties.
Comment by: John J. on 19th March 2012 at 19:23
A young Phil Leyland, fourth from left, back row...
Comment by: broady on 20th March 2012 at 13:29
I never knew Derek give less than 100% whenever he pulled on his boots.
Comment by: farrie50 on 24th March 2012 at 21:11
front row right is Cliff Baxter a lad i played with in the early Plessey team
Comment by: Graham Moss on 14th April 2012 at 13:59
Toothill couldn't catch fatty Barker, Terry the horse or Alan Pye never mind a ball. I hope he shaped better when he was at Hansons on the milk or there would be broken bottles all over the place.
Comment by: Graham Moss on 3rd May 2012 at 16:58
I did'nt know anything about the above comment,till Joe Morton told me in Asda,but I will be lucky to get even money at the bookies as to who it was. He will be all over Tootill like a rash, and buying him ale when he goes in the dog.He has more faces than the parish church clock, and a roofing firm. If I was having a bet, I would put my money on Pengy
Comment by: joep on 6th September 2012 at 20:52
not me mr mosky, it has a air of thornley, that comment