Photos of Wigan
Photos of Wigan
Album Contents
Album Contents
Wigan Album
Wigan water polo clubs
5 Comments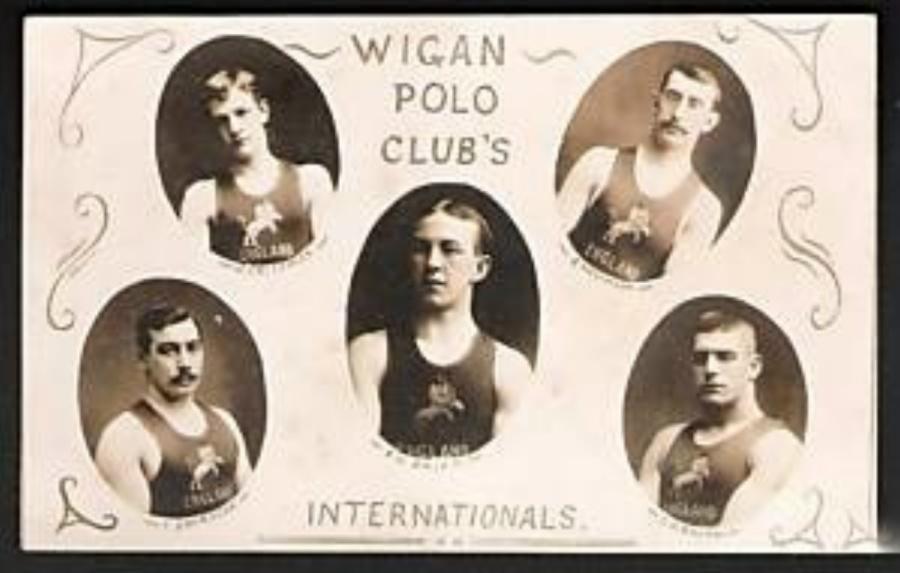 Wigan Water Polo Clubs Internationals
Photo: Cyril
Views: 1,275
Item #: 12022
No idea of the date of this photo.
My father used to play water polo for Wigan & won a few medals. His name was Stanley Bibby but unfortunately I don't have any photographs. I think it would have in the 1920's as he was born in 1901
Some of the gentlemen in this photo seem to be the same as in a 1909 photo you have (your ref 4238) in the Swimming and water sports section. They seem a little younger here, though, so I'd guess the date on this is somewhere 1904-1908. The central player here is Frederick Vernon Swift, my great grandfather. Lovely to see another picture of him. Thank you :)
Indeed, my parents have just unearthed this very photograoh for me, and on our copy, the names are written clearly under each photo. For interest's sake, the remaining four payers are: top left (no moustahce) J. Critchley; top right G. Nevinson; bottom left (moustache) T. Saunders; bottom right C. S. Smith.
Hugely interesting fact - Great Britain were the WINNING team at the 1908 London Olympics, and G. Nevison and C. Smith (from this photo) were on the team. Wigan can be proud of its OLYMPIC GOLD MEDAL WINNERS! :D
It just gets more fascinating - George Nevison and Charles Smith won OLYMPIC GOLD with the GB Water Polo team in the London 1908 Olympic games. I've just discovered www.waterpololegends.com, which is a fabulous blog with a few further images, including a VIDEO of a 1908 Olympics match and a match review of the final. There are also a few further photos of the Wigan team of the era in different sections on this site. Fascinating! :)