Photos of Wigan
Photos of Wigan
Album Contents
Album Contents
Wigan Album
Miller Family - Platt Bridge
13 Comments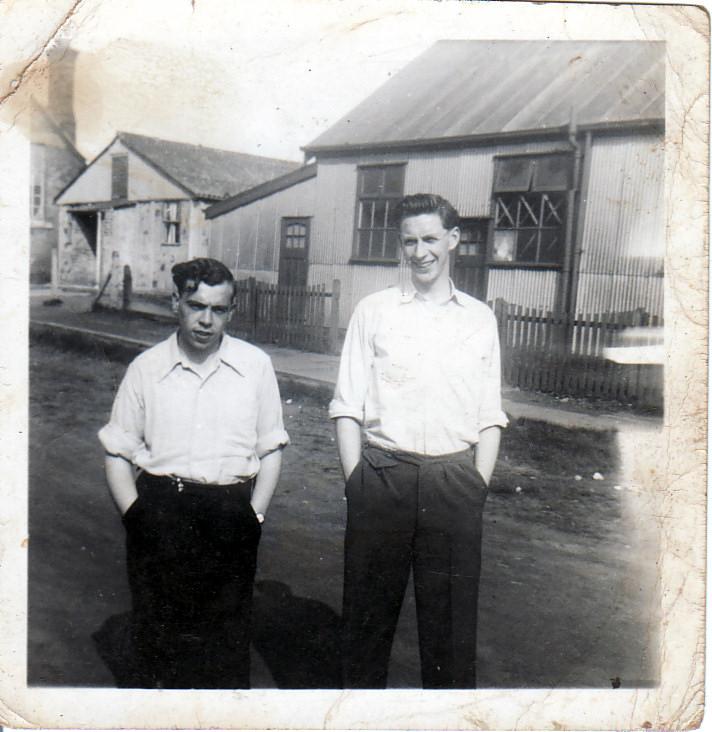 e-cadfael@blueyonder.co.uk
Photo: Dennis Miller
Views: 1,755
Item #: 9454
Strictly speaking this is not a Miller photograph, but this gent was very much part of my close family as I was growing up. Joe Kehoe (on the left) with a friend, taken in Tram Street (Platt Bridge)... the Procial Hall in the background, and the old Holy Family school just peeking in at the left.

Can anyone identify the gent on the right?
Comment by: Mark Calter on 20th February 2009 at 15:21
The Gentle Giant with Joe is Tom Cunningham Platt Bridge pro in the background,the old school canteen is next to the pro,i would say this photo is taken outside the catholic club
What a blast from the past
Comment by: CK on 20th February 2009 at 17:30
was Joe Kehoe related to Jacqueline?
Comment by: Ruth Kehoe on 20th February 2009 at 19:28
Yes Joe and Jacqueline are brother and sister along with Peggy and John. John is my Grandad.
Ruth, I remember your granddad, and I also remember with much fondness your Great Grandmother... Mrs Kehoe.

Jacqueline used to always be round our house, in fact she looked after both me and my brother when my mum and dad were out at work, again... even though not related by blood she means a lot to me (she often tells me I am on her list of pall bearers when she goes :D) ... she is part of my extended Kehoe family. Peggy to is known to me, I was with her on the night Uncle Joe passed away.

I have my Aunt Et's wedding album, I will post a photo of your granddad and great grandmother for you.
>>>The Gentle Giant with Joe is Tom Cunningham<<<

Thank you Mark, it is always nice to put a name to the faces.
Comment by: Ruth Kehoe on 21st February 2009 at 10:31
Thanks that would be great to see a picture of them, my Grandma was a lovely sweet person. Thank you.
Comment by: Ruth Kehoe on 21st February 2009 at 14:09
Sorry, i got mixed up, you meant a picture of my great Granmda Kehoe, thought you meant my Grandma, John's wife. I never met or seen a picture of my Great Grandma so it is very nice to see, glad you hold her in such high regard. Thanks.
Comment by: Ruth Kehoe on 21st February 2009 at 16:55
There was another sister too, Florence (Florrie) think she was the eldest then it was my Grandad, John.
I forgot Florrie! She lived up the Lake District, Keswick I think. I also have a photograph of her somewhere...
tom cunninghams mother & father used to have a shop in lily lane,ridleys had a shop on the next corner
Comment by: christine newton on 17th February 2010 at 13:51
Florrie was my nan. her sons were stanny, tony and bernard and her daughter was mary.
Comment by: Debbie Walls on 7th November 2011 at 08:02
Just spoke to my Dad ' Kenneth Walls' from Victoria Road and he asked if anyone remembered him?
Comment by: Dennis Miller on 7th January 2012 at 07:23
Debbie, sorry for the late reply.

I do remember some Walls from Victoria Road, they ran a shop at what we all called 'Little Scholes'... the junctions of Collinge Street and Adelade Street.