Photos of Wigan
Photos of Wigan
Album Contents
Album Contents
Wigan Album
Sutton family
10 Comments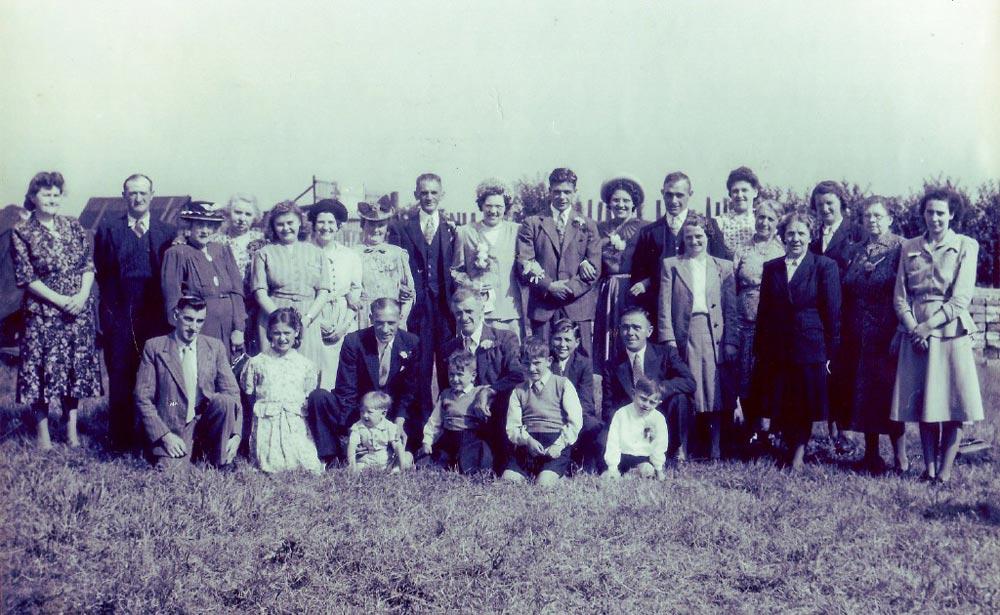 Sutton family of Garswood
Photo: John Davies
Views: 1,371
Item #: 9189
Sutton family of Garswood
Where have you found this John, this is my mother on her Wedding day to Thomas Sutton, I can see lots of faces I recognize but names long since passed me by. David
Comment by: W.P on 9th February 2009 at 20:35
Can anyone confirm that the man kneeling on the extreme right is Arthur Sutton who married Agnes Darby.
Comment by: David Thompson on 10th February 2009 at 13:14
The photo was taken in 1948, after loosing my dad in the 2nd war mother re-married when I was 6 years old. Is that your mother John far left, I can see Peggy 5th from left and I think Grandma Sutton 2nd right and is that Matt kneeling left. There are two boys who I don't think are Suttons, the boy in the white shirt at front looks like Keith Worthington and the older boy in the suit could be Freddy Heyworth the boy in front of Freddy is James Sutton the only others I can put names too are Joe Woods my dads best friend who gave mother away and Alice Banks Brides maid. David
David, This was lent to me by cousin Lilian and I too was amazed to see it. Taken about 1947, whereabouts not known. I will try and go through all the ones I know.
Standing L to R:- Auntie Mary[Sutton], Uncle John McGarry, unknown,unknown, Auntie Peggy[Sutton], unknown,unknown,unknown, Auntie Annie[Thompson], Uncle Tommy Sutton, unknown, Uncle Bill Sutton with Auntie Jinnie just below him, then my mother Elizabeth[Sutton],unknown,unknown,unknown, Grandmother Lilly Sutton, Auntie Elsie at the end.
Kneeling L to R:- Uncle Matt Shaw, Cousin Lilian McGarry, my father George Davies with me in front of him, Grandfather John Sutton, at the end Uncle Jack Sutton. The two children in the sleeveless pullovers are cousins Brian and Jim Sutton I think. Are the other two not you and your brother David?
Comment by: David Thompson on 10th February 2009 at 21:29
Hi John thanks for the info,I remember Lilian McGary didn't realize she was on the photo, the little lad at the front right isn't me I was wareing a white satin suit, James Sutton was in my class at Evans County Primary School
Comment by: David Thompson on 10th February 2009 at 21:35
Hello Again John I spoke to Shirley today and she as posted Mothers side of the family on the site, I think the location is behind the Calidonion Hotel on Bolton Road
Comment by: John Davies on 11th February 2009 at 11:12
Hi David, I have just seen Shirleys photo with I presume you and Albert on. By the amount of people on both photos it was quite a big wedding. [I'm going to count them.] Of coarse I dont remember it as I was only 2. The date that Shirley has given means that my brother George had been born by then [May '48] I wonder where he was?
Comment by: David Thompson on 13th February 2009 at 16:29
When you have finished counting John add another 5 apparantly most of my uncles where in the pub. David
my grandparents were Tommy Sutton and Annie Sutton they had 2 children my dad Philip Sutton and his sister Thelma, just wondered if i was on the same group of Suttons.
I AM GETTING IN TOUCH,AS ON THE SOMEONE ASKED IF THE MAN KNEELLING WAS ARTHUR WHO MARRIED AGNES DARBY!IF IT IS THEN HE IS THE GRANDFATHER OF LINDSEY REBECCA WHO HAS EMPLOYED ME TO BUILD HER FAMILY TREE. IF THERE IS SOMEONE THAT CAN NAME A FEW MORE THEN THAT WOULD BE GREAT.

THANK YOU IN ANTICIPATION
DEBBIE.