Photos of Wigan
Photos of Wigan
Album Contents
Album Contents
Wigan Album
perkins family
6 Comments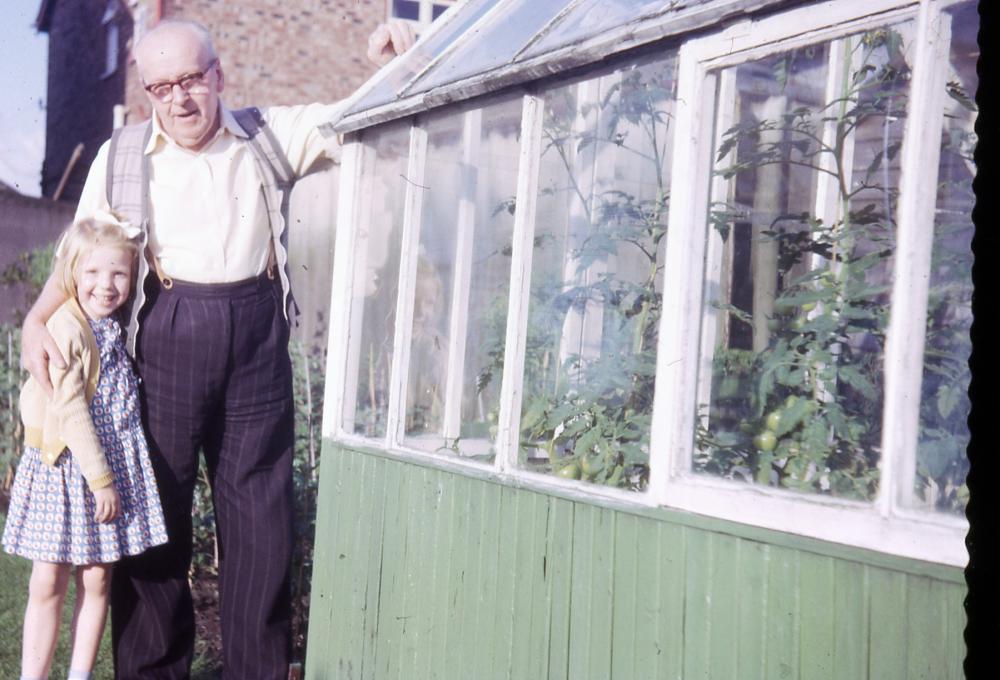 Grandad with his greenhouse
Photo: margaret perkins
Views: 1,268
Item #: 5954
This photo would have been taken around 1968-70. It shows my grandad Phil Sant who was a very
kean gardener and loved to be in his greenhouse.
The young girl was my cousin Christine Bennett who died of cancer when she was about 32 years old.
Comment by: Jean J on 21st April 2008 at 15:17
Love the picture, bless 'em.
Comment by: Dave Marsh on 21st April 2008 at 15:22
Lovely photo to remember tose we love.
Comment by: John Collier on 21st April 2008 at 18:21
Margaret, Although I didn't know Christine I knew her Uncle very Well. Tommy Bennett worked at Santus Toffee Works making Uncle Joes all his life. Tom and his twin Brother Robert (Christine's father) were my Dad's cousins. I have a photo of Tom and Bob Bennett in their uniforms during the war, Tom was a Flight Engineer in the RAF, and Bob was in the Royal Navy. I'll dig it out and put it on the website
Comment by: margaret perkins on 24th April 2008 at 21:19
Thank you to John Collier for the info. I have uploaded a photo of Tommy and his twin Bob taken at Bob's wedding.
Comment by: RON on 25th April 2008 at 17:55
Great photo. Brings a lump to my throat, and a tear to my eye, as I remember my childhood and days at my grandparents.(i'm just an old softie) Epitomises life at that time When grandads' greenhouses and sheds were a treasure chest, and grandchildren could spend hours pottering about with their grandads without being 'BORED'
Comment by: RON on 25th April 2008 at 22:45
This of all the photos on the site, has made a profound impact on me. If the saying a "picture is worth a thousand words" this proves it. It says everything to me. A good man, who has worked all his life and probably served in the second world war, now retired. In his beloved garden with the 'apple of his eye' his grandaughter who didn't live out her full life entitlement.
Look at the happiness on the little girls face and the proud look of her grandad. Believe me I'm not religious but I would like to think that now she is still helping her grandad in his garden.