Photos of Wigan
Photos of Wigan
Album Contents
Album Contents
Wigan Album
WIGAN ELECTRICTY COMMITTEE
5 Comments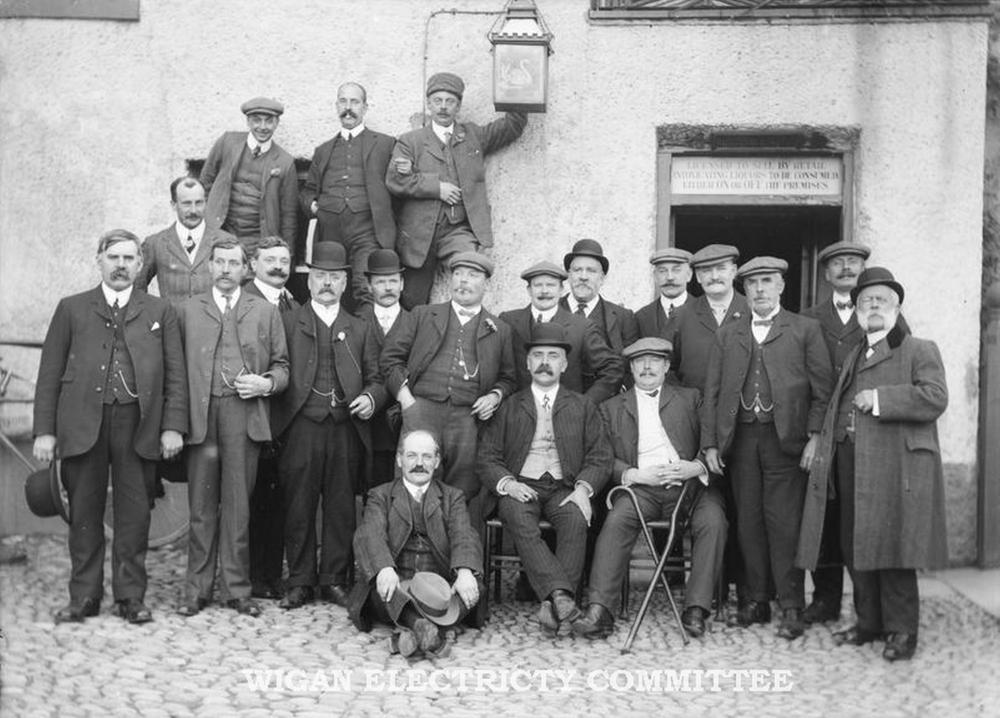 WIGAN ELECTRICITY COMMITTEE 1906-1916
Photo: RON HUNT
Views: 1,225
Item #: 33313
THANKS TO THE SCIENCE MUSEUM FOR THE PHOTO.
IT APPEARS THAT THE PHOTO WAS TAKEN OUTSIDE THE 'WHITE SWAN' PUB. I ONLY KNOW OF ONE 'WHITE SWAN' PUB AND THAT'S IN PEMBERTON. DOES ANYONE KNOW OF ANOTHER IN WIGAN?
Comment by: RON HUNT on 10th September 2021 at 13:37
Just remembered there was a WHITE SWAN in SCHOLES I'll lay odds that this is the one on the photograph
Comment by: John G on 10th September 2021 at 19:42
Ron: Your White Swan is on the Light.
Comment by: Tony Sharp on 11th September 2021 at 09:34
My paternal grandfather moved to Wigan from Cockermouth in the early part of the 20th Century to work for the Wigan Electric Company, I think it was called. I used to have a badge with the name on and an image of the same hall as was on the Wigan Grammar School badge but unfortunately it has been lost. He may be on this photo but I have no recollection of him as he passed away back in 1956.
Comment by: Bruce Almighty on 11th September 2021 at 16:06
Comment by: Donald Underwood on 13th September 2021 at 21:10
The White Swan at the junction with Greenough Street?Was it also known as the top longpull?

You cannot imagine this breed of town councillors demolishing Scholes