Photos of Wigan
Photos of Wigan
Album Contents
Album Contents
Wigan Album
William Halliwell, White Horse Hotel
8 Comments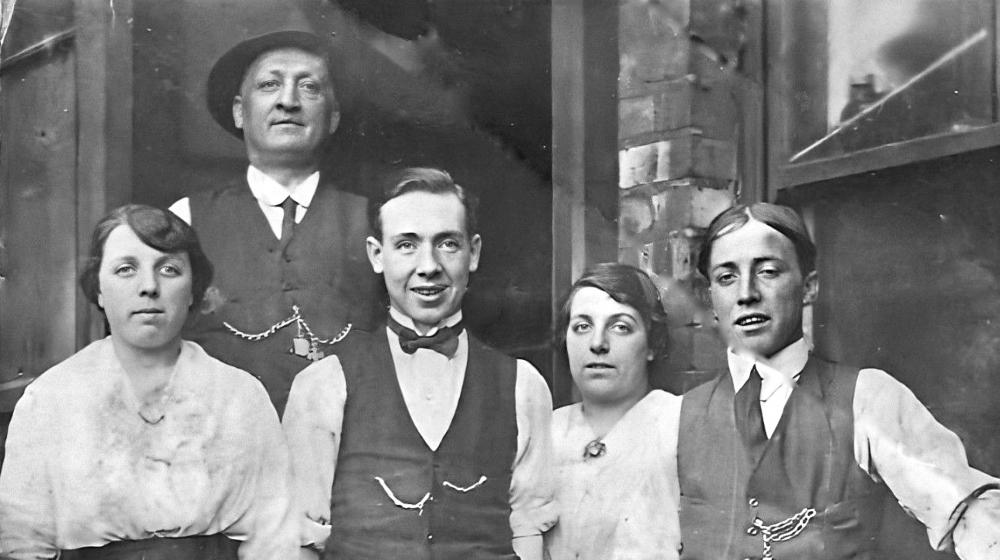 William Halliwell ex-Wigan RL and Family
Photo: Keith
Views: 303
Item #: 33046
William (Billy) Halliwell standing at the back with some members of his family. Billy, according to the 1911 Census, was the Hotel Keeper at the White Lion in Standishgate, where this photo was taken at the back of the pub. At the time he would have been 45 years of age.

Billy had a long career with Wigan Rugby League Club from 1887 to 1904, playing some 203 games, scoring 9 tries - he would have played a lot more games, since appearances before 1895 are not recorded. He seems to have played his last game, aged about 37 years of age, in April 1904 against Runcorn.

He started as a half back and his nickname was "smiler", he enjoyed a long and successful partnership with John Mitchinson. Later, Billy played in the forwards, and extended his career.

Billy married at St George's Church in September 1889, aged 22, he was a Collier, living at Upper Morris Street. His wife was Elizabeth Alice Halliwell (Marsh), aged 20, who came from Russell Street, Ince in Makerfield. In 1911 they had 7 children.The children were named Frederick, William, Selina, Elvina, Elizabeth Alice and John. Sadly, it appears that Billy died relatively young aged 56 in 1922.

It's possible, I think, that one of his sons, William also became a Licensee at the Abbey Lakes Hotel, Orrell Road, Orrell. He was there in the 1939 Register.I have used Census records to put some of this information together.
Comment by: Edna on 2nd April 2021 at 09:11
Keith, this is a very good photo of a family so long ago, and very interesting to read about them, I was wondering were you got Cencus records from. I am doing my family tree, and would be interested in finding more information. My Grandparents lived in Upper Morris St, early 1900s, Grandad having come over from Ireland, and married Grandmother here in Wigan.Thank you for photo.
Comment by: Keith on 2nd April 2021 at 09:53
Hi Edna, I use the "Find my Past" subscription site but as they say, other sites are available. There are also sites that offer Irish Genealogy. Since I'm keen on my own family research (I've got back to 1795) I use it a lot, I also find the 1939 Register very good. It's also helpful when I look up the family history of past Wigan players and it has the "enhancement" feature on old photos which I also like to use. I wish you all the best in your research.
Comment by: Veronica on 2nd April 2021 at 11:01
It's also free at the History Shop in Library St Edna and I think they help you with it, or there may be classes. I did mine there over twenty years ago with my Irish and Welsh ancestry. Also my English as far back as the 1600s at Upholland. Make some enquiries but you may come to a brick wall with the Irish in Ireland before they came to England.
Great photo Keith , I would 'kill' for an old photo like this with relatives on it so long ago. The only one with family on I have is my group wedding photo from 50 years ago, at least it's one to treasure.
Comment by: Keith on 2nd April 2021 at 11:41
Thank you Veronica for mentioning the History Shop in Library Street, I have found them very helpful indeed. As far as photos are concerned I'm afraid I mislead you Edna the "enhancement" facility is provided by the subscription site, "My Heritage", I have a lot of old photos.
My mother and I were born and bred in Wigan and yet my DNA (50% from each parent) was 94% Celtic and 0% English - I was expecting some Celtic input but the surprise was 0% English. Family research showed that my mother had Welsh (North Wales) and one Scottish antecedent.
Comment by: Veronica on 2nd April 2021 at 13:08
I have still not had my DNA done Keith and I want to do it more than ever since watching the programmes 'Secrets of DNA'. I am itching to do it, but don't know who to send off to, as I have heard some of the company's that do it, are not all they are cracked up to be. I will do it eventually as I have always been curious.
Comment by: Edna on 2nd April 2021 at 13:20
Thank you Keith and Veronica, for posting me in the right direction, for finding information.
Comment by: Keith on 2nd April 2021 at 16:11
Nice of you to comment Edna, I'm sure once "hooked" as I am, there's no escape. But as someone early on told me, "Genealogy is an addiction with no known cure, but the good news is that it's never known to have killed anyone".
Veronica, I took advantage of a special offer (they are often advertised) at "My Heritage", can't say I know which one is "best".
billy smiler halliwell is my great grandad he also had a son walter on the right of the photo he,s my grandad .he played before and after the 1895 split and against the maoris 1888