Photos of Wigan
Photos of Wigan
Album Contents
Album Contents
Wigan Album
Hayes/Heyes Family
5 Comments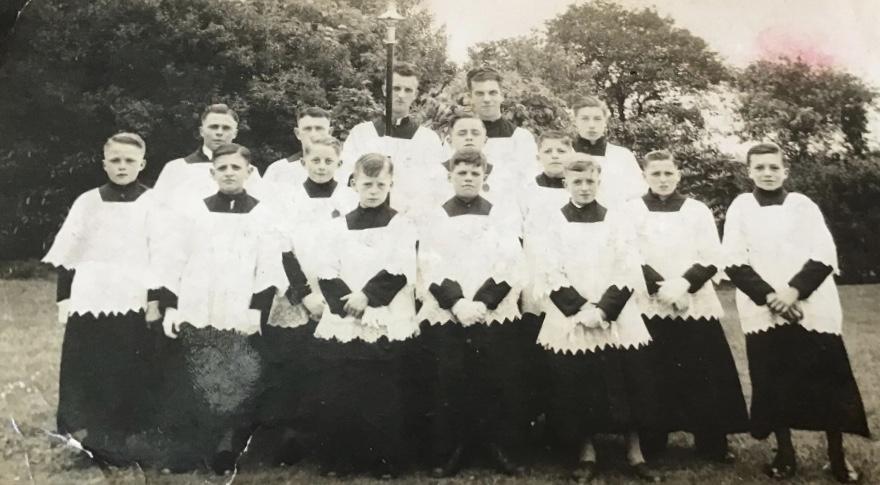 St Williams alter boys.
Photo: lizziedownunder
Views: 585
Item #: 33039
Arthur Hayes.. my Dad...the dark haired lad to the right of the person with the staff on the back row.
Comment by: Veronica on 30th March 2021 at 12:41
You don't get so many altar servers these days in Catholic Churches. Usually there are more girls than boys serving on the altar. I do like the garments then rather than the far more simple ones these days. I remember helping to sew the new ones in the seventies at our church in Westhoughton, that seemed to be when everything changed.
Comment by: Edna on 30th March 2021 at 13:15
This is a lovely photo of your dad as a youngster.Things have changed in the passed decade's. It holds lovely memories for you..I remember going up Ince watching St Williams walk, when I was a young girl.
Comment by: Lizziedownunder on 30th March 2021 at 22:21
Thank you Veronica and Edna...I was thrilled to get this photo a while back, I don't have any photos of my Dad as a teenager...think he would have been about 17 here...at 19 he joined the army..Grenadier Guards...Royal Engineers and then special forces in India towards the end of the war...9th Gurkha Rifles...as an instructor.
Comment by: Thomas(Tom)Walsh. on 31st March 2021 at 11:35
Lizziedownunder, good to hear from you again, you used to post quite often . Hope you're keeping well.
Comment by: Lizziedownunder on 31st March 2021 at 22:15
Hello there Tom, good to hear from you too. Not as busy on here as I used to be...still do a word Anagram on Communicate...Hobbies/Books thread. We are well ...we seem to have escaped most of this nasty virus...still the odd breakout in other states and expats coming back home here..but mainly all under control with the vaccine being rolled out now. Anyway good to hear from you ..take care and stay well.. :)