Photos of Wigan
Photos of Wigan
Album Contents
Album Contents
Wigan Album
beckett family
13 Comments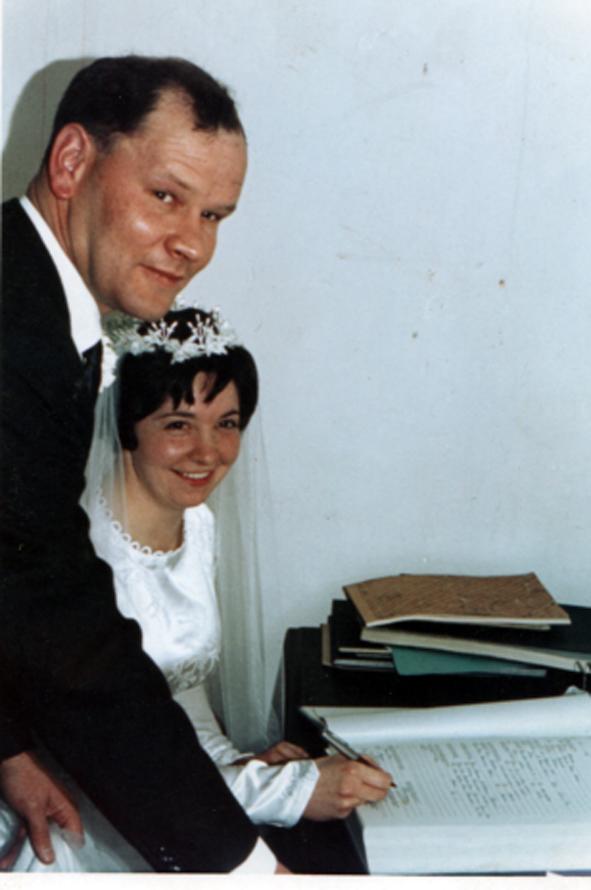 Sister Sylvias's Wedding
Photo: Keith Beckett
Views: 1,257
Item #: 32863
My sister Sylvia and husband Roger signing the register 1965 at St Francis of Assisi church Simon's Town South Africa
Comment by: Roy on 12th January 2021 at 11:45
Hi Keith, very nice. When i read St Francis of Assisi i was expecting Kitt Green to come next !! Why SA ?
Comment by: Edna on 12th January 2021 at 12:56
Lovely photo Keith.I seem to recognise her face.
Comment by: Keith Beckett on 12th January 2021 at 14:11
Roy,

She was working as a nurse at the London Clinic with two of her nursing friends from the Borough General hospital in Warrington. They decided to go and work in South Africa under a SA government sponsored scheme.
Comment by: Roy on 12th January 2021 at 15:25
I see, ta for that Keith. I presume Roger is South African.
Comment by: James Hanson on 14th January 2021 at 17:33
I thought nuns dressed in black and never married?
Comment by: Veronica on 15th January 2021 at 10:07
What a totally idiotic comment to make James Hanson.
Comment by: Roy on 15th January 2021 at 14:11
Correct Veronica, idiotic being the operative word.
Comment by: Edna on 15th January 2021 at 14:44
I agree Veronica, what is wrong with him???
Comment by: Jarvo on 16th January 2021 at 21:39
There are several posters using different guises on here. And it's no fun anymore. One in particular has got a vendetta against me and I have never even met him. Just check my poetry thread and look at his acid remarks about me. Several have been removed, but he continues to post freely. I personally think this kind of thing should be outlawed and the ones doing it thrown off. Alas, he stays to try and ridicule me at his first opportunity. I WILL NOT be deterred however. I too thought that comment was outrageous about this lovely photograph.
Comment by: Veronica on 17th January 2021 at 09:03
I forgot to say what a lovely photo this is. It doesn't seem so long ago. And what a good looking couple they are.
(Yes it's a pity the green eyed monsters are free to roam the site). At least they can be 'seen' through the different disguises. Just like fingerprints!
Comment by: Angie on 20th January 2021 at 17:15
It appears to be a joke? Sister - nun. It's not always about you Jarvo
Comment by: Phil on 24th January 2021 at 17:02
Jarvo is correct about people posting under other names. His cruel and disgusting remarks about the miners holding the country to ransom and his many spiteful remarks on the boards about mine workers under the name of Mr Tony Maloy should have meant his removal from Wigan World. He actually bragged about posting the remarks in the company of others.
Comment by: Alan on 25th January 2021 at 18:19
Phil we knew it was Jarvo under the name of Maloy who posted those sickening remarks we were informed by one of the people he bragged to. As you say he posted his hatred for mine workers and praised Thatcher on the boards several times.