Photos of Wigan
Photos of Wigan
Album Contents
Album Contents
Wigan Album
beckett family
6 Comments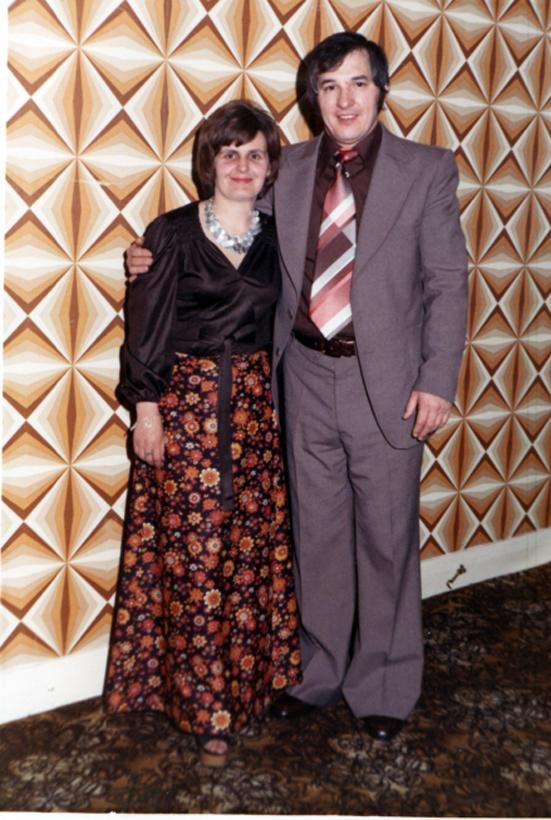 The height of 70's fashion.
Photo: Keith Beckett
Views: 1,019
Item #: 32827
Me and my late wife Barbara at a works Christmas party at the Cala Gran Fleetwood in 1976/77.
Comment by: Veronica on 21st December 2020 at 18:18
Remember well the fashion of the 70's with the maxi skirts and tops and platform shoes. But the wallpaper and carpets as well, they could give you a headache just looking at the patterns. A lovely photograph to look back on. ( despite the flared trousers and patterned tie!). ;o))
Comment by: Edna on 21st December 2020 at 21:27
I like the tie Keith, it matches your wife's skirt and the wallpaper.But you do go a bit dizzy.
Comment by: Roy on 22nd December 2020 at 10:09
Nice one Keith, i've been there and got the T shirt re the flares and tie etc. It's a European tie, not American, how can you tell ? No Googleing !!
KEITH, did you see my final comment on the Dave Bolton photo ?
Comment by: Keith Beckett on 22nd December 2020 at 14:21
Thanks Roy. I may well have bought the tie in Germany, I spent quite a lot of time there in those days. On one trip to Hanover the flight was diverted to Bremen. It was late one Sunday evening. Fortunately BA paid for a taxi for the 75 mile trek to Hanover but lost my suitcase. I had to go out clothes shopping the following day. The case arrived back at home 2 months later.
I don't know how to tell the difference in the origin of the tie. However, the answer may be interesting.
I did see you final comment re Dave Bolton. I knew he had been suffering a while from dementia, I used to get a regular update from Bev's sister in law Beryl.
Comment by: Roy on 22nd December 2020 at 16:58
Hi Keith, on a European striped tie the stripes go from the left shoulder to right waist whereas the American one is from the right shoulder to left waist, i believe there is a military history involved.
Comment by: Carolaen on 22nd December 2020 at 18:18
Keith The stripes on UK and European ties allow from (your) left to right. US ties allow in the opposite direction.